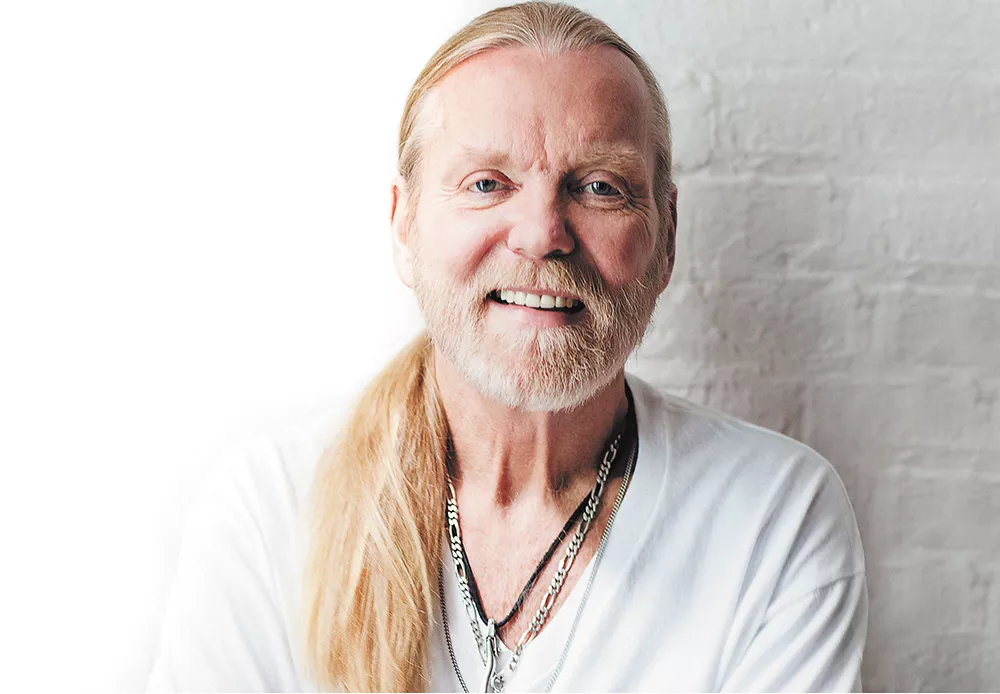 Gregg Allman was just 23 when people wondered how he would continue. His older brother Duane, guitar god and leader of the Allman Brothers Band, had died in a tragic motorcycle crash. A year later, the band's bassist Berry Oakley would perish the same way. The remaining members chose to carry on. Allman started his solo career in 1973 and the Allman Brothers Band would ride a roller coaster through breakups and reunions over the ensuing decades.
Allman struggled with drug addiction, got married six times (including once to Cher) and juggled both acts. Questions of whether he'd be able to continue rose to the surface again when Allman was diagnosed with hepatitis C, later receiving a new liver in 2010. But that still couldn't hold him down.
After postponing his show here last summer, the Rock and Roll Hall of Fame singer-songwriter finally comes through Spokane with his solo act. He took the time to answer a few of our questions via email. And even though ABB retired from touring late last year, Allman says he has no intention of quitting, and that he still has a few good songs left in him.
INLANDER: What do you do to relax these days?
ALLMAN: I love deep-sea fishing; to me, there is nothing like hooking a big ol' huge tarpon and fighting him for a couple of hours. We have great fishing off Savannah [Georgia], which is one of the reasons I love living there.
I also really like to paint; I started dabbling with it a few years back. I had this room with all these windows built in my house just for that reason. It gives me a beautiful view of all these ancient oak trees; it's just spectacular, man. I go up there to paint, and it allows me to clear my head and truly relax.
When you started making music decades ago (45-plus years with one band) did you ever think you would still be going in 2015?
Man, I didn't think we'd last six months! I was always the "Doubting Thomas" of the group; I used to tell my brother I was going to quit and go back to school to become a dental surgeon. He never would have let me quit, but I didn't really start to believe we could actually make it until the At Fillmore East album came out.
Is there any preference playing your solo stuff or with the Allman Brothers Band?
Apples and oranges, apples and oranges. I love playing in both groups, but in my band, there is only one cook in the kitchen, you know what I mean?
Does each act make the other better?
Absolutely. You could ask any of the other guys in the Allman Brothers and they would tell you the same thing. Getting away and playing in your band makes it better when we come back to the Allman Brothers, and vice versa.
When you first went out on your own and formed your own band, were you afraid that wasn't going to work?
I wasn't afraid; I was actually pissed off, because I was told that "Queen of Hearts" was not good enough to be on an Allman Brothers record. That's all I needed to hear; my solo career was born right then and there.
Is there any difference in how you write now versus how you used to?
There are as many ways to write a song as there are songs, but with me, I know an idea can strike like a bolt of lightning. It can hit you any time, any place, man. That is why I keep a pen and notepad around; if an idea pops into my head and I don't write it down, it could disappear just as fast as it showed up. I've learned that little phrases and chord changes can become great songs, but you got to be paying attention to them.
What are you listening to these days? Anyone who's exciting on the blues/rock scene?
The Johnny Winter box set came out a bit ago, and that is something else. My brother loved Johnny Winter, and I've been a big fan for years. I also love Keb' Mo's music; he's a true blues talent, and having him play at the All My Friends tribute concert was real special to me.
What do you do to keep your voice strong?
The best thing I did for my voice was quit smoking; smartest thing I could have done, for a lot of reasons. Now, I really try to take care of my vocal cords; one thing I always do is gargle in the shower with really hot water.
Do you have anything left you have to do?
I never, ever dreamed this would have happened. That being said, I'm not done yet. I still got some good songs left in me, that's for sure. ♦
Gregg Allman with Matt Andersen • Mon, June 29, at 8 pm • $35-$60 • All-ages • Martin Woldson Theater at The Fox • 1001 W. Sprague • TicketsWest.com • 624-1200