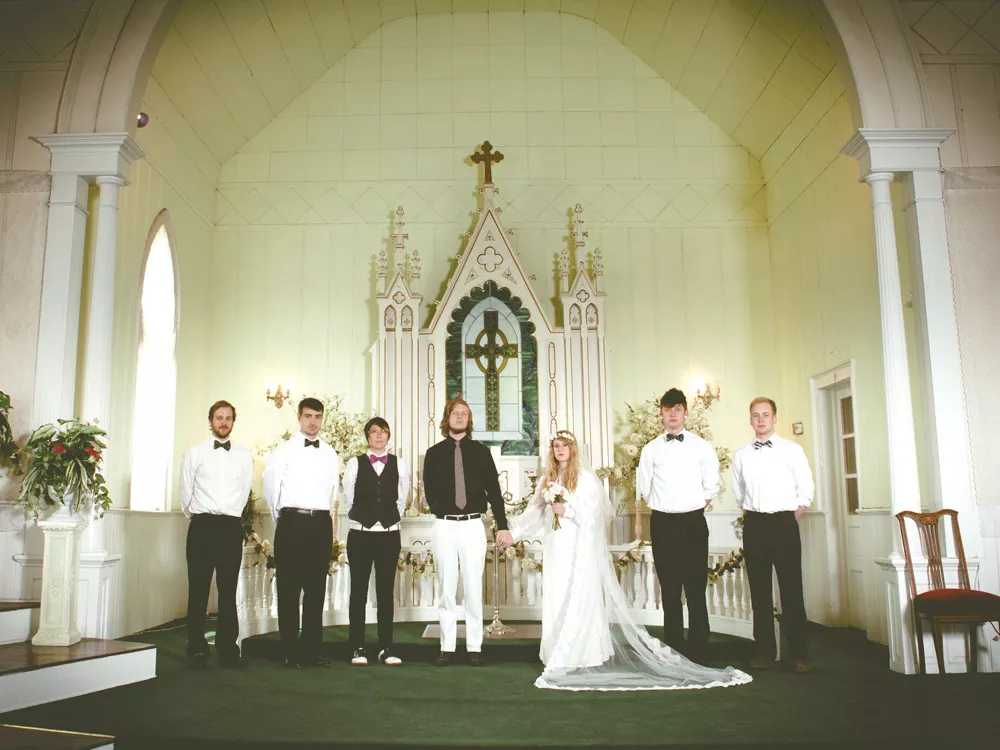 Kent Ueland and Sarah Berentson have been college graduates for about three days. They're sitting in a booth at a downtown Spokane diner, she sipping an Arnold Palmer and he picking at a short stack of pancakes as they outline what they'll be doing with their bachelor's degrees from Whitworth University.
Ueland scored well on the LSATs and is thinking about law school. Berentson has already been accepted to a master's-in-teaching program at Whitworth. But there will be no graduate studies in the near future.
Rather, the couple and the five other members of Terrible Buttons are planning a tour of Alaska. It's the self-described "horror folk" band's most adventurous outing to date, but hardly their first time hitting the road to spread their sometimes spooky, sometimes explosive Americana rock. Minutes later, the couple is joined by guitarist Jon Kielbon, who settles into a beer as Ueland tells a story of the band almost slamming head-on into a semi truck while heading through snowy Montana mountain passes. But driving to Alaska, where the band will play 13 shows throughout the state in 13 days before trekking back to Spokane, isn't going to be a breeze.
"The drive will be hard, but we've done hard drives before, but the question is: Will the van break down?" says Ueland, the band's songwriter and frontman, who wears his blond hair long to meet his Amish-style bearded chin.
"Yeah, my grandpa told me 10 times this weekend that the van was going to break down. And my dad was worried about the bears," adds Berentson, who lends her vocals and keyboard licks to the Terrible Buttons' thick sonic tableau.
Bears? Are they going to be camping or something?
"No. I think we're just going to keep going. There are seven drivers. We can do it," says Ueland.
"What? I wasn't aware of that," says Berentson, aiming an agitated stare in the direction of her boyfriend.
"I think it's smarter to save the time for if and when the van breaks down to find a new transmission or whatever the f--- happens. But in three years we've never missed a show," says Ueland.
While putting out two albums since its inception, Terrible Buttons — comprised exclusively of Whitworth students, graduates or dropouts, ranging in age from 21 to 26 — have also logged plenty of miles in a sweat-and-blood effort to expand their fan base. One time they broke down outside of Ellensburg with nine people in the van. They called a friend and three hours later that friend showed up in his mom's wheelchair-accessible van. Soon, they were on their way to Seattle, where they have begun to gain attention, including a little cyber ink from The Stranger.
With a new album in the works (it's expected to drop before the end of the year) and their sights set on playing as many shows as possible, it seems that this would be the point where Terrible Buttons tell us how they plan on relocating. After all, although their brand of music is a little spookier and experimental than, say, the sounds of the Fleet Foxes, it seems like they'd snuggle perfectly into either Seattle or Portland's "indie folk" (a classification Ueland and company aren't all that wild about) scene.
That isn't the case, though. They'll be sticking around Spokane, at least for the time being.
"I feel like we're on this up about Spokane. We know we'll be here for at least another year, and there's a sense of wanting to make it awesome," says Berentson.
Both Ueland and Keilbon nod in agreement.
"You need to treat Spokane like it's your backyard," says Keilbon. "You get out of it what you put in, and if people see that there are youth that actually care about the city and want it to be a vibrant place to live, that will catch on."
Ueland has no sarcasm in his voice when he says he wants to be one of the hardest-working, if not the hardest-working band in town. Certainly, there is hard work ahead, like, for example, getting seven people (and several other family and friends) safely up to and back from Alaska, laying down a new album and, of course, essentially creating their own style of music. It's all ambitious — refreshingly so.
"We're trying to create something more timeless than whatever the next trend is," says Ueland, "You always want to be in forward motion."
Terrible Buttons play Volume on Fri, June 1 at 10:30 pm at Nyne. 
How We Picked 'Em
Just like we have the past two years, we anchored this issue with the most interesting, groundbreaking, unique Bands to Watch from the Inland Northwest — chosen by a dogged committee of local music fans: Justin East, Patrick Kendrick, Ryan Levey, Jordy Byrd, Jordan Satterfield and myself. We deliberated over the course of a few months over which bands to highlight this year. Choosing just five, like we usually do, wasn't possible: Six acts had won our hearts. In the next few pages, read about all of them.
And then come to our show — the first-ever Volume Block Party — on June 1 to see those bands and 32 others play live. All of this is just our way of giving the local music scene — from acoustic singers to the most pissed-off metal bands — a big sweaty bear hug. Keep it up, guys. We like you.
– LEAH SOTTILE, Inlander music editor