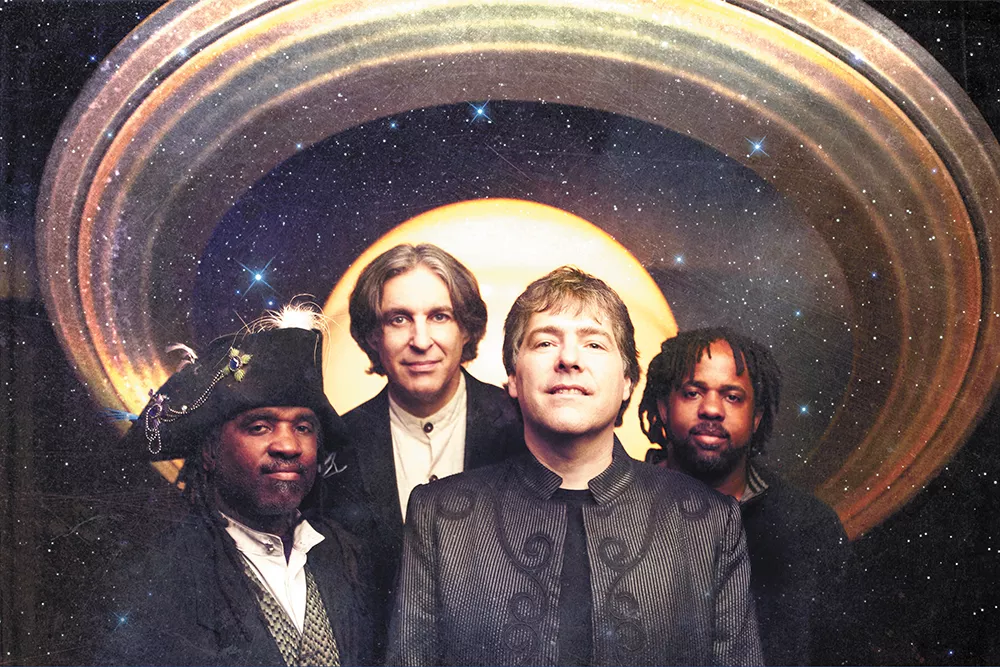 Just over 30 years ago, master banjo player Béla Fleck was asked to perform on old PBS series The Lonesome Pine Specials. Fleck was a member of bluegrass supergroup New Grass Revival at the time, but he was ready to stretch in some new directions and put together some backing musicians for the show. He knew harmonica player/keyboardist Howard Levy from the festival circuit, and ace bassist Victor Wooten auditioned for Fleck over the phone, earning a job and bringing his percussionist brother Roy "Future Man" Wooten along.
The show went well enough that Fleck and his new cohorts cemented themselves as a band shortly after. In the process, they become a genre-defying crew of ridiculous skill, capable of pushing their sounds into funk, rock, folk and classical as easily as their comfort zones of jazz and bluegrass. Hardy left in 1992, but rejoined the group a few years ago. Now the original quartet is on the road celebrating 30 years of remarkable music and friendship, including a stop Monday at the First Interstate Center for the Arts. We talked to Fleck via email about what makes this band tick:
INLANDER: You're celebrating 30 years with the Flecktones. Can you describe what you remember about the group first coming together and realizing this quartet was going to work musically?
FLECK: It was so much more than I expected from the very beginning. The guys were constantly confounding my expectations of what was possible musically. And that was the pull and the joy of it, I had finally found guys that matched me in my broad interests, and each of us could mentor the others. It was glorious.
The day it really hit me was the morning after we had recorded the first album. We'd been up all night finishing up, and I was on a flight to the Mojave Desert to film a video with New Grass Revival for a song called "Calling Baton Rouge." I was listening to the rough mixes and I realized I was going to have to leave New Grass Revival and start this new group for serious. It was a bittersweet moment because of my loyalty to NGR, who were an incredible band and I had been in it for nearly nine years.
What do you consider the greatest strength of this combination of musicians, yourself and the Flecktones?
When you have virtuosos you don't always have team players. This pile of unique, amazing players were always able to see themselves as part of a whole. The team orientation made a huge difference in what we were creating.
How has the sound of Bela Fleck and the Flecktones evolved in the last 30 years, besides the obvious things like Howard's departure and return? Is the band able to do things now musically that you couldn't do in the early days?
The band has been quite different at different points. The years with Jeff Coffin on sax were so different from the Howard Levy years.
In certain ways it is exactly as it's always been, and in other ways it's a whole other thing entirely. The chemistry that was there at the start is still burning bright. Everyone has improved and refined so much, and we continue to still have the ability to surprise and delight each other. I think that aspect has continued because everyone brings things from all their outside experiences back to the band.
You've obviously collaborated with myriad musicians playing all different genres of music. What does playing with the Flecktones mean to you personally as compared to those other projects?
There is a feeling of being home that is hard to explain. There is nothing like this band in the world. It's as unique now as it was when it began. And yet it's also become our old home place, where we get to relax and be ourselves together. We know each other very well.
Are there any highlights or favorite memories from the band's 30 years that stand out — particular shows, awards, etc.?
Wow — there are so many things, the obvious ones like major TV events, Johnny Carson, Jay Leno, Conan, Arsenio, Grammys, etc. I love the off the beaten track events like paying a venue in North Carolina called Green Acres, where we played our hearts out in a field to an open-minded rural community. Also our trip to the Pacific Rim, Mongolia, Thailand, Singapore. So many great things... And last year our duo tour with Chick Corea Electrik Band was something very special, too.
Can you share a quick thought about what each of your bandmates brings to the project, what makes them a great fit in Bela Fleck and the Flecktones?
Victor Wooten: People ooh and ahh over his soloing, and they certainly should. But you may not realize what an incredible ensemble player he is until you've played with him and experienced the support and brilliance of his team playing mentality.
Roy "Future Man" Wooten: Zany but so grounded — this guy is the real deal, a rythmatist of the highest order. I've seen him make drumming happen with pencils on paper or fingers on banjos, or the highest tech digital drumming you ever heard, or acoustic drums. An incredibly musical person.
Howard Levy: The man with two brains, he is always three steps ahead of what's going to happen. He has the intellect to understand what we are each bringing, and what he can add that is not there. He's an unending flow of fascinating music ideas, and the greatest diatonic harmonica player on the planet. ♦
Béla Fleck and the Flecktones • Mon, June 3 at 8 pm • $40/$46/$50/$70 • First Interstate Center for the Arts • 334 W. Spokane Falls Blvd. • inbpac.com • 325-7328