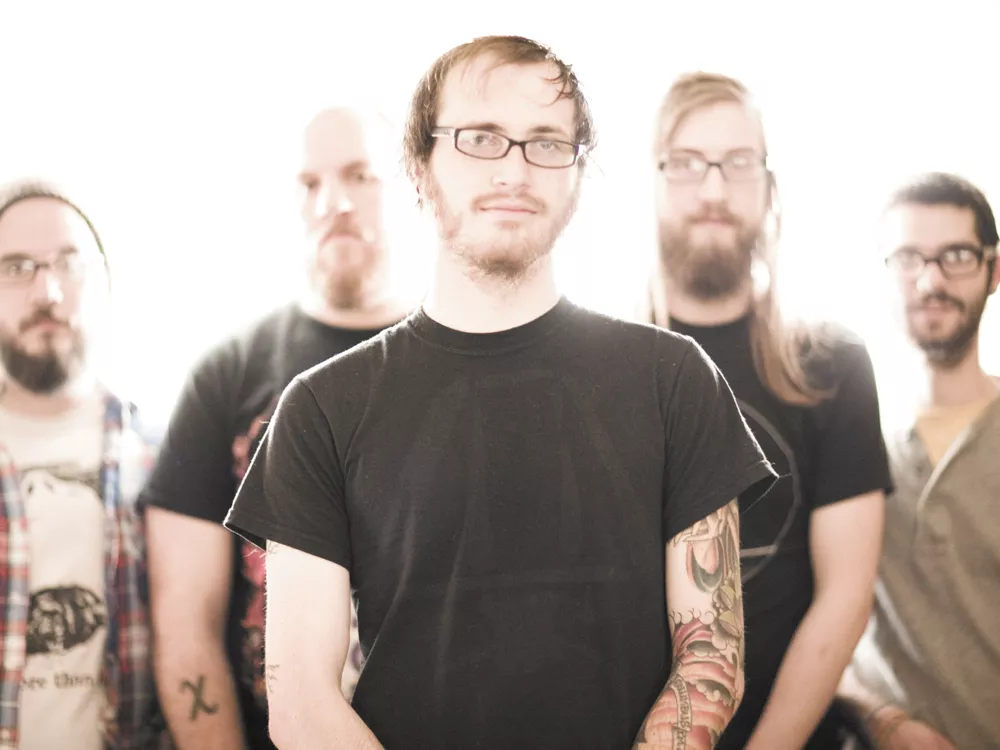 C
rowded tightly around, their friends
— cute smiling girls, hipsters in beanies — start singing along with the band, a group of twentysomethings with big beards and big glasses. All together in a bunch in a basement somewhere, they all ask in perfect time: "You say you're happy now, but are you smiling now?"
The band is called the Hague and the people swaying and swooning along with them — a warm and fuzzy moment they captured in a music video for their song "Everyone" — are the friends and fans they've recruited over the last few years as they've transitioned from being unknown North Idaho metal kids to the up-and-coming Portland indie-Americana band they are today.
But years ago, things never would have sounded this way.
When most of the members of the Hague were younger, cutting their teeth in bands around Spokane and Coeur d'Alene, they were the kids playing in metal and metalcore and emo bands, "when emo was huge for 10 minutes in Spokane," drummer Jesse Tranfo says. That was the scene here, and so he says that's what they occupied themselves with.
Tranfo, the Hague's drummer, says the three of the band's members who grew up in the Inland Northwest — Tranfo, guitarist James Logan and singer/guitarist Shawn Steven — flirted with loud, aggressive sounds as young musicians. In fact, the Hague is the first foray into something different for most of them: "Shawn and I have played in heavy projects for most of our lives," he says. "Everything else I've ever done was heavier."
But now that they've all moved to Portland, assembled this band and produced a few albums, they've noticed something. They're still loud — by far, Tranfo says, the loudest band on most of the bills they play. But other than that, they've completely changed.
"We wanted to play music that was different than we'd ever played before," he says.
The Hague grounds itself in the deeply painful vocals of Steven — who beautifully, honestly, almost boyishly sings about feeling let down again and again, about not being able to go home "because I don't know where that is."
It's powerful, raw stuff that never reaches or tries too hard. It's just sad because it's honest. Life is just sad sometimes — and the Hague, with a crying violin and a complicated rock band behind Steven's voice, is able to capture the stark realness and empty malaise of that.
Tranfo says that it wasn't that age made them happier and made them stray from the anger of metal or anything — just look at the lyrics of any of the Hague's songs. Moving away from home definitely affected them.
Tranfo says a lot of the Hague's sound is just Portland — a vibe you can hear on the band's new album, Black Rabbit.
"The weather kind of influenced it," he says. "It's kind of a really rainy, cold pessimistic outlook.
"Shawn is super influenced by the Smiths and Morrissey and Elliott Smith and anything that's really depressing, he absolutely loves," Tranfo says, over the phone. "We all enjoy that sort of happy-sounding songs that aren't necessarily happy. It's hard to write a pop song that you want to dance to but that's about hating someone.
"Charlie says that we're quiet music played loud. I kind of like that analogy a lot."
On "Everyone" — that song that everyone is singing along to in the music video — the band's sadness is almost cheery: "Everyone in this town, looks like everyone in this town."
Tranfo says that since the Hague moved to Portland, they've found that they've assembled a strange little fan base.
"There's a lot of us here from Spokane and Coeur d'Alene, and we've kind of made our own family of people from that area. It's really strange," Tranfo says. "It's all people that I knew but I was never close with. We all ended up in Portland but we ran into each other at coffee shops and were like, 'Let's be friends.'"
Maybe that's why everyone's starting to look so similar.

The Hague CD Release Show with Drag Like Pull and Diamond Speedboat • Fri, June 20, at 8 pm • Carr's Corner • 230 S. Washington St. • $5 • 21+ • 474-1731