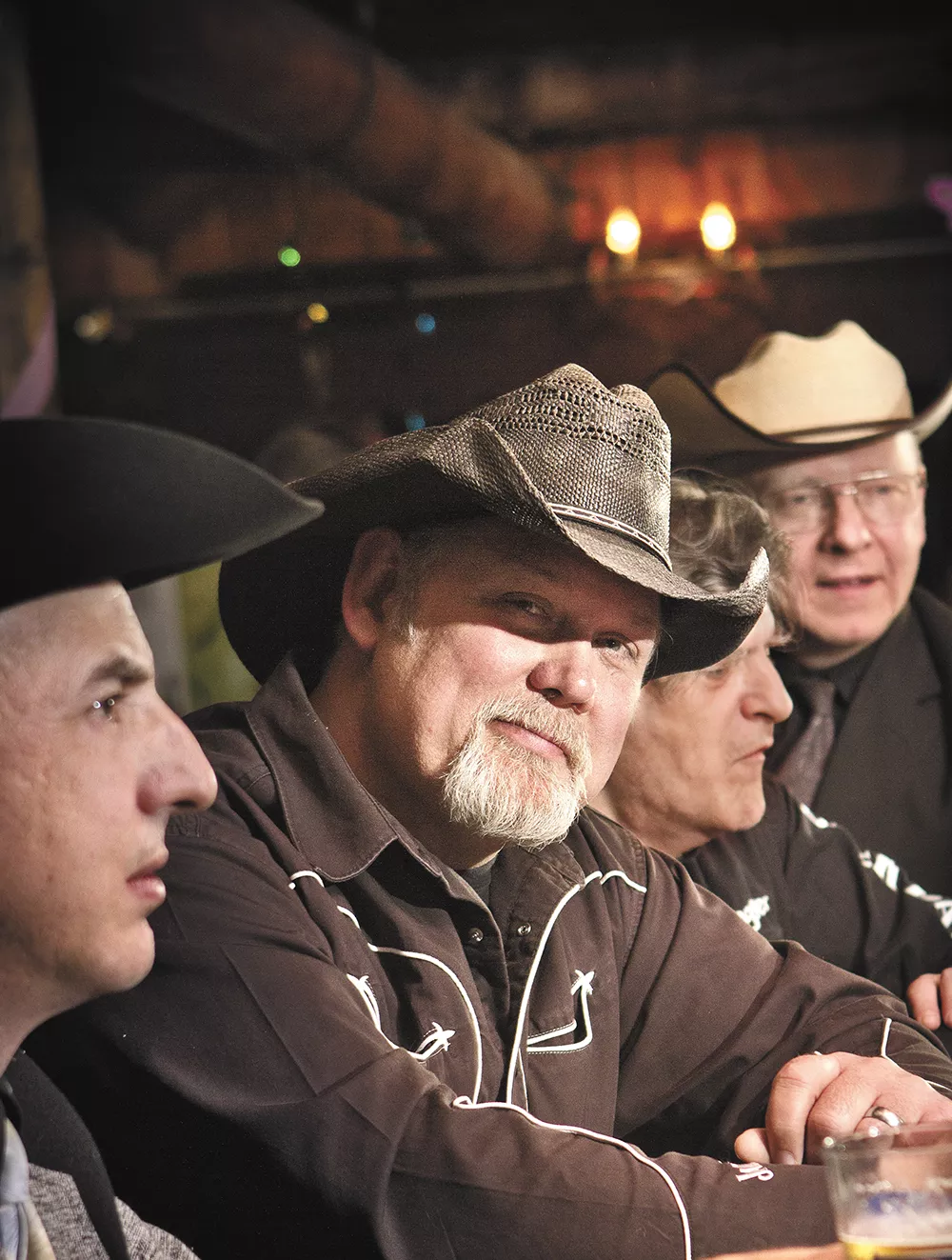 The people filtering in offer hugs and kisses to one another. Cowboy hats and boots are prevalent on these folks, who've come from all over the region — Coeur d'Alene, Spokane Valley, Medical Lake — all the way to Airway Heights' Buckhorn Inn to hear their favorite traditional country act Texas Twister. Affectionately known as Storm Chasers, the fans support the band's shows all over the region and have T-shirts to prove it.
"They're not our fans," explains frontman Rusty Brown. "The Storm Chasers are our friends. They're supportive of what we do. They come from a time when you went out and visited with your neighbors and danced with your wife. And that's almost lost nowadays."
Since 2010, Texas Twister has played the kind of country music your granddaddy may have listened to. And while many of the folks here tonight have probably achieved grandparent status, that doesn't mean they don't like live music anymore.
As soon as Brown pulls his band into the first song of the night, his lush baritone crooning over his electric bass, couples two-step on the freshly waxed dance floor.
Before the show, Brown sits down at a table in the Buckhorn Inn bar, Corona in hand. His wife Annetta is at his side.
Even though he always had music, about five years ago Brown had settled into a depression. It was Annetta who changed everything. One evening, on his way to getting drunk at a bar, they were introduced. He told her he wasn't dating material. She believed him.
"Man, you're just a drunken idiot," he told himself. He decided if he ever got the chance to speak to her again, he would. That opportunity came a month later. Cautiously, the two began to date.
With her encouragement, Brown got his life together, and after a five-year relationship, they married last summer. Since the band's inception, she's missed only one Texas Twister show; that was only because she had pneumonia.
They live in a single-wide trailer in Spokane Valley, and for the first time, Brown says he's happy. "We've had so many of the same experiences in life; she's my best friend," Brown explains. "She is my angel, she saved me."
"You saved yourself," she says.
The Buckhorn Inn is like a second home to Texas Twister — they've played here every Thursday for the past four years. It's a cabin-like bar with low ceilings, padding around the bar top and mixed drinks with names like Goose Fart, Straight Shooter and Hot Spank. It's the sort of place Texas Twister's honky-tonk style of country music fits well.
"We're as committed to traditional country as any punk rocker is to staying out of the mainstream," says Brown, who grew up in Spokane. "And here we can do that."
As Brown, 48, tells it, he got his start late in life with everything, including country music. Up until his mid-20s, Brown was a self-described headbanger. When his interest changed to country music in the early 1990s, he wanted to play the new stuff, but after hearing the more traditional country (George Strait, Merle Haggard, Ray Price), he laid his Garth Brooks-wannabe ways aside.
"There's just something about that music that relates with me," he says, pale green eyes shining.
Before he could start a band, however, the man with a linebacker's build had to overcome his shyness. Brown recalls going to see current bandmates Duane Becker on steel guitar and Brad Jeanes on drums: "I started to watch them play when I actually had hair and a figure," he says with a laugh. Inspired, he swallowed his pride and took to the stage.
For the past 20 years Brown has played in various country bands, 10 of them with Becker and Jeanes.
When Texas Twister played its first gig at the Wagon Wheel Tavern in Medical Lake, Brown says he thought it wouldn't even last a month. But the band — including Scott Platts on guitar and occasionally Kenny Wier on fiddle and Tom Schaffer on guitar — and the audience just clicked. Today, their set list includes more than 200 songs, 32 of which are Brown originals.
"In this band I've achieved everything I've wanted," Brown says. This year, Texas Twister has gone from a bar band to recording artists with the release of its first album, Natural Disaster.
"Music is a feeling," he says. "I'm just a working man and that's all I understand. I tried to write a CD that people like me could relate to." ♦
Texas Twister • Every Thursday at 8 pm • Free • Buckhorn Inn • 13311 W. Sunset Hwy., Airway Heights • 244-3991