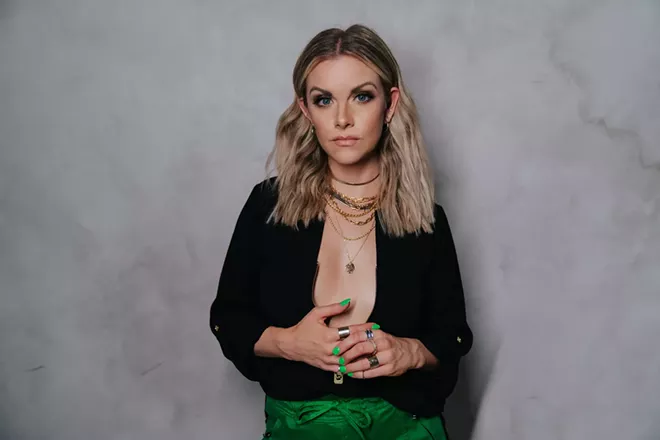 Lindsay Ell was the target demographic. She was a young girl... growing up in Canada... in the '90s... who had a passion for pop country music...
There was simply no way she wasn't going to be a massive Shania Twain fan.
"To say she was my idol growing up is honestly an understatement," Ell says. "I remember dancing in the mirror when I was 10 years old with a microphone my mom got from the dollar store, like practicing my Shania moves. Watching her music videos and just being like, I want to do that one day. I want to be Shania. And if you would have told that 10-year-old little girl that she is now going on tour with Shania and opening up for her and being on the road with her for a few months, I would have probably said you're crazy. And the fact that that's real life right now, it still feels so surreal."
A standout talent since she was a teen, Ell has made a name for herself in the pop country realm. She's released five albums (including her 2017 breakout record The Project, which reached No. 4 on the Billboard country charts), won multiple Canadian Country Music Association Awards for Interactive Artist of the Year (her social media game is on point), and even landed a gig as the TV host of Canada's Got Talent.
Ell's most recent LP Heart Theory came out in August 2020, which was a timing bummer because of COVID, but in a way it also felt fitting. The album conceptually explores the seven stages of grief, which Ell was wrestling with after a bad breakup. The album certainly leans more into the pop rock realm than a hard country twang, but the genre's fingerprints are evident in Ell's approach. The greatest tool in her arsenal is the emotive quality of her voice, which rings with an authenticity as she sorts through her feelings of anger, depression and acceptance. Her songwriting certainly carries a hint of that whisky-drenched country sadness, and Ell feels grateful to have the chance for Heart Theory to be an empathetic vessel for those dealing with grief.
"I wrote Heart Theory as an album to be there for anyone who was going through anything. For me, it was a breakup. But whether somebody was going through the loss of a loved one or loss of a job or moving across the world or whatever it may be — going through a global pandemic," Ell says. "It was just my healing process. And I really hope that that album can be there for anyone else who's looking to heal."
In a certain sense, it does feel like all Ell's hard work and heartbreak have led her to this perfect spot — opening for her hero Shania Twain on the Canadian country superstar's upcoming arena tour, which kicks off with a sold-out show at Spokane Arena on April 28. Ell fondly recalls going to see Twain on tour as a little kid and essentially seeing all of her dreams materialized in real life on that stage.
"I look up to her so much. And not only did she inspire me so much back then when I was just starting out and deciding I wanted to be an artist, but she still is so inspiring to this day," Ell says. "It's difficult to find a female artist who fearlessly stands up for what she believes in, and says the hard thing or supports the hard thing, and does it with grace, and feminism, and is sexy while doing it. Shania — she's just the GOAT of all things, you know? And I think it's always hard for female artists to walk that line in between saying what you mean, and still being a sexy feminine woman while doing it, and she just does it so effortlessly."
Heck, unbeknownst to Twain, one of Ell's big breaks might not have come without the Queen of Country Pop.
"I went to Nashville 12 years ago to sign my first record deal. I remember walking in the boardroom of Broken Bow Records. The first CEO of that label, Benny Brown, was like, 'Who are your influences?' And I was like, 'Well Shania Twain, obviously.' And he was like, 'OK, play a Shania Twain song," Ell recalls. "And so on the spot, in order to get my record deal in Nashville, I needed to pull out a Shania Twain song. Which of course was easy for me, because I grew up on that music. But I played 'No One Needs to Know' in a conference room with 12 people deciding if they were gonna give me a record deal or not. And when I finished that song, he was like, 'We want to sign you.' And so Shania has been with me from the very, very beginning to basically helping me get a record deal."
This will hardly be Ell's first rodeo opening up for a country megastar, however. She's also warmed up the crowd for big names like Keith Urban, Brad Paisley and Blake Shelton. It took her awhile to figure out how to best approach playing for a massive audience consisting mostly of folks who don't know her music, but at this point she's a seasoned vet.
"I definitely have learned what my job is as an opener," Ell says. "It isn't always doing the thing that feels most artistic to me in my heart, it's kind of molding those worlds. I just try to create moments in every song so that even if someone is familiar or not familiar with my music, they still really enjoy it."
That ability to adapt has become crucial in the modern country landscape. Like many top female country acts (Taylor Swift, Kacey Musgraves, Maren Morris, etc.), Ell's sound has shifted more and more into a pop direction as the years have gone on. That shift can be heard on her new single "Sweet Spot," where Ell optimistically grapples with finding the perfect place between life's highs and lows over a deep, shoulder-shaking pop rock groove. And that artistic malleability has sort of become the norm in the modern country world.
"I feel like I have been leaning into all of my influences, more so now than I ever have in my life. Country music is who I am as a person, but I think that country's such a wide definition right now," Ell says. "You know, you see all things being welcomed into the format — anything from Sam Hunt on the pop side of the format to Jon Pardi and even Morgan [Wallen] and Hardy being really country/hard rock. The fact that you can have sonically all of these different things happening in one format, I think it's really exciting."
"Because if you aren't growing, then what's the point of releasing new music?" Ell rhetorically asks.
For now, she's content just to bask in the warm joy of getting to hang with her childhood hero on a nightly basis.
"You know, they say never meet your idols, but I will say Shania Twain is an exception to that rule, because she's just so awesome," Ell says with a laugh. "And so down to earth. And she likes to hang out for the show and talk about life and fashion and has a really cute Pomeranian dog. And I have a Pomeranian. And so I just feel like so many of these things are just meant to happen in life." ♦
Shania Twain, Lindsay Ell • Fri, April 28 at 7:30 pm • Sold out • All ages • Spokane Arena • 720 W. Mallon Ave. • spokanearena.com