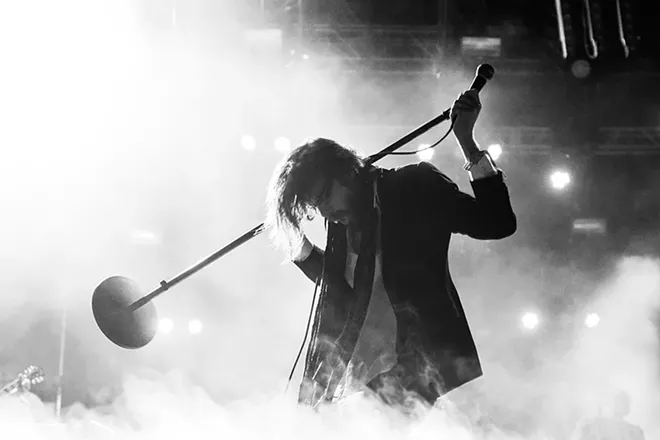 During last year's Sasquatch!, Father John Misty arrived in a haze of whispery fog and candied light. The neon heart sign behind him ironically read "no photography." Fellow photographers in the stage pit bitched about the terrible lighting, but Chona Kasinger still had a deadline. With only the first three songs of the set to work her magic (the customary professional photography limit for most shows), Kasinger snapped away, trying to use the smoke and shadow to her advantage.
Back at the media tent, she saw the shot: Father John Misty (aka J. Tillman, formerly of Fleet Foxes) standing with his mic over his shoulders, swallowed up in a cloud of machine-made fog.
"I'm so proud of that photo," she admits over the phone last week from her Seattle home. "It just shows, regardless of the light, there's always a possibility."
That black-and-white Father John Misty portrait, along with select Kasinger touring-band shots, will be featured at the Bartlett's First Friday artist display, coinciding with this year's Volume festival. Although Kasinger is missing the 5 pm reception, as she's covering the Governors Ball festival in New York, her work is up through June.
That the Seattle/NYC-based artist is showing in Spokane for the second time — her work has also been displayed at the Elk — isn't so strange. Her boyfriend Erik Walters, formerly of the Globes (a Spokane act that moved to Seattle) and now of Silver Torches and Soft Sleep, grew up here.
"Back in 2011, when we were first dating, I'd get out of class at UW Tacoma, get in my car and zoom to Spokane for the weekend," she recalls. "I've met a bunch of people there and made friends."
Now as a full-time freelance music photographer, the 27-year-old occasionally covers touring bands in the Lilac City (such as last year's Sleater-Kinney's comeback show, their first in a decade, for Rolling Stone). When Walters plays here, she'll come along too. She says it's a sweet getaway from the hustle of Seattle and New York, and she likes to hang out at Boots and Baby Bar.
Kasinger didn't grow up interested in cameras, other than the disposable variety. But after her high school rock band fell apart in 2007, she saw photography as a way to still participate in the music scene. Mostly self-taught, she says her first band photos were terrible. She soon realized she'd have to pay her dues. Interning at Rolling Stone during college and eventually nabbing gigs with Seattle music websites and alternative weeklies, she's moved her way up the ranks.
"There's no way to train for this job," says Kasinger, who moved to a Seattle suburb from the Philippines at age 10. "To be a successful photographer, it's not your ability to take a good picture, but you have to be savvy and make the connections and be good at pitching."
Her life is a blur, she says. She has a place in Seattle but stays in New York City for jobs just as often. She'll crash with friends, sublet or look after an apartment for a few weeks. It's always up in the air.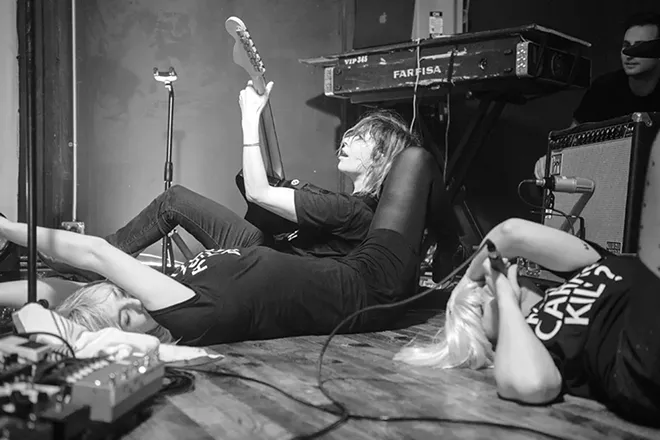 "It's the life of a freelance photographer," she says. "You never know what's next, where that next paycheck will come from."
Right now she's booked up with music festivals. She says she's moving from regional markets to more national coverage, recently shooting Justin Bieber's NYC show for the Village Voice and Tacocat for Urban Outfitters.
Her photo philosophy is all about simplicity. There are plenty of photographers going crazy with filters and editing tools, she says, but other than cleaning up some lighting, she doesn't mess with her shots.
"Often I have a really quick turnaround, and anyway, there just isn't time," she says.
In the world of constant selfies and documenting every minute, Kasinger and her colleagues are always looking for a better way to take pictures, to prove that their presence is necessary.
"You want to get the shot that's emotive, that shows the bodily fluids, the blood and sweat," she says. "The in-between moments, a lot of people put their camera down at that point, but a lot happens between the songs. And that's what I want to get."
As for the Bartlett showing, she says she wants her photographs to sing.
"My goal is to make people feel like they were there," she says. "I want them to smell the cigarette smoke, and hear the roaring crowd." ♦
First Friday feat. Chona Kasinger • Through June, reception Fri, June 3, at 5 pm • Free until 6 pm, when you need a Volume wristband • All-ages • The Bartlett • 228 W. Sprague • thebartlettspokane.com • 747-2174