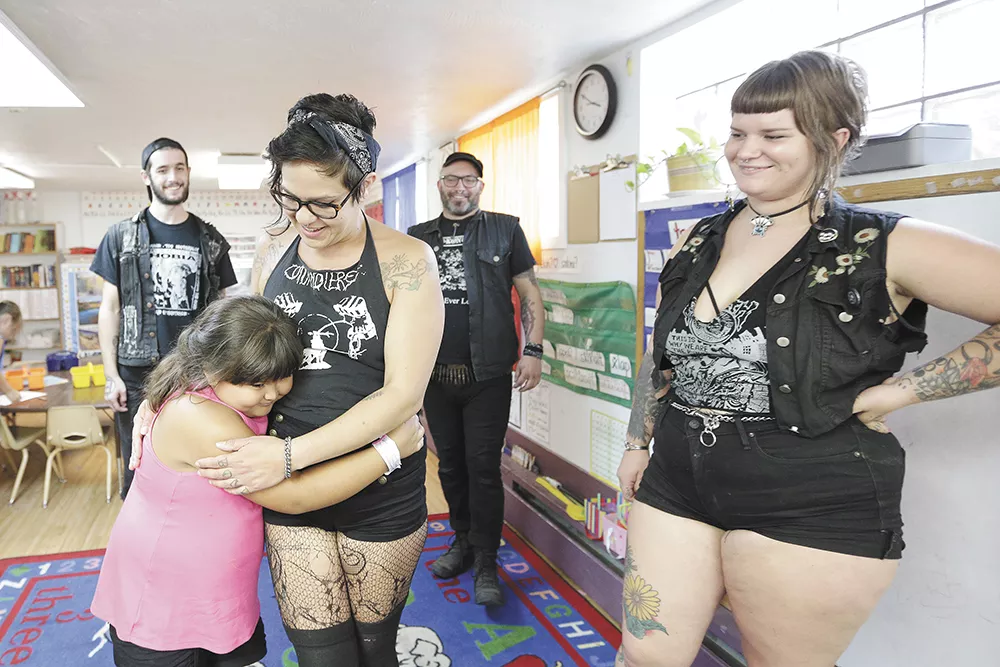 The images of the graffiti scrawled on the preschool-room walls of the Salish School of Spokane flashed in Dan Elliott's mind as he rehearsed with his band Askevault.
A swastika. "F--- You Indians."
The pictures Elliott and his friends saw on local news reports stuck in his head even as he and his Askevault bandmates tore through into the intricate, aggressive punk music that's been part of the 37-year-old's life seemingly forever.
"I was at a band practice, and I just couldn't get this out of my head," Elliott recalls a couple of months later. "I was like, 'I want to do something! This sucks!'"
For many in this era of hashtag activism and Facebook rants, that would have been the end of it. But Elliott and his fellow Spokane punks Kim Earl and Amanda Tyree wouldn't let that be the end of it this time.
They called the school and set up a meeting. They visited school principal Chris Parkin and learned about the Salish School's efforts to heal the damage done to the Inland Northwest's Native peoples through saving the Salish language. They saw the classrooms where some of the school's youngest students had to be sheltered from the early May hate crime.
And then they got organized, planning a benefit show of supportive punk bands happening Friday night at Mootsy's. There will be information about the Salish School's programs, music from Sentient Divide, Mala Vida, Efflüvia and Askevault, and a fundraising raffle for prizes donated by local skate shops, tattoo artists, breweries, restaurants, jewelers and salons.
"It's outrageous what happened," Elliott says. "We went there and it's just kids, you know? I can't imagine having to come in as a teacher and having to cover that up before the kids showed up. Unbelievable."
Earl recalls coming to tears watching a video on the school's website in which a Spokane tribal elder speaks in Salish about fully expecting her language to die, having witnessed Salish beaten out of her people over years of outrageous government policies and oppression. Learning about the school's work, Earl says, and seeing the racist graffiti lit a fire among the local punk community.
"The thing about the punk scene is we all share the same values and beliefs, and recognize that colonization devastated the indigenous population and their language, their culture, their land," Earl says. "So it was really important for us to kind of recognize what the Salish School is doing, and recognize the strength and resilience in what their program is doing.
"Right now, people are outraged about a whole lot of stuff, but that outrage only really ever results in an angry post on Facebook or social media, and then we forget after we scroll through our feed a little bit. We wanted to react in a way that was positive. So we were like, 'Hey, let's have a benefit show!'"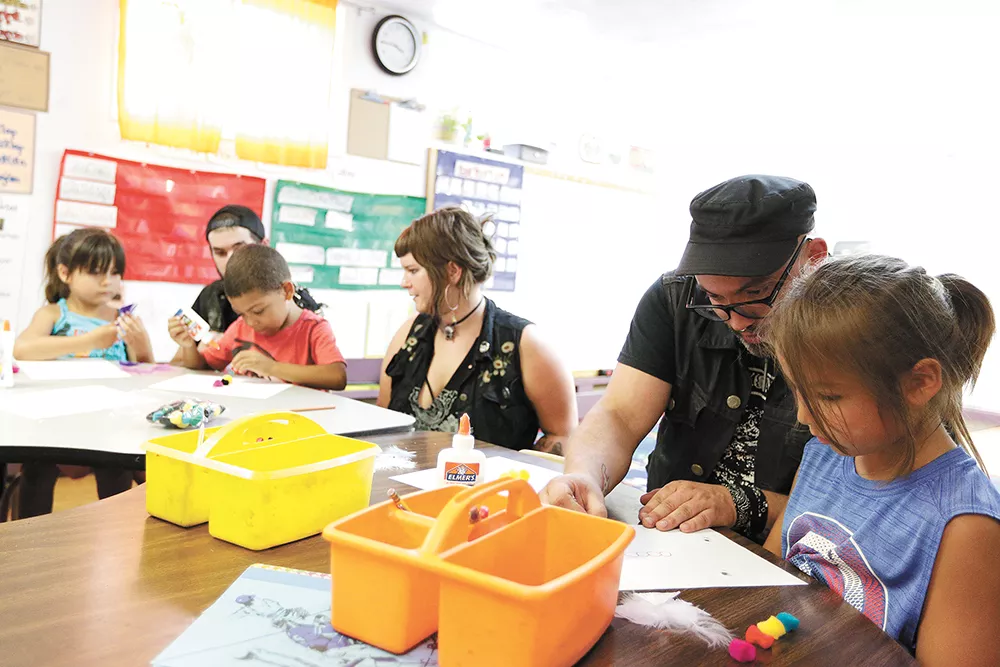 The Salish School of Spokane has grown steadily since first opening its doors in the fall of 2010 as a licensed daycare, serving just six kids in a little house on Cedar Street. Now the school serves 69 kids, ranging from 12 months old through fifth grade, on a Maple Street campus that incorporates a couple of buildings and a spacious yard.
Leading a tour, Parkin, the principal, speaks in Salish to students as we move through different rooms, reverting to English to tell me about how the students and their parents come to the Salish School from throughout the area. The 69 students make the Salish School one of the 10 biggest Native language immersion schools in the lower 48 states, Parkin says, adding, "We're far and away the largest off-reservation immersion school."
Even so, the school and its mission remains largely a mystery to the public, and that makes staying open a real challenge for a school with no ongoing source of money.
"We have no regular funding," Parkin says. "We have no organization backing us. We're an independent nonprofit. The advantage of that is we get to escape certain politics and issues and go our own way with some strong leadership. The downside of that is we are always scratching for dollars to keep our doors open."
When something like the May break-in and vandalism happens, the cost of repairing the two affected rooms has real implications for the school's bottom line — not to mention the immeasurable psychological damage that comes with overtly racist acts like this one.
"When this happened, it was devastating," Parkin says. "My kids are Native, my grandkids are Native. But the way it hit my wife, just [being] violated because of who you are. And where the children are, where we're trying to make a safe space, for someone to come in and desecrate it..."
Parkin trails off at the memory before adding that the "sick irony" of the crime is that the school got attention it typically wouldn't, leading to various organizations in the community making donations to help with the repair and add a new security system to the grounds.
Parkin describes the message he got from the Spokane punks on his voicemail as, "Hey, we're some punk rockers, we hate what happened and we want to do a thing." When he met with the group and asked what they needed from the school, "They were like, 'Just come say a few words, we'll do everything else.' Awesome!"
The benefit comes at an opportune time for the Salish School, which is about to launch a Salish-immersion program for high school students thanks to a grant that originated under the Obama administration. The school is one of only five sites in the nation awarded a five-year, $1 million grant to explore new ways to help Native American teens succeed in high school and overcome the shockingly high rates of teen suicide and school failure in Native communities.
Suicide rates among Native Americans are more than double that of Asian, African-American and Hispanic populations, and nearly double that of Caucasians. According to the Centers for Disease Control and Prevention, more than 40 percent of Native American suicides are young people between the ages of 15 and 24, and a 2016 report from the Washington Office of Superintendent of Public Instruction said that Native students' graduation rates are the lowest of any ethnic group in the state.
For the Salish School, that means 15 kids this fall will take traditional high school classes online in the mornings, then take Salish language and culture immersion classes in the afternoons. The grant offers the school a great opportunity, Parkin says, "to create a Native-controlled Native cultural space that's safe, inclusive and celebrates where these kids come from and who they are."
The rub? The $200,000 annual grant requires the school to match with $50,000 each year of the program, and while they managed to pull it together for year one, it will be an ongoing challenge. The money raised by the Mootsy's benefit will go toward the teen program because, Parkin says, "it seems great to connect teenagers with rock music and a younger vibe."
For the show's organizers, the new high school program struck a positive nerve as much as the vandalism pissed them off.
"We all went to alternative high schools and know how important that is, especially for marginalized and oppressed kids, to have somewhere that cares for them," Earl says.
"Alternative high schools totally saved me in a lot of ways," Elliott adds.
As they worked to put the show together, the organizers were taken aback at how willing their fellow punks were to come together for the cause.
"People were immediately excited about it," Elliott says of spreading the word about the show. "I guess I was a little surprised at how excited and eager people were to contribute."
"When I started looking for raffle contributions," Tyree says, "people said yes on that day."
There was some reticence regarding having the benefit at a bar, Parkin says, given the sensitivity about alcoholism among Native people, and the fact that the benefit is for kids under 21, but he said the school's leadership ultimately decided "we need every open hand, every partner."
"We want our kids to have a healthy lifestyle, not based on not knowing anything, but knowing everything and making healthy choices, being culturally connected to the community," Parkin says. "That's what protects kids from drug and alcohol abuse and other negative behaviors. We'll take a little heat from somebody, almost assuredly. But we're tapping into the loss of language that's all caught up in genocide. And to fix it, you have to touch that. If you're going to heal a wound, you're going to touch it, and that hurts." ♦
A Benefit for the Salish School of Spokane featuring Sentient Divide, Askevault, Mala Vida and Efflüvia • Fri, Aug. 18 at 8 pm • 21+ • $3-$7 donation • Mootsy's • 406 W. Sprague • Facebook: A Benefit Show for the Salish School of Spokane