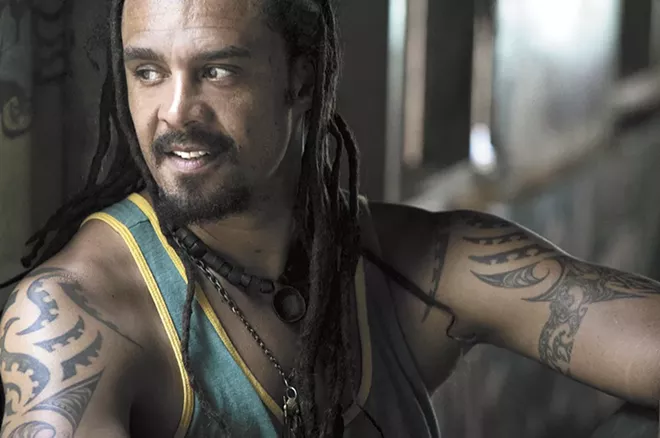 Michael Franti has always found inspiration for his music in the world around him.
Whether writing for his first group the Beatnigs, pioneering political rap crew the Disposable Heroes of Hiphoprisy or, most famously, for his long-running reggae-rock crew Spearhead, Franti has taken issues like racial injustice in the Middle East or post-9/11 fear and turned them into thoughtful, incisive songs. That you can dance, and dance hard, to such serious lyrical themes is a bonus.
For his newest single, "Once a Day," Franti didn't have to travel the globe or click on CNN for an idea. He merely had to look at his 16-year-old son Ade, who was diagnosed with a chronic kidney disease that took away 50 percent of his kidneys' function within six months of being discovered.
"It caught us completely off guard, there were no visible signs," Franti said in an interview from the road. "I was afraid it would really rip our family apart, but instead there were more hugs, more kisses, more 'I love yous.' It made us more appreciative of each other, and I wanted to write a song that put that into words."
Finding a joyful sound amid a sad situation is a forte of the lanky, dreadlocked and typically barefoot frontman, who found early inspiration for his socially minded music in the sounds of the Clash, John Lennon and Stevie Wonder, and later among peers like Public Enemy and Rage Against the Machine.
Underneath the mellow vibes of tunes like "The Sound of Sunshine," the avid yoga practitioner remains the man behind blatantly rebellious, progressive-minded songs like "Yell Fire!" and "Food for tha Masses."
"The history of rock 'n' roll has been in rebellion," Franti said. "During the late '90s and early 2000s, I think a lot of that rebellion was lost. It became the boy bands and American Idol — that was where people were going to find their music."
Depressing as that era was, Franti sees a re-emergence of socially conscious music happening through artists like Trevor Hall, and by fans utilizing the Internet to pass word of exciting sounds to places that never would have heard them two decades ago.
And Franti was also "heartened," again, by watching his son's relationship to music evolve as Ade grew up.
"He listens to underground hip-hop, and punk, and dance music that does carry that spirit," Franti said.
It's a spirit that's infectious at Franti's shows, as he leads his ace band through songs that veer from hip-hop to reggae, rock to soul. A sound and performance that make it easy to join the rebellion, at least for a couple of hours. ♦
Michael Franti & Spearhead with Facedown • Mon, Aug. 3, at 8 pm • $39.50 • All-ages • Knitting Factory • 919 W. Sprague • sp.knittingfactory.com • 244-3279