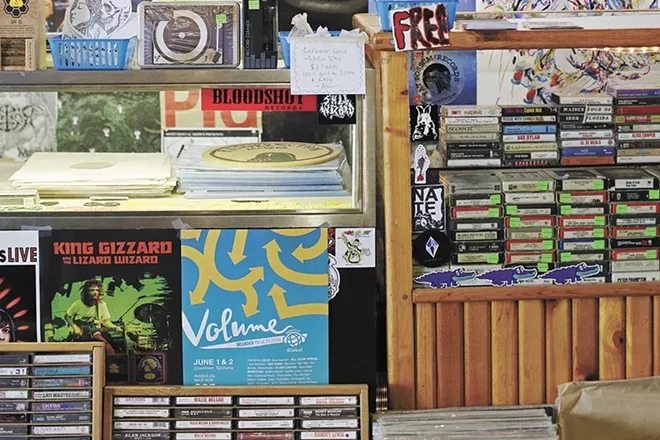 As you may be aware, the decade we just left behind was a challenging one for the folks among us trying to make a living as musicians. Thanks to the growing ubiquity of digital streaming platforms, sales of recorded music — both physical product and MP3s — are plummeting, slowing to a trickle what used to be a reliable revenue stream for most artists.
As a result, musicians have had to adapt, in part by spending more time on tour so they can sell more tickets and T-shirts. But ask anyone who travels regularly and they'll tell you that living on the road is no way to make a living, much less to enjoy a healthy home life. And besides, don't musicians deserve to be compensated for their work? They absolutely do, even if the internet has convinced us that we should have millions of songs available to us at the click of a button.
If you're reading this, chances are you love music, and you'd be bummed if your favorite artist stopped recording, or your favorite concert venue closed down for good. So in 2020, resolve to support the individuals and businesses that make music happen in meaningful ways. Here are a few suggestions.
DISCOVER A NEW ARTIST
At some point in their life, most people give up on checking out new artists and just stick to old favorites. Don't let that be you! There's an incredible breadth of artists and bands out there making music that may be right up your alley, and thanks to the internet, it's easier to find them than ever before. That's one of the positives of digital streaming platforms: Their algorithm-powered playlists and recommendations can be powerful tools for discovery.
IF YOU STREAM SOMETHING FIVE TIMES, BUY IT
Nowhere else in life do we consume without giving something back. You pay the local baker for bread. You pay the local brewery for beer. You even pay Fred Meyer for socks. Why shouldn't you pay a fair price for that 10-song album that's already given you hours of enjoyment and promises more to come? It's a small price to pay to not only support the artist, but to show appreciation for their craft. (But not as small as what Spotify pays per stream.)
SUPPORT YOUR LOCAL RECORD STORES
So you've listened to an album several times and decided you want to buy it. You can purchase MP3s, but where's the romance in that? Instead, consider getting a record player and diving into the vinyl revival. Spokane has a booming record-store scene, including old mainstays 4,000 Holes and Recorded Memories, as well as newer shops like Groove Merchants, Resurrection Records, Go! Records and Total Trash. At each, you'll find shelves of beautiful, warm-sounding LPs, as well as knowledgeable employees quick to share a recommendation, or just conversation.
DIG IN TO LOCAL MUSIC
Every evening, there are solo acts and bands playing live in Spokane of all different styles — from hip-hop and death metal to synth-pop and folk. To learn more about the local scene, scan the Inlander's event listings and go see a show. Attend our annual Volume Music Festival, which features lots of local acts. Or point your web browser to bandcamp.com/tag/spokane and marvel at the amount of recordings out there tagged with our town's name.
SUPPORT LOCAL VENUES
This one is so very simple. If you love seeing live music, you (knowingly or unknowingly) rely on someone in town to set up concerts, known as a promoter. Promoters need venues to put on concerts. And guess what? Both promoters and venues spend money to make concerts happen! Which means they need you to purchase tickets to the concerts to offset their costs. If you don't do that, they can't continue to put them on, the concerts will stop and our town will be significantly more boring. So go to the concerts! And...
BUY CONCERT TICKETS IN ADVANCE
The temptation to wait until the day of a show to buy a ticket is strong. Who knows how you might be feeling that day? Or if something better will come along. Or if it'll snow 6 inches. But the bottom line is that advance sales of tickets help promoters and venues by giving them more revenue earlier, more data for planning and more confidence in the market they're serving. Buying a ticket in advance is a great way to show these folks you appreciate them.
BUY SOMETHING FROM THE MERCH TABLE
Remember way back at the beginning of this article where we talked about how artists must make their money on the road these days? Well, one way they do that is by selling CDs, LPs, T-shirts and other stuff at the merch table before, during and after the show. So consider stopping by there to see what they have for sale. Better yet, commit yourself to buying one piece of merch at every concert you attend. Even a $1 button helps the artist buy gas and get to the next town, and you'll have a fun little souvenir for your cool denim jacket.
DON'T WATCH A CONCERT THROUGH YOUR PHONE
Like most of you, I understand the desire to document my experiences. My phone has lots of photos and videos of the shows I've seen. But the older I get, the more I recognize that life is not about the documentation: It's about the experience itself, and nothing bums me out more than when a song ends and I realize I can't really remember it because I was busy taking pictures. Next time you go to a show, challenge yourself to keep your phone in your pocket and to focus on being fully present in the moment. You'll be amazed at what a difference it makes. Which leads us to our final suggestion...
JUST LISTEN
So often in our hectic world, music is relegated to background noise. It's a start-and-stop soundtrack for a go-go lifestyle, or wallpaper while you're doing other, more pressing things. But it doesn't have to be this way. In 2020, schedule yourself some time to turn off your screens, slip on some headphones, press play and listen. Just listen. You'll slow down. You'll hear new things. You'll reconnect — with your music, and with yourself. And you'll be glad you did. ♦