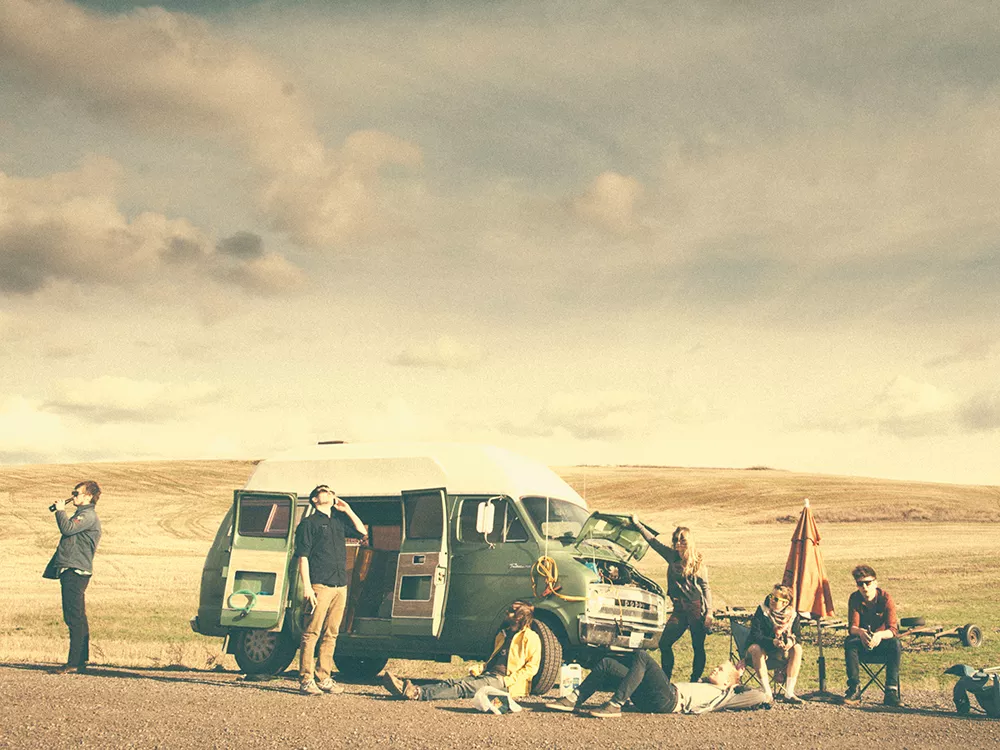 It's hot. Louisiana-in-mid-July kind of hot.
The temperature is supposed to reach well beyond the 100-degree mark today, yet none of the members of the band Terrible Buttons seem to be in much of a rush to get out of the sticky, asphyxiating temperature. On the creaky wooden porch of a beat-up house in a less-than-savory Spokane neighborhood, they suck down cigarettes and pop open cans of PBR alongside friends who don't seem to have anywhere better to be on this Monday afternoon. They stare out over the yard, where a broken electric wheelchair is parked, chickens strut about and a dopey orange dog greets anyone who looks her way and receives complimentary belly rubs.
As the sun reaches the top of the sky and more of the band's seven members appear — all sweaty, all commenting on the heat — they relocate to the basement. There's no basement door, and there aren't stairs either: just a downward slope of dirt that winds underneath the house's foundation. It's a dank, grimy space, but it's what they've got.
Now more than ever, it's a fitting scene for the local "horror folk" band just a week before they release their new album, Runt, to the public. They'll make music no matter what the odds. It's what drives them, even if they have to play in a dirt-floored basement.
At times, Runt is hair-raising in its power and bursting with heart — a record of truly gritty songs fraught with tension and discomfort and that excited feeling of not knowing what's ahead. And it signals a big change for the band.
When Terrible Buttons released their 2011 debut album Plates of Ether (which they recorded with Macklemore and Ryan Lewis before anyone knew who they were), the Whitworth University-bred band's sound was polished. Sure, they were gritty for a folk band. They sung of divorce and whiskey and smoking weed. They were undeniably genuine in their lyrical flip-offs to organized religion, but maybe a little too charming, with all of the plinking glockenspiels, to merit the "horror folk" title.
It was clear back then that these were good kids — kids who aspired to be lawyers and teachers and who loved Jesus in their past lives. And Spokane — hell, Alaska, California, Seattle, Boise and Bend, too — loved them for it.
But things have changed. They're long past being those good kids whose biggest rebellions were too much whiskey and the occasional joint. They're out of college now. They're working bar and retail jobs that make them wear aprons, and Sallie Mae won't stop calling about their overdue student loans. There's a certain displeasure and anger that steams off the top of every song on Runt.
"I've got kind of a one-track mind in that I just couldn't get off certain themes," says Kent Ueland, who sings and plays guitar, as he takes a drag from a cigarette and blows the smoke into the heat. "There's a lot in there about money. It's all struggle, really. Whether it's strong versus the weak, or poor versus the rich — just sort of these juxtapositions between stuff like that. I would say mostly [Runt is about] strength versus weakness and what the value of strength is, really."
It's an album that sounds different, too. There are some of the same characteristics that have made Terrible Buttons so unique: the character-based songs, the interplay of Ueland's strained cries and stalwart proclamations with the clear-as-church-bells vocals of his girlfriend, Sarah Berentson. On Runt, however, the band doesn't anchor its sound in just a few things, but in the talent of all seven members. There are tracks, like "Everybody Knows Everybody," that showcase the talent of trumpet player Kristen Black, and pounding, tribalistic drums on "Highest Card to Heaven." There are long, long solos of distortion and drawn-out jam sessions across the album.
That's all because Ueland got out of the way, he bluntly admits.
"I guess the biggest thing I've learned is to let shit go and trust your band. I don't know how to play the trumpet, so having a trumpet player write trumpet parts makes a lot more sense," he says. "But it's so much different than it was. That first record … it was like 90 percent me just writing all these parts and being like, 'No, this is my project that my friends are in.' And now it's like, 'These are my friends and we have a project.' "
Ueland says when he stepped aside, the band finally became what it was meant to be. There was room for everyone's talents, everyone's input. Room to breathe.
"That's probably the biggest qualm that I have with that first record — like, I'm trying to say so much," he says. But here the band is "letting the listener come to their own conclusions and giving them some time to think about the things that you're saying, or, like, forget the things that you're saying and just f---ing jam."
"I think that's one of my favorite parts of our show, when those jams come in," Berentson adds. "All of us are in sync, we're all into it. Those are the times that you can forget you're playing a shows — doesn't matter if there's two people there or 300 people there. I think we get that when we play downstairs. We're like 'That was fun, make that go on for a little bit longer.' "
Listening to Runt, you get the feeling that no matter how long and hard the road that takes them to success, Terrible Buttons will be jamming just like this for more than just a bit longer.
Terrible Buttons Runt release party with the Hoot Hoots and Cathedral Pearls • Fri, July 12, at 8 pm • nYne • 232 W. Sprague Ave. • $7 • 21+ • fifthcolumnpromotions.com • 474-1621