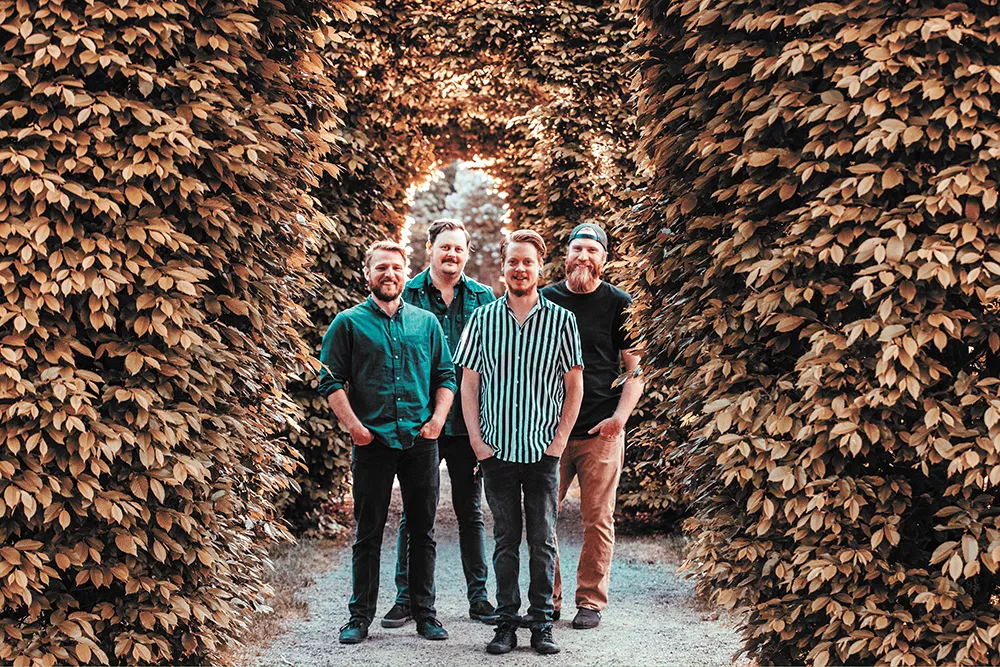 Most bands communicate meanings and messages through their lyrics, but Deer's songs generate big feelings without ever uttering a word. The Spokane quartet self-describes as "ambient progressive rock" — well, that's a designation that someone suggested to them, and they're fine with it — and their twisty and often catchy melodies are told through dual guitars, rather than a frontman singing into a microphone.
This arrangement isn't exactly by design. The four-some — guitarists Chris Renz and Scottie Feider, bassist Andy Bartholomew and drummer Sam Stoner — tells the Inlander that they planned on having a lead singer at one point, but the pieces just never fell into place.
It doesn't really seem to be a problem, anyway: Listeners often do the heavy lifting, writing their own vocal lines in their heads as the band plays.
"We were planning on getting a singer," Feider says, "but it was one of those things where nothing really worked and we didn't know anybody."
"A few people showed interest, but nothing ever materialized," Renz says. "We just got to the point where we embraced being instrumental."
The guys in Deer played their first show as a quartet in 2017, but their musical chemistry had, in some ways, already been established. Its members had previously performed together in other bands, though in different variations. Stoner and Bartholomew have actually played as a rhythm section since they were teenagers — in the on-again, off-again power-pop band Pine League with Feider, and in the now-defunct post-hardcore outfit the Lion Oh My with Renz.
That sense of harmony is apparent in Deer's writing style, which Feider describes as "staring at Chris while he makes all these cool riffs and loops."
"It's really organic," Renz adds. "I'll come up with a part or Scottie will come up with a part, and usually within 30 seconds, Sam will add a part to it. And if he doesn't, maybe it's not something we can explore."
"Pretty much every song has been written really quickly, in one practice, maybe two," Stoner says. "If we have to force it, we usually just shove it to the side."
Deer dropped their debut album Delta Waves online last month, and they're celebrating its release with a show at Lucky You Lounge over the weekend. Right now, they're opting for a digital-only release — you can purchase a download card at the concert — but they're not opposed to a special vinyl pressing somewhere down the line.
"I'm antsy to get it out," Feider says.
"I'm more proud of it than anything I've ever done," Stoner adds.
DEER'S FIVE ESSENTIAL ALBUMS
Tides of Man, Young and Courageous
Caspian, You Are the Conductor& the Four Trees
Blanket, How to Let Go
Hammock, Universalis
The Appleseed Cast, Two Conversations
The band started recording Delta Waves nearly two years ago with local engineer Lee Stoker, a session that produced a trio of songs they were happy with. But a physical release never materialized, and Deer didn't get back into the studio for another year, when they knocked out the four other tracks that comprise the rest of the album.
Although that gulf of time is bridged seamlessly on the record itself — there's no dramatic shift in quality or style between the older songs and the newer ones — the album as a whole nonetheless represents the band's evolution over its relatively short lifespan. Though some of the tracks were written back when a lead singer was still in the cards, the cumulative effect of the swirling guitars, ever-shifting time signatures and lush dynamics is practically cinematic. Think of it as a soundtrack to your own imagined movie scene.
Delta Waves was recorded live with a click track, as a means of capturing what a typical Deer concert is like. But don't think the songs are in any way improvisational: "We're not a jam band," Renz explains.
"It's kind of a meditation," Feider says. "I kind of zone out. It's a different feeling for me, which I've never felt in a project before." ♦
Deer Album Release with Civiliance and SOT • Sat, Oct. 26 at 9 pm • $7 advance, $10 day of • 21+ • Lucky You Lounge • 1801 W. Sunset Blvd. • luckyyoulounge.com