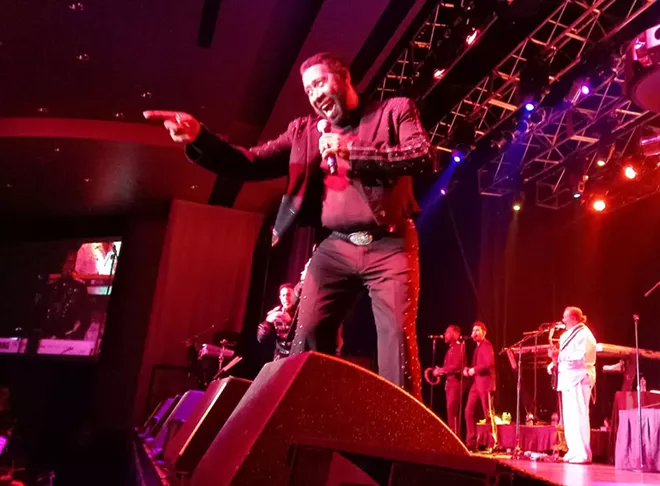 O
ne great thing about seeing "oldies"
acts on tour is the vivid reminder you get that groups in the old days really knew how to serve their fans.
Take
the Commodores
, for example, a group with a 52-year-history that swung by Northern Quest Resort & Casino Thursday night. Sure, most of their big hits came in the '70s and '80s when Lionel Richie was in the group, but they've never stopped working. And working hard.
Their show Thursday featured a five-piece band ("The Mean Machine") and two additional back-up singers in addition to the three Commodores — William King, Walter Orange, and J.D. Nicholas who joined the other long-timers in the band in 1984. And over the course of 90 minutes, they turned virtually every song into a celebration and a lengthy jam.
Utilizing a video screen behind them to flash images of everything from hot roller-disco moves (during "Machine Gun") to a brick wall (during the show-closing "Brick House," naturally), the Commodores and their tight band danced up a storm, showed a nice flair for bling-dripping stagewear, and chatted up the crowd — especially the ladies in the house — between nearly every song.
Orange proved a particularly entertaining character on stage, the co-writer of many of the band's biggest hits moving between a front-of-stage drumkit to center stage to the edges where he could reach out and touch a lot of hands. Likewise, King was a master of ceremonies of sorts, introducing the band and jokingly showing off his dance moves between singing, playing trumpet and playing guitar. Nicholson was the smoothest vocalist of the three, showcased particularly on "Three Times A Lady," and had the flashiest jackets.
It was a night of nonstop hits, delivered in style for a room full of good spirits encouraged by the guys on stage. At one point, Orange had everyone in the crowd introduce themselves to a stranger — and people did it! Whether you were there for "Easy," an older cut like "Just To Be Close To You" or the monster finale of "Brick House," you surely walked away satisfied.
And that's what an oldies act should do every time.
COMMODORES SETLIST:
"I Feel Sanctified"
"Wild Thing"
"Too Hot ta Trot"
"Easy"
"Just to be Close to You"
"Zoom"
"Sweet Love"
"Sail On"
"Oh No"
"Lady (You Bring Me Up)"
"Machine Gun"
"Still"
"Three Times A Lady"
"Nightshift"
"Brick House"