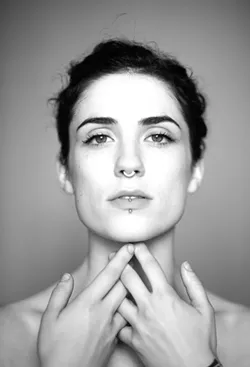 Katie Kuffel says everything she's ever listened to has probably seeped into her subconscious and somehow influenced her music. The Seattle-based songstress blurs lines between jazz, folk and blues, and her classical training and affinity for Romantic-period compositions comes through in dramatic flourishes.
"I like the theatrical aspects of music," she says. "I'm not sure that it's a direct influence, but having classical music as a backdrop gave me different tools than, like, Top 40 radio would."
Speaking to the Inlander from the passenger seat of her touring van ahead of her upcoming gig at the Observatory, Kuffel explains that at this point in her music career, she doesn't have monetary-based goals. She has a steady but flexible job that allows her to travel for shows, but she doesn't anticipate depending on music for her livelihood anytime soon.
"My goal is to be proud and happy of the music I'm playing and the people I'm playing it with," she says. "I'm not putting stress on the art to be anything other than what it wants to be. I'm perfectly content to let it grow naturally, and no matter what I'm doing, to keep playing music."
Kuffel grew up on Bainbridge Island, across Puget Sound from Seattle. She was exposed to music at a very young age, because her parents — devoted Deadheads and "huge music appreciators" — often toted her around jam-band concerts as a baby. She started playing music in first grade after a classmate brought his cello to show-and-tell.
"He knew all the classics, like 'London Bridge Is Falling Down,' and that was my shit," she recalls. "I was like, 'I've gotta do that.'"
When she got a little older, she started taking piano lessons from a teacher who recognized and supported her learning style.
"I wasn't very good at structured lessons," Kuffel says. "I started writing music and showing interest in music outside of classical or jazz, and she was this great mentor in getting me started toward performing at all."
Though she still messes around on the cello for fun, Kuffel sticks to singing and playing keyboard in her band. And she's not the kind of songwriter who will dictate, note-for-note, what supporting musicians play: She's more big-picture rather than detail-oriented.
"I'm not super precious when I make music; I like to work collaboratively with people," she says. "I like to be flexible so people can kind of make it their own."
That was her approach in recording Fremont Abbey Sessions, a project released in January. Working with artists she met through the Seattle-based nonprofit organization Fremont Abbey Arts Center, she spent six months producing a collection of live-recorded songs, including the excellent "Cantaloupe." Compared with many of her complex jazz compositions, it's a relatively straightforward pop song, with muffled tuba setting the stutter-step rhythm and Kuffel singing an earworm melody. The down-to-basics approach is new territory for her.
"As I go on, it's getting easier for me to kind of clean up songs and go straight for the truth of what the song is going to be, rather than adding all these bells and whistles," she says. "I used to get caught up in making the song more interesting, and that would jeopardize what the song actually was. ... And that's where I'm going with music. I like it stripped down and a little more simple, to give a song some room to breathe."
Contrary to the title, "Cantaloupe" isn't about fruits commonly served with brunch, but rather the obstacles preventing people from being kind to each other. (She has a hard time naming songs.)
"I think it's a worthy pursuit to look at those obstacles, question them and own up to them — sort of bring them into the daylight," she says. "One of the best things we do for each other is offer kindness." ♦
Katie Kuffel with Sulphur Banks and Newman • Sat, Nov. 11 at 9 pm • $6 • 21+ • The Observatory • 15 S. Howard • observatoryspokane.com • 598-8933