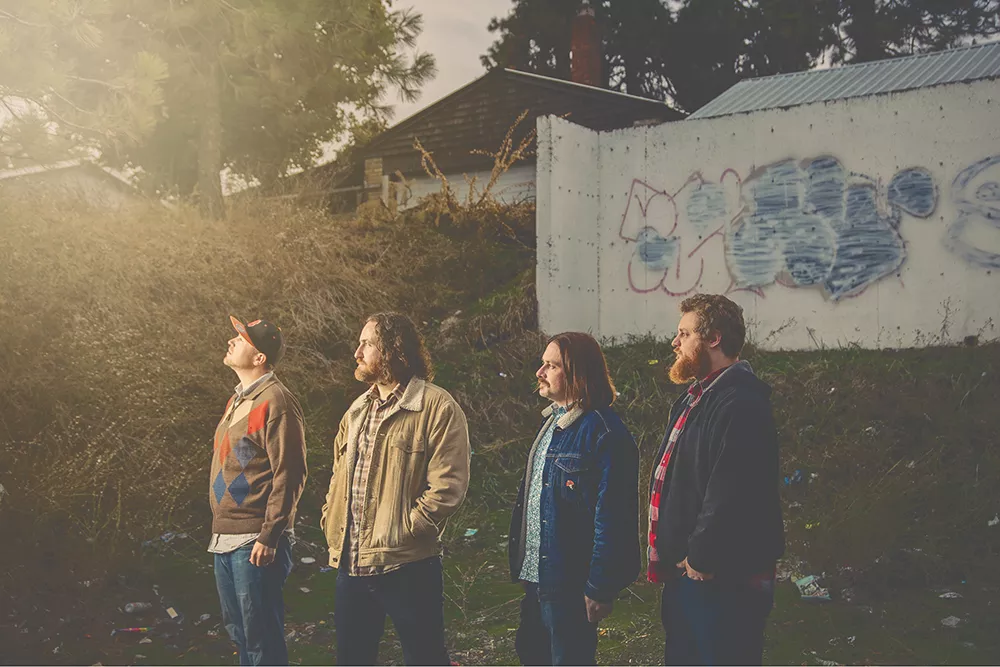 Being a Spokane band with some ambition comes with inherent challenges. Among them, long drives between tour dates, the openings and closings of venues, and the possibility of overexposing yourself to the dedicated fans of local live music if you play too many shows in our relatively small scene.
Buffalo Jones has been navigating those challenges for more than a decade, and much of it is recounted in "Every Word," a new song that winningly encapsulates the experiences of working musicians ("there were nights when we knew all 12 people in the room") while name-dropping Spokane venues past and present and expressing wonder that the band's been able to keep going ("after all this time, our light it flickers still").
"We've never been the biggest band in Spokane," jokes singer/guitarist Jason Johnson, "but we've lasted longer than almost every band in Spokane."
"Every Word" is one of nine songs on Buffalo Jones' new album Standing By, a set the quartet — Johnson, guitarist Brandon Humphreys, bassist Andy Rumsey and drummer Joshua Martin — recorded in Athens, Georgia, with David Lowery, the leader of indie-rock pioneers Cracker and Camper Van Beethoven. Lowery does a little producing when he's not busy teaching classes on the economics and finance of the music industry at the University of Georgia. (See "Paging Dr. Lowery.") He'll bring both his bands to Spokane for a show that will be the release party for Buffalo Jones' album and the culmination of a short-but-sprawling western tour.
The circumstances of Buffalo Jones working with Lowery came through a strange night in the Tri-Cities, when Cracker found themselves without an opening band, or any gear to actually perform the show. A mutual friend contacted Johnson and Buffalo Jones motored down with a van full of equipment for a show where, Johnson says, "no soundman showed up. Bad stuff."
"It was this really weird kind of club that seemed to have people quitting just as we were loading in and setting up," Lowery recalls over the phone from his Georgia home. "[Buffalo Jones] had a really good sense of humor about it, and then they played and we're like, 'Wow, these guys are good.'"
That was a few years ago, and Buffalo Jones has regularly opened for Lowery's bands in Portland and Seattle since. After one of those shows about a year ago, Johnson half-jokingly suggested Lowery produce Buffalo Jones' next record. Lowery emailed him the next day and they started planning for some summer sessions.
Not every band could make their way across the country to spend 11 days recording, but Buffalo Jones was in the position to pull it off. Humphreys and Martin are teachers and would be on summer break, and Rumsey and Johnson could make it happen.
"I've been listening to Cracker since I was 12," says the 38-year-old Johnson. "It was the kind of opportunity where, I wouldn't be able to live with myself if I said, 'Hey, sorry, David.'"
Buffalo Jones brought 15 new songs to Athens and played through them all for a day as Lowery listened before they recorded for 10 days in the windowless studio space where the guys also slept.
The nine songs that made the cut include two featuring Lowery on vocals, and was mostly recorded live, with the whole band in a room playing the songs over and over again until they got a take they liked. While the overall sound isn't a giant move away from Buffalo Jones' older albums, it's a tight collection of rootsy rock with the best songwriting of the band's career so far.
"For most of it, [Lowery] liked our songs and wanted them to be what they are," Johnson says. "The record itself is the best-sounding record we've done. It's definitely the biggest rock record we've done."
Humphreys concurs. "It's more 'live' feeling," the guitarist says. "That really is us as a band. I'm so glad we tracked it live. There's some bands where that's part of the charm. Tight, but loose. ... We're a live band."
Lowery enjoyed the experience as well, and notes that he doesn't produce many records these days because there's just not much money in recorded music. But watching Buffalo Jones the last few years inspired him.
"If there's anybody out there who represents what I really consider the true spirit of indie rock — recording it yourself, writing your own songs, doing it your own way, getting in the van and driving all night — true believers in indie-rock ideals, it has to be these guys," Lowery says. "And like many bands that have been together so long, they've really honed their craft, their songwriting, the way they play together. It's a dying art almost, what bands like Buffalo Jones do." ♦
Cracker, Camper Van Beethoven and Buffalo Jones • Sun, Jan. 5 at 7 pm • $25-$30 • 21+ • Lucky You Lounge • 1801 W. Sunset Blvd. • luckyoulounge.com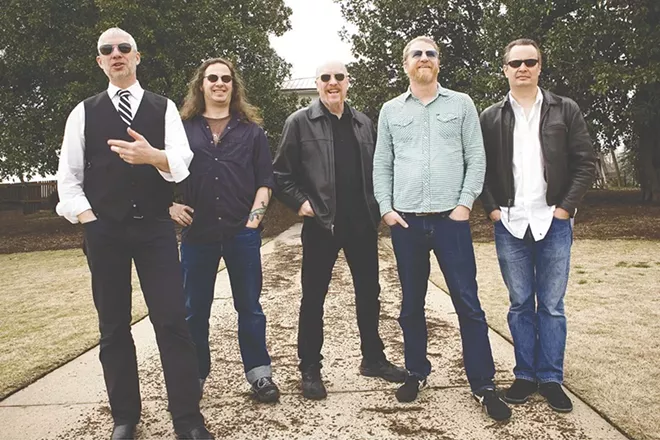 PAGING DR. LOWERY
David Lowery's had one of the more interesting careers in modern rock music. Over the past 30-plus years, he's gone from being the lead singer and primary songwriter of a weirdo punk-ska crew in a surf town (Camper Van Beethoven), to a platinum-selling band leader during so-called "alternative" rock's commercial heyday with Cracker, to, now, sharing his expertise on the music business and artists' rights as a professor at the University of Georgia.
In between semesters, the Ph.D. in higher education goes on the road with Cracker and Camper Van Beethoven, still playing 60-80 shows a year for fans who still revere tunes like "Take the Skinheads Bowling," "Ambiguity Song," "Low" and "Get Off This." And to hear Lowery tell it, the path from playing punk clubs and dive bars in the '80s to a college campus in Athens, Georgia, was natural thanks to his first band's early decision making, and one strong mentor.
"We had this sort of random, rich rancher cowboy guy, I'm not kidding," Lowery says. "Like out of a frickin' movie. He loaned us a truck to go out and do our first shows out of state, he loaned us money to press our first record. And he played in a band, and he helped set the tone. So we set up our own record company, our own publishing company, we copyrighted our own material. We were pretty sophisticated right from the start."
The lessons learned as an indie band and indie label served Lowery well when Camper Van Beethoven and then Cracker later recorded for major labels, and gave Lowery a keen sense of how rough the streaming era is for artists once the digital revolution hit. He's penned a couple of viral pieces on music's streaming economy: Google "Meet the New Boss, Worse Than the Old Boss? My Song Got Played on Pandora a Million Times and All I Got Was $16.89" and you might think twice about listening to your favorite band online.