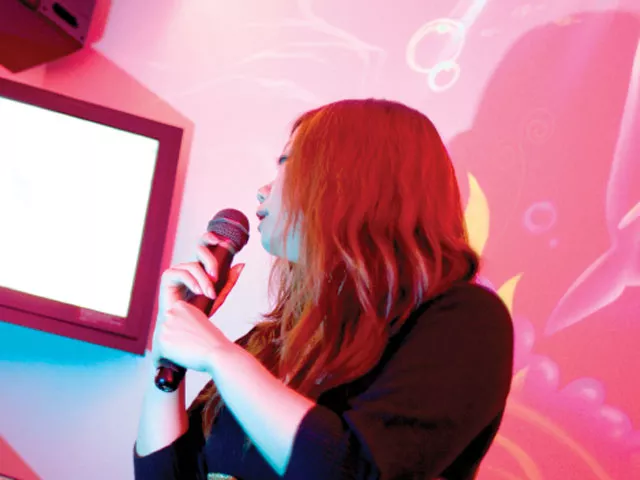 It smells like cigarettes and beer garden. Inside, a woman steps on a cat. Wait, no — she's just singing. The middle-aged dirty blond, in a pink dress and nylons, is overdressed for Tuesday night karaoke at Hangar 5
Just as she sings, "Proud Mary keep on burnin'," her hands wander to the edges of her dress. Seductively, drunkenly, she lifts up her skirt and sings, "Rollin', rollin', rollin', on the river." And by the time the microphone is out of her hand, a man swoops his arm around her and carefully leads his stumbling songbird to the door.
"Spokane is one of the biggest karaoke cities," says Rich Ganas, from behind the switchboard at Hangar 57. Ganas has seen karaoke's rise and fall in popularity over the last eight years, but these days he's working five nights a week.
"I basically get paid to have fun," he says. "You can't beat that with a stic
It seems that every dive and neighborhood bar that's associated at all with karaoke is flourishing. In downtown Spokane, you can sing karaoke seven nights a week.
"The numbers speak for themselves," says DJ Dick Fury. "Karaoke brings in the money."
Fury started hosting weekend gigs at Monterey Cafe last July. The success was so big that the bar began hosting karaoke four nights a week.
Since then, Fury has taken his list of songs to the Blvd (now the Seaside) and the Marquee.
"I don't think it's the weirdest thing in the world, but before I started I had only done it twice," he says. "Now I do it seven nights a week."
Beneath the red glowing lights of Irv's, two women clasp hands. Once they reach the chorus of "Sweet Caroline," the entire bar is on its feet. Hand in hand, rosy cheeked and singing "So good! So good!" it looks like an episode of Cheers — if Cheers had karaoke.
Karaoke has always been a part of DJ Scott Deison's life. His wife dragged him to enough bars that eventually he started his own company, Live Wire Entertainment. Even after eight years of hosting, he says he doesn't hate it.
"I like the people and the camaraderie," he says. "As long as music is popular, karaoke will be popular."
Peking North and the Star are local legends in karaoke. Peking hosts seven nights a week and boasts a switchboard that they say is the most complicated in town, says DJ Larae Braach. But it's the crowd of regulars and Gonzaga students that make the Star Bar an institution.
"We have a lot of regulars who hop from bar to bar each night following karaoke," says DJ Alyssa Fisher of the Star. "I've got 30 singers on a Monday night who all have to go to work the next morning. But everybody wants to be a star for a few minutes."
The majority of these veteran DJs are confident that karaoke has a permanent home in Spokane. "It's for people who like to do it," Fury says. "It's usually hard not to have a good time."