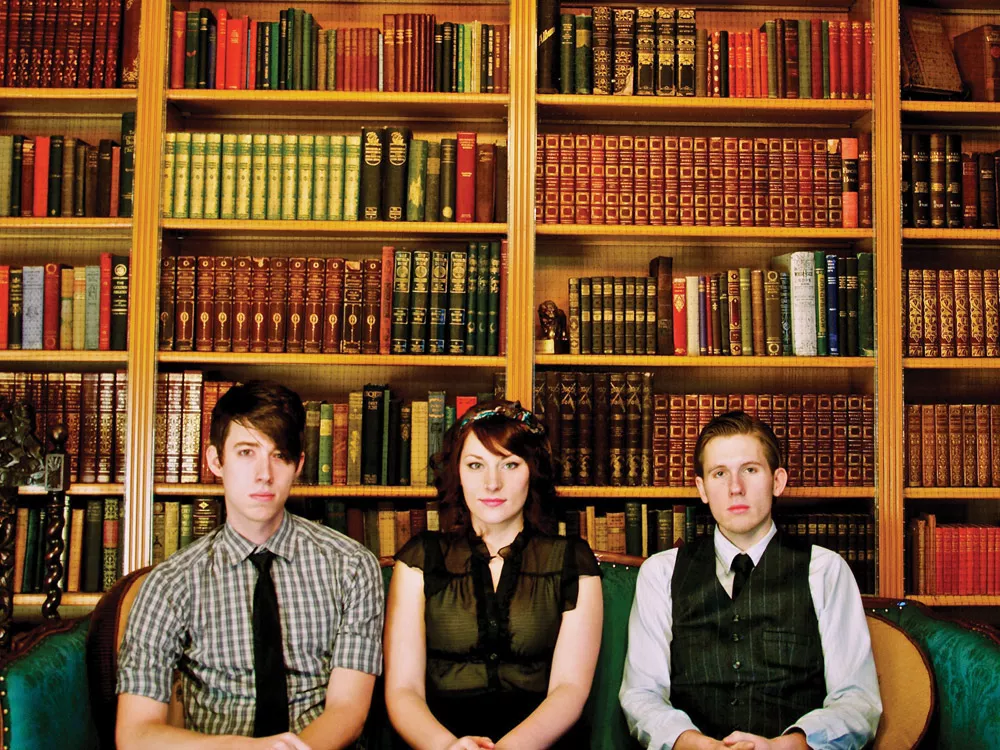 Meet the Perennials. Now, wave goodbye to them. The Spokane band has served as more of an opening act than a limelight stealer for the last couple years and they're bidding adieu to the Northwest.  
But they're not mad that you might have missed them.
"We've been a band for a couple years," singer and guitarist Pete Wells says, "but we've only been a good band for five to six months."
The Perennials are boarding a one-way Amtrak train to Brooklyn next week, then readying for a month-long tour through the bars and music venues of London. But before they leave, they'll give one more piece of themselves to Spokane: a pretty little album called Stories.
The trio — Wells and his wife, Amanda, and drummer Aaron Hamel — spent the last five months recording the album everywhere from their apartment in the downtown Spokane San Marco building ("until we started getting noise complaints"), a house in Post Falls and more basements than Wells can remember.
Over 10 songs, the band reimagines some of the most canonic nursery rhymes and children's stories: Hansel and Gretel, Little Red Riding Hood, Rip Van Winkle, the story of Jonah and the whale.
But the Perennials' Stories is hardly childish: Pete Wells' deep baritone vocals (which could draw comparisons to the National's Matt Berninger) intermingle with his wife's brassy ones. Songs start meekly, often swelling into larger, brasher rock songs with Hamel's decidedly un-folky drumming.
Wells says Stories is the first recorded effort by the Perennials that shows what they can do as artists. Earlier recordings, when the band was just Pete and Amanda as a two-piece, aren't really reflective of the sound they wanted to achieve.
"We started out doing more of a folk thing almost by necessity," he says. "Now we've still got a pretty heavy folk streak, but more rock. Aaron's drumming has helped that. He drums more than what [the song] calls for."
Now, with Stories done, Wells says they're ready to get serious about their band. And they're not positive they can be serious while living in Spokane.
"It's been a great incubator," Wells says. "I feel like there are a lot of radars we've skated under here."
He wonders if that's because the Perennials, unlike lots of local bands, aren't interested in playing more than once a month.
"I'm not sure how great it is to be on the radar and not want to play the shows."
And so the Perennials will move to New York, with dreams of the big time and hopes of being embraced by the locals and beyond.
"People are ready to accept that the next big thing is coming out of New York," he says. "Here the local scene is the Terrible Buttons and Horse Thieves. In New York, it's the National and Grizzly Bear. We don't have to go broke traveling to a city to play a show. We can just live there."
And though they've found a niche here with similar indie-folk bands — House of Ghosts, the Horse Thieves (singer Marshall McLean is Amanda's uncle) — Pete says they've come to realize an indie-folk sound isn't a novelty around these parts.
"In New York, there's a lot more novelty to having folk influences, where in the Northwest, it's everywhere," he says. "It's just the nature [of the Northwest].
"We're kind of living out in the woods here."

The Perennials release Stories at a show with Finn Riggins, Cathedral Pearls, House of Ghosts and Shades • Fri, Feb. 24, at 6 pm • The Porch • 1804 W. Broadway Ave. • $15, includes CD • All-ages • 326- 2385