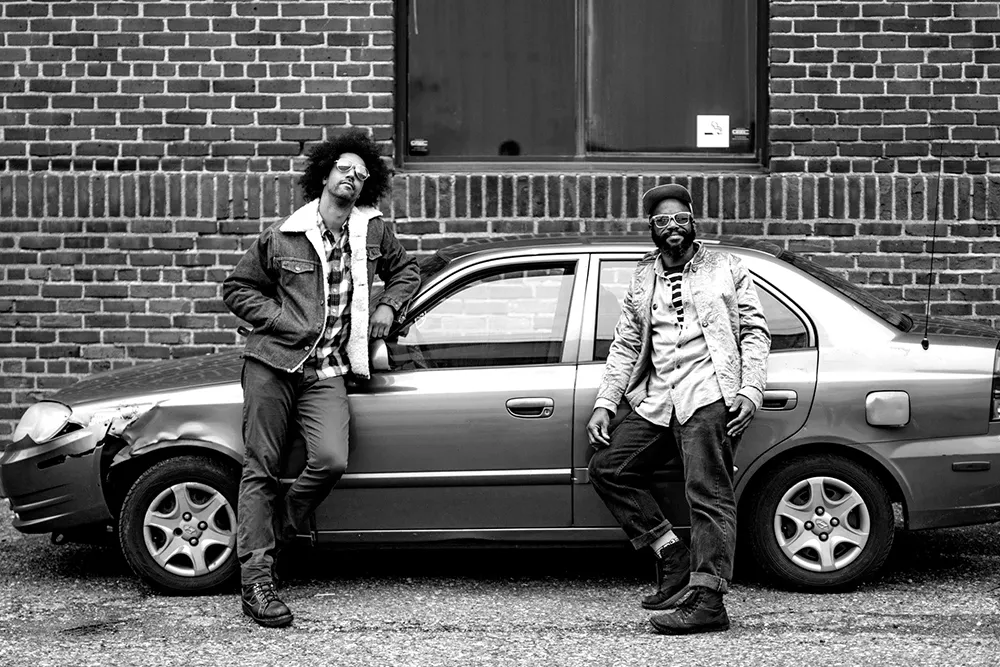 It was a little over a year and a half ago when guitar-and-drums rock duo the Smokes left their hometown of Spokane for Minneapolis, the birthplace of Prince, Bob Dylan and the Replacements. Cousins Himes Alexander and Matt Slater have been exploring their new city's bustling music scene, and they've also been busy in the recording studio, releasing a five-song EP titled Backlash in the summer.
We got Alexander and Slater on the phone a week before their gig at Baby Bar's annual winter formal party, their first Spokane show since leaving, and they filled us in on what they've been up to in the last 20 months. Answers have been edited for space.
INLANDER: What's the music scene like in Minneapolis?
HIMES ALEXANDER: There are a lot of talented musicians that are excited to be able to play on as many stages as there are out here. It seems like a lot of them are interested in touring and collaborating with a lot of different people. It's a very inviting kind of atmosphere. It also seems like we have gotten more people of color out to our shows than maybe would have been possible in Spokane. That's been kind of a refreshing part, because a lot of our music is motivated by our experiences, which are inevitably motivated by the color of our skin. So being able to preach to the choir, as it were, is a pretty nice feeling.
MATT SLATER: There are so many good bands here that it's definitely inspiring. I'm sure that has leaked into what we're doing.
ALEXANDER: Yeah, this place is a pressure cooker of motivation. Shit or get off the pot.
SLATER: It's the type of place where you'll never be the best, and there's kind of comfort in that.
How have the local musicians welcomed you?
ALEXANDER: People wanted to start playing shows with us within the first few months. We were welcomed with pretty open arms. That said, it takes a lot of work wherever you are to move forward as a band. Just being confronted with the reality of that made us work harder to get into the spaces where it's a little bit harder to get into.
How often are you playing over there?
SLATER: Today is the last day of a residency we did where we played every Thursday in November at this bar called the Hexagon. But before that, probably five or six [shows] a month. ... That was part of the reason for the move. It's so easy to saturate Spokane that we ended up trying to get out of town as much as possible. But here that's a lot more difficult to do.
Are you planning on staying in Minneapolis?
ALEXANDER: I think we're probably staying for a while. There's just a lot of stuff going on out here, and it'd be fun to sneak our way into it. ... We're trying to absorb what we see and have this place influence what we're writing a little bit.
So many great artists have come out of Minnesota. Is there a musical electricity there because of it?
SLATER: There's definitely palpable history. I remember people in Spokane would tell us about the punk scene in the '90s, but it was so dead and gone that it was hard to really understand what they were talking about. But here it's so palpable. Like, Prince's house is a museum you can go to. You can see the direct line of the people who are from here and how they influenced musicians that are still here.
Have you been to Paisley Park yet?
SLATER: No. We're incredibly poor. Poor and busy. We don't go to the Mall of America much, either.
Have you found any commonalities between the Pacific Northwest and Minnesota?
ALEXANDER: Just on the surface, St. Paul looks very much like Spokane in that it has a large Victorian area and a lot of foliage. I mean, there's also a lot of white people out here. [laughs]
When people come to see you in Spokane, will they be seeing the same Smokes as when you left? Or has anything significant changed?
SLATER: We're far more attractive now. We're shinier and brighter. ♦
Winter Formal feat. Jeff Peterson, the Smokes and DJ Case • Sat, Dec. 8 at 7 pm • Free • 21+ • Baby Bar • 827 W. First • 847-1234