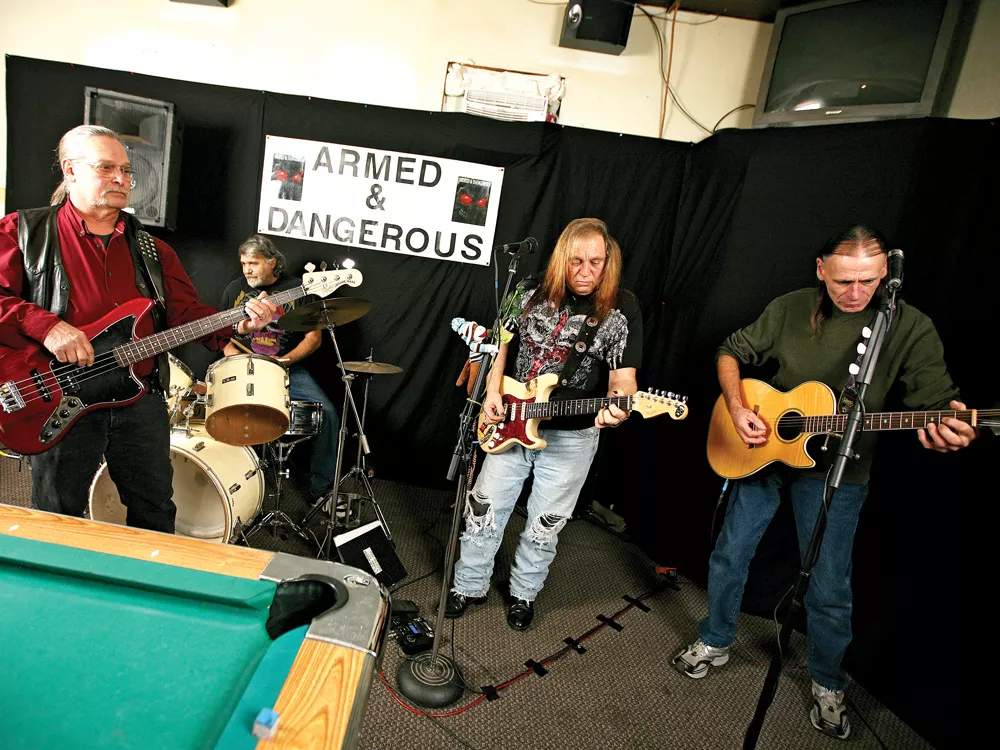 Bud Light checkered flags crisscross the ceiling of the little rectangular bar attached to a Spokane Valley 7-Eleven. Carved wooden wolves and horses, dusty deer antlers, and torn leather saddles hang on the walls.
Between a Lord of the Rings pinball machine and a couple of pool tables, the band Armed and Dangerous has just finished its version of the Who's "Squeeze Box" and the Rolling Stones' "(I Can't Get No) Satisfaction." They're crammed in, but it doesn't matter — tonight they've got patrons singing into their pool cues and dancing in their seats.


Beads of sweat gather, break and then trickle down the sides of lead singer Frank Clark's long, tousled blond hair. He's an aged mash-up of David Lee Roth and Rod Stewart, in a sequined T-shirt and with black painted fingernails. His guitar is speckled with stickers of Mickey Mouse, skulls, and two women kissing.
The rest of the band gives him shit for the shirt. Drummer Rick Newton, bassist Ted Taylor, guitarist Keith Haffner and roadie Dale Jorgenson joke that he looks like that magician Criss Angel. Maybe he's a little overdressed for their regular Thursday-night gig at the Old Mill Tavern. Clark just laughs and gives a big toothy smile.
A roller-derby girl named Niki walks up and tells Clark "if you play the right songs, I'll dance on the bar." Again, he just laughs and flashes that toothy smile.
"We take all these songs that are close and dear to people's hearts and we rock them up. The volume isn't up to 11, the energy is up to 11," Clark says. "We hold true to our name. We are armed with great songs and dangerously entertaining."
Classic-rock music and classic-rock cover bands are no stranger to Spokane. On any given night, in any given dive, bar or club, a slew of bands and jukeboxes will be playing the music of yesterday. Clark says Armed and Dangerous plays "roadhouse style" — the stuff that's played in the taverns and inns off highways across America.
Clark and his band have been playing together for about a year. They met at open-jam nights around town and completed line-up after posting an ad for a "meat-and-potatoes drummer" on Craigslist. Collectively the band's members — all in their early 50s — have been playing in Van Halen, Motley Crue and Fleetwood Mac cover bands in the area for years.
Today, the band takes pride in covering everything from the Eagles and Led Zeppelin to Nirvana, Johnny Cash and Garth Brooks. But the group broke its cover-band label this year when they recorded their first album, Party Naked.
The album is comprised of 15 original songs written and recorded by Clark. Soon, he promises, they'll add that original material into their set of covers. "I don't want to shove my own music down the audience's throats," Clark says. "But it is the next step, and we've got nothing to lose."
Until then, the band will continue to play a little county, a little blues, and a whole lot of what Clark calls "raunch and roll."
"Even though we're local, we put up the lights, the smoke, and the energy," Clark says. "We pick songs people love and give them what they want."
In between all that "raunch and roll," they're just regular guys — handymen, unemployed electricians. They practice twice a week, play house parties and the occasional festival.
"You know, with rock 'n' roll, there is no goal," Clark says. "We can take it as far as we want to. What we put into it is what we'll get out of it."
Because it's definitely not about the money, the band members joke. And it's definitely not about the booze, because on stage tonight these guys are only sipping cans of Coca-Cola and Pepsi. Something else drives them to play — something Clark says "is simply in their blood."


After intermission, the band takes its place back on the makeshift stage. Only a few songs into the set, two burly men at the bar start yelling "Free Bird." They want Skynyrd, and they want it now.
Clark gives it to them: "Sweet Home Alabama" and "Simple Man." A guy with a long brown ponytail, baseball cap and leather Budweiser jacket hollers, "That's how you do it, boys," and the crowd in this little rectangular bar attached to a 7-Eleven in Spokane Valley goes wild.
"This town loves rock 'n' roll," Clark says. "And me? I want to be the guy playing up there that everyone else wants to be."
Armed and Dangerous • Thursdays at 7 pm • Old Mill Tavern • 3405 N. Argonne Rd. • Free • 21 • 928-7408