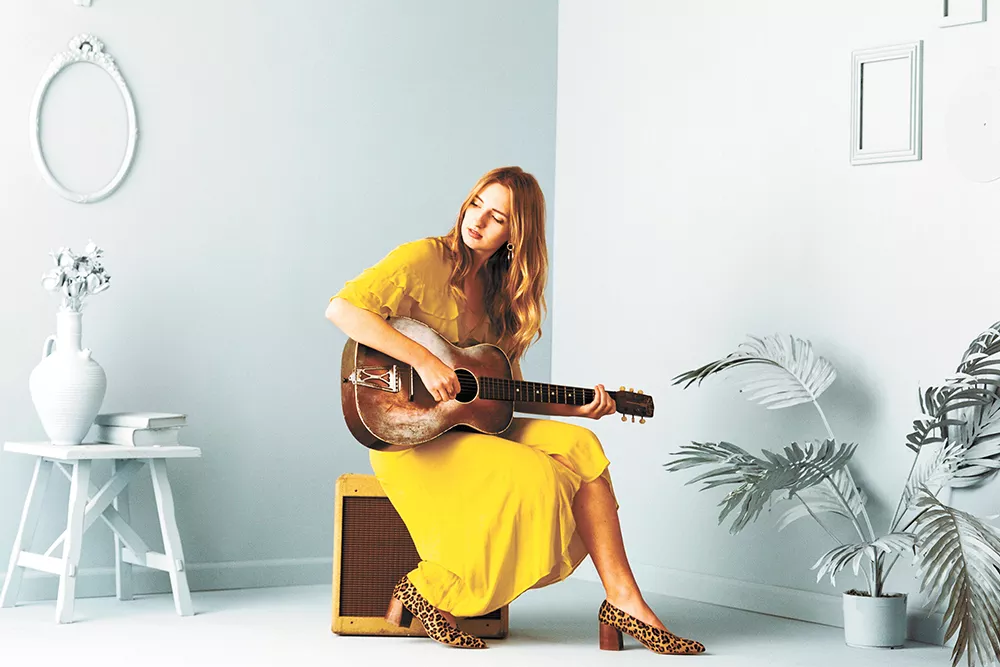 Live performances are like engaging in a conversation with the audience, says Los Angeles-based musician Madison Cunningham. For that reason, her recent performance on CBS This Morning — which posed the peculiar challenge of playing only for cameras — felt like talking to nobody in particular.
"It was super strange, because I always feel like a live audience is way more forgiving," she says. "That was my first-ever TV experience, and, oddly, it felt like there was more pressure. It didn't feel live; it felt like a cold start. You just start playing and hope everything is going to be alright, and there's a camera on your face and you're thinking about how you look. It's not the most comfortable situation, I'll tell you that."
Despite the discomfort of that performance, Cunningham is taking in stride the demands of promoting her debut studio album, Who Are You Now?
With the opening bars of the intricately bluesy lead single "Pin It Down," the 22-year-old announces herself as a badass guitar player whose fretwork leaps nimbly between changing time signatures. And when she starts singing, it's clear that the frequent comparisons to her hero, Joni Mitchell, are well founded.
Raised in a musical household, Cunningham was inspired to pick up the guitar around 7 years old. By emulating her father, a guitarist and former drummer, she developed a rock-solid sense of rhythm.
"He always had an acoustic guitar out and I was just drawn to it," she says. "I really enjoyed learning strumming patterns and chords, or at least trying to form chords with my little hands. I remember it really bothered me when I heard people who weren't good strummers. I was like, 'I'm going to develop my right hand, and I'm going to be a really good strummer.'"
She's made herself into a strikingly fluid guitar player. In fact, she's good enough to tour as a member of virtuoso violinist Andrew Bird's live band. Playing complex riffs and leads while singing, as Cunningham often does, is a sign of strong muscle memory. Her hands move automatically, allowing her to focus on vocals.
"It's like there's a fork in the road in your brain, and you're walking on both paths at the same time — that's how it feels to me," she says. "I've had to take a lot of extra time in my practice hours to make sure that if I play something intricate, my hands have to be so familiar that I don't have to think about it. I just think about my vocal pitch while my hands are, like, detached from my body."
Though she's spent more time practicing guitar than singing, Cunningham recognizes that her voice is the all-important thread that ties her music together. Her vocal timbre is rich and warm, particularly in its lowest register. But that wasn't always the case: Her voice changed when she was about 17 years old, and she was no longer able to hit the same high notes. That's when she sought the advice of a vocal coach in L.A. and got serious about warm-up exercises before live performances.
Personal change is the central lyrical theme of Who Are You Now? Moving from Orange County to Los Angeles to "do the music thing," and leaving behind the familiar people and places that populated her life, profoundly shifted Cunningham's sense of self.
"When you put yourself against success and against failure, you have to ask that question: 'Who are you now? What's holding you together? What's your foundation?' I wanted to pose the question to listeners, as well. I hope they're able to answer that question for themselves," she says. "We're always faced with new scenarios and surroundings, and we change as people."
At this moment in time, Cunningham is a musician of abundant natural talent, shaped by her dedication to songcraft and practicing both of her instruments. Much of her inspiration comes from the guitar itself: "It's been an undying love for me and a vehicle for songwriting, as well. It's a wealth of information. There's always something you don't know about guitar." ♦
Amos Lee with Madison Cunningham • Sat, Aug. 24 at 7 pm • $40-$75 • All ages • Martin Woldson Theater at the Fox • 1001 W. Sprague • foxtheaterspokane.org • 624-1200