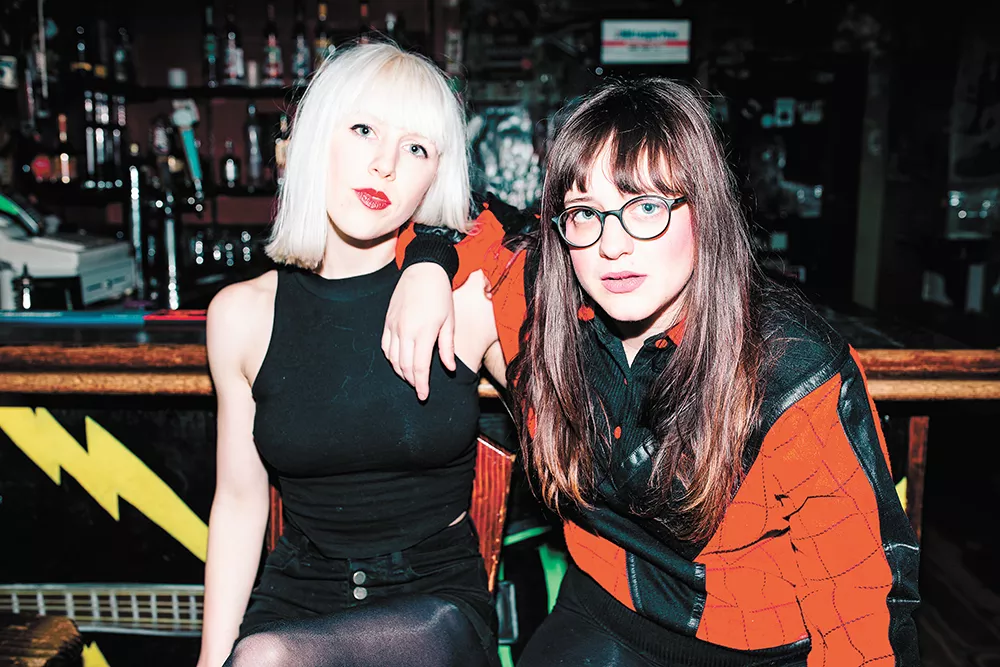 Until the end of time, drum-and-guitar duos will inevitably (and not always accurately) be likened to the White Stripes. But for Donna Donna, that comparison is both warranted and welcome: They're aiming to capture the lean, uncluttered rock that Jack and Meg White re-popularized. It's stripped-down, but still ferocious.
The first time Donna Donna's guitarist-vocalist Lindsay Johnston and drummer Cherri Woith played together a year ago — when Johnson only had a handful of potential songs and before they'd even come up with a band name — it was their shared love of the White Stripes that forged their bond.
"I have a lot of butterflies just remembering it, thinking 'This could be a thing,'" Woith recalls.
"That first practice, it was almost like a first date where you're trying to feel each other out still," Johnston says. "Like, 'Do you like this? Because I don't want to say I like it if you don't like it.' And then one of us brought up Jack White, and we just started nerding out on deep cuts of White Stripes stuff."
"We have almost the exact same musical styles," Woith says, "and even the stuff people wouldn't necessarily consider an influence, we'll quote back and forth all the time. Like this, for instance."
She's referring to the music bumping over Boots Bakery's sound system. We all stop to listen. It's TLC's "Creep."
That might come as a bit of a surprise to anyone who's ever heard the raucous barroom rock of Donna Donna, but even if they don't sound anything like '90s R&B's most famous girl group, certainly they're channeling their take-no-bullshit attitude. Janis Joplin and Grace Slick are also notable influences, as is Queen: Basically, anything that slays while maintaining a melodic vocal line is right up their alley.
But before she and Woith became bandmates, Johnston was mostly playing as a solo singer-songwriter, following a stint as guitarist in the quartet Violet Catastrophe.
"I couldn't find anyone to play with me, and I wasn't having fun playing by myself," Johnston says. "Which is honestly why I started writing rock 'n' roll music, hoping a drummer would want to play. I remember going to every show I played and being excited for it to be over. ... It always felt lonely up there."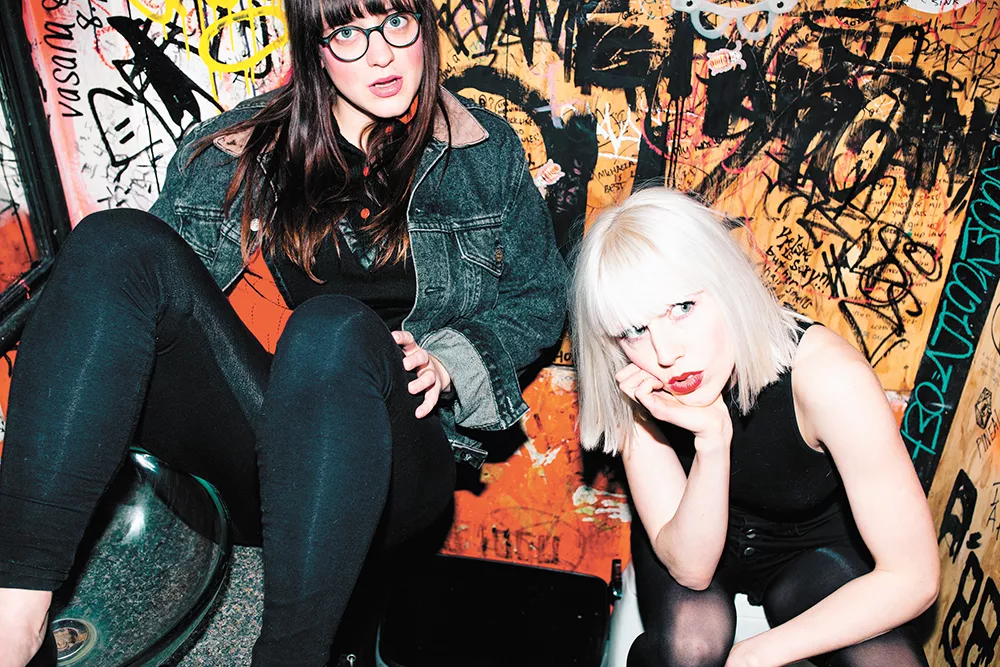 Johnston started asking around, and quickly discovered that finding someone who's adept behind a drum kit is easier said than done. But she was eventually introduced to Woith, who had been playing drums in a local cover band, and their connection was instant.
They work well together, it seems, because they're flip sides of the same creative coin: They're both conceptual thinkers, but while Johnston has a lot of the big ideas, Woith helps rein them in a bit. When, for instance, Johnston announced her intentions to have at least 15 decent songs written before recording, Woith suggested an album half that length would suffice.
And now that debut record, Basement Noise, is about to drop. It gets its name from a lyrical aside on the Bob Dylan bootleg collection The Basement Tapes, an appropriate reference point for a couple reasons: Not only was the album recorded in Woith's basement, but it's channeling the same shaggy, off-the-cuff energy that Dylan was going for. All of the jagged edges you hear are completely deliberate.
"We brought the mics to our house and recorded it all, which I loved," Woith says. "If Lindsay wanted to come over at midnight and record vocal tracks, we could do that. It was so convenient and comfortable. And hopefully that comes through in the songs."
"And that was on purpose," Johnston says, "just to try and get some of that raw energy we have playing live."
Spanning seven tracks and clocking in at just under a half hour, Basement Noise is heavy with smoldering blues guitar licks and cheeky lyrics about all those rock mainstays: wild parties, unbearable sexual tension, whirlwind relationships that are doomed to fail. But what's refreshing about Donna Donna's approach is that they aren't adopting a style as some kind of ironic put-on. They're unapologetic rock purists.
Because Woith and Johnston have wildly different work hours — Woith is a preschool teacher and barista, while Johnston is a bartender — their free time is a commodity. ("We always joke about we're the most punctual band in rock 'n' roll," Woith says.) But their live schedule is no less busy: Most of their shows have been outside Spokane, and they'd like to tour in the future.
If they're going to devote their time to this band, they say, they might as well go all in.
"We both had different ideas of [what makes] a successful band at the beginning," Johnston says. "Cherri respected my ideas and I respected hers, and we both started compromising and committing early on."
"And I think we're both like, let's just do it all then," Woith adds. "You want this and I want this, so let's just do it all." ♦
Donna Donna Album Release with Motopony and Nat Park and the Tunnels of Love • Sat, Feb. 10 at 8 pm • $8-$10 • All-ages • The Bartlett • 228 W. Sprague • thebartlettspokane.com • 747-2174