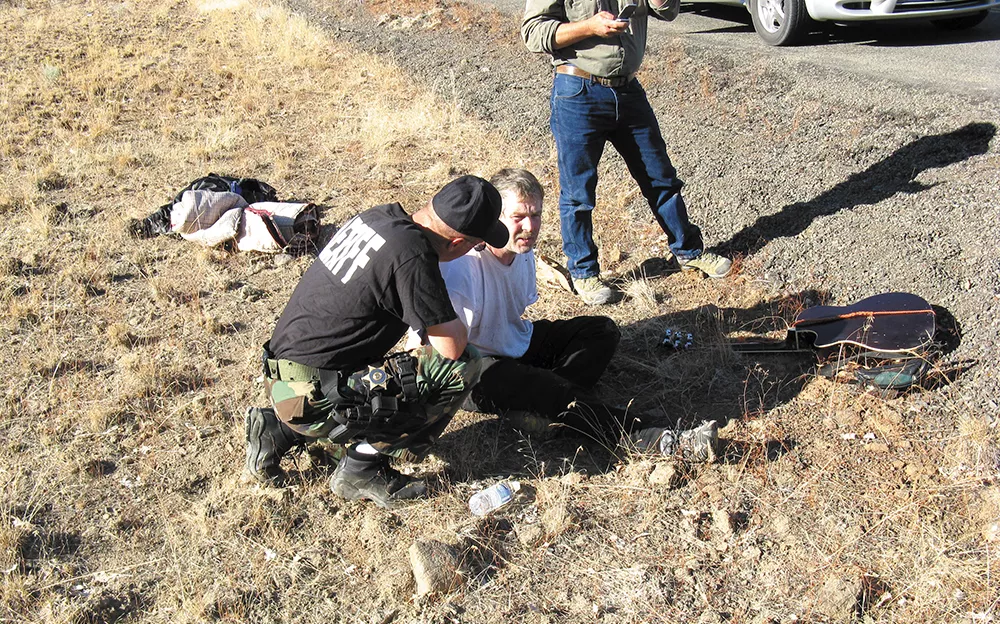 Every evening, J.T. swallows his handful of pills: Vitamin C to stave off sickness, fish oil to reduce his risk of heart disease and glucosamine for his joints. Unlike other patients on his ward, he doesn't take any psychotropic drugs. He hasn't been diagnosed with any current mental illness, either, since he arrived at at Eastern State Hospital two summers ago.
J.T., who is 35, is a plaintiff in a civil rights lawsuit against the state of Washington, alleging that current restrictions on insanity-defense patients violate their constitutional and civil rights to adequate mental health treatment. Two years ago, charged with assault, he was found not guilty by reason of insanity and sent to Eastern State Hospital in Medical Lake. He asks that his full name not be used in the Inlander or in court filings, because he's embarrassed. He says he shouldn't be here, stuck inside a public psychiatric institution. Washington law states that patients must be both mentally ill and dangerous to remain in civil custody. J.T. says he's neither.
Originally from Seattle, J.T. moved to the Tri-Cities in 2009 to live with his fiancée and their three daughters. In October 2011, he was invited to attend a local mosque by a group of Kenyan men he met in a park. He spent four hours there, discussing religion and ritually passing around a piece of root bark to consume. J.T. later discovered the bark contained ibogaine, a naturally occurring psychoactive substance that can trigger hallucinations in high doses.
"Thirty minutes later," he says, "I started feeling real funny."
J.T. doesn't remember what happened next, but according to court documents, he was up all night, ranting about God and evil spirits. His fiancée called the area's mental health crisis hotline because she was scared and he wasn't acting like himself. (He was "totally fine," she said, before he went to the mosque, according to court records.) He was transported to Lourdes Counseling Center, where records indicate he physically attacked two female nurses. He was arrested and charged with multiple counts of assault.
In their Sanity Commission evaluation, psychologists determined J.T. was psychotic at the time of the attack, but "what caused his psychosis is an unanswerable question." After the incident, J.T. was taken to a local hospital to examine his injuries, but wasn't given a drug screen. In June 2012, after spending nine months in jail, he was acquitted by reason of insanity and later moved to Eastern State Hospital.
Despite his lengthy rap sheet — four felonies, various misdemeanors and 19 arrests for nonviolent crimes like theft and refusing to cooperate with an officer — J.T. says he's not dangerous. His longest criminal sentence was 45 days in county jail. But on the advice of his public defender, he accepted a not guilty by reason of insanity plea. He figured he'd leave Eastern in six months and complete the remainder of his five-year commitment under supervision in the community.
"At the time I didn't know what was wrong with me. I had no idea. I had an episode and I didn't know what it was caused from," he says.
Two years later, J.T. is still waiting to be released. He's stuck inside the wards as a "level seven," a designation that allows him to cut in front of other patients in line while they wait for meals in the dining hall or classes at the treatment mall. He was recently recommended for a partial conditional release by the hospital's Risk Review Board. Once his court paperwork is finalized, J.T. will be able to go for walks on the hospital grounds. On the rare occasions in which he's allowed to leave the hospital for court appearances, he's forced to wear shackles.
"I don't see any treatment being done," he says, "for me and others. It just seems like people are being held here for a long time without any real rehabilitation. ... I always say, it's like a college that has no graduates."
So far, J.T. has finished his GED while at Eastern. Beyond that, he spends most of his time taking "classes" at the treatment mall, like table games and volleyball, or lifting weights. Twice a week, he attends group sessions with a forensic therapist. He laughs when asked whether therapy has helped him. "No, not at all... [The therapist] just basically tells us what we need to do to move up our levels and stay out of trouble," J.T. says. "Same thing every week."
Once a year, his fiancée and three daughters come to visit him. His oldest thinks her dad is in a regular hospital, that he's sick and getting treatment.
"I understand what got me here, but I don't understand what's keeping me here," J.T. says. "I definitely would have just pled guilty if I had known now [what I know]. ... That's the biggest regret." ♦
---
The State's Response
The Washington Attorney General's Office has responded to a federal civil rights lawsuit alleging that current state laws violate insanity-defense patients' constitutional and civil rights to adequate mental health treatment.
Inspired by a story in the Inlander ("Patients and Prisoners," Feb. 13), Spokane attorney Andrew Biviano of Scott Law Group, on behalf of three patients at Eastern and Western State Hospitals, filed a lawsuit in U.S. District Court against Gov. Jay Inslee, the state Department of Social and Health Services and DSHS Secretary Kevin Quigley. The suit seeks to nullify two laws passed in 2010 in the aftermath of Eastern patient Phillip Paul's escape from the Spokane County Fair. One effectively bans patients found not guilty by reason of insanity from leaving hospital grounds. The other created the governor's Public Safety Review Panel, which attorneys for plaintiffs argue delays and deters patients from trying to reintegrate back into the community.
In its answer to the complaint, the state categorically denied all of the plaintiffs' allegations, including "that these privileges are 'indispensable' for effective treatment" and "the broad statement that mental illnesses can be 'cured.'" Asked to elaborate on these assertions, a spokeswoman for the AG's office declined to answer, saying it would "reveal our case strategy."
The case will move forward with a scheduling conference on July 11.