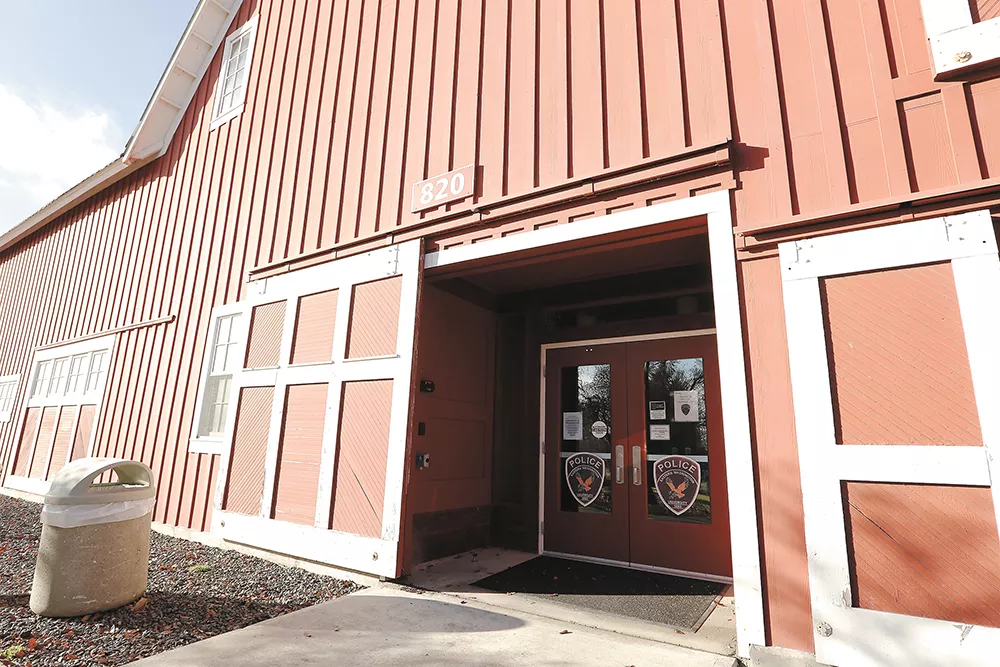 In December 2016, a student employee at the Eastern Washington University Police Department walked into a deputy chief's office, ready to level allegations against one of his veteran officers.
She was a student who had worked for the EWU Police Department as a cadet, hoping to learn the ropes on her way to a career in law enforcement. But in lodging her complaint with Deputy Chief Gary Gasseling, she alleged that over the previous year and a half, Cpl. Bryan Dornbos had made the job "uncomfortable" for her, according a copy of the complaint obtained by the Inlander.
She said in the complaint that Dornbos made inappropriate comments about her body and called her his "hot assistant." She described an instance where Dornbos allegedly told her Cheney police officers were "wondering how long it would take me to sleep with him" and that they saw her as a "badge bunny," a woman attracted to police officers. She said that Dornbos would ask her for hugs and linger around her. She writes in the complaint that she looked forward to days when he wasn't at the office.
"When he is there, I feel uncomfortable," she writes in the complaint. "I feel that if I would have given him the chance, then he would have slept with me even though he knew I was only 19."
The university launched an investigation into Dornbos' alleged "sexual harassment and stalking behavior," according to investigative records. Dornbos denies the allegations, records show, and says she's the one who made inappropriate comments. A March 3, 2017, final investigative report, however, concludes that the allegations — that Dornbos made inappropriate sexual comments to the woman, asked where she was, lingered around her and watched her to the point of causing her concern and discomfort — were "substantiated."
Dornbos, who declined interview requests, spent time on paid administrative leave during the investigation. After the investigation, he transferred to a job as an EWU truck driver — "voluntarily," a settlement agreement stipulated.
Then, in fall 2017, roughly a year after the original complaint, the Reardan-Edwall School District hired Dornbos to become the resource officer for all of its schools. Reardan-Edwall Superintendent Marcus Morgan says Dornbos "explained the situation to my satisfaction," though Morgan adds that the district had not reviewed the university's investigative report. To his understanding, all Dornbos did was say something that somebody "took offense to."
"We're always willing to give someone a second chance," Morgan says. (As of press time, Morgan says the district is reevaluating Dornbos' job status based on new information.)
Meanwhile, the woman who made the complaint, speaking to the Inlander on condition of anonymity out of fear of retaliation, says she left her job at the EWU Police Department, partly because of the fallout from her complaint.
As a senior at EWU, she worries she hurt her chances of becoming a police officer because she said something.
The woman started working closely with Dornbos in summer 2015, according to records. She assisted him as he developed active-shooter training.
Everything was appropriate at first, the woman told the EWU investigator, Chelsea Goss. But soon, the woman said, Dornbos began commenting on her looks, referring to her as a "hot assistant," commenting on her "legs or my butt," and recounting that Cheney police thought she was a "badge bunny."
She said she didn't know what to do so she just "laughed it off," Goss reported.
The woman tells the Inlander that she saw it differently than the "locker room talk" she witnessed at the police department, which she says didn't bother her. It only bothered her when it got personal.
She alleged that Dornbos would ask her to go on errands, but instead they would just drive around and he would say something to the effect of, "I just want to talk with you, it makes my day," the investigative report says.
She recalled that Dornbos once asked her for a hug in front of the whole department. A witness, a male EWU sergeant, recalled such an incident to Goss, the investigator, saying, "He could see the discomfort on [the woman's] face; however, she hugged him anyway," Goss' report states.
"Him being an authority figure made me feel like I couldn't say anything," the woman writes in the complaint, which was provided to the Inlander by Dornbos' attorney.
The woman added that she didn't file a complaint earlier because she thought "he often appeared very depressed about his life, so she was worried what he might do," according to investigative records.
In winter of 2015-16, the woman moved to the front desk, where she didn't work so closely with Dornbos. Still, he would frequently ask others where she was and linger around her, she told Goss. Others, including her fiance, encouraged the woman to say something, but she still resisted. Goss interviewed three employees of the EWU Police Department — a sergeant, a patrol officer and an administrative assistant — who all said the woman expressed concerns to them about Dornbos' behavior before she made the official complaint.
"There was a part of me that was like, who's going to believe me? Who's going to believe he's doing this to me? Because I'm just a little office person," she tells the Inlander.
The incident that caused her to file the complaint happened in the fall of 2016, the investigative report states. She was working out with another officer, the report says, and Dornbos "slowly walked behind" the woman, "lingering and keeping his eyes on her the whole way." Another officer recounted to Goss a similar episode at the gym, the report says.
Three other EWU Police Department employees interviewed as part of the investigation, however, said they never saw or heard anything inappropriate. When the Inlander attempted to reach members of the EWU department, they said they couldn't discuss the situation and referred all inquiries to the EWU spokesman, Dave Meany.
Dornbos, again, denies everything. "On no occasion did I make any verbal comment or take any physical action toward her that could be construed as harassment, sexual harassment, intimidation, or an attempt to gain sexual favor," he said in a declaration provided to the Inlander. He said he did not recall saying he had a hot assistant, did not recall asking about the woman's sex life with her fiance, never remembers trying to hug her, and denied lingering around her or watching her.
Rather, he said she would put him in an awkward position. He told the investigator, for example, that the woman once lifted her shirt to show her stomach and said "I have a fat tummy," and Dornbos felt the need to respond. (The woman acknowledges that comment, but says it was not intended to harass Dornbos.) He said she once spoke about taking her top off at a party and made an inappropriate joke about a "dick garage" while they were at Starbucks with other officers. (She disputes that characterization.)
Dornbos argued that the complaint was part of a larger effort among his supervisors to squeeze him out of the police department because he frequently asked for shift accomodations for personal reasons, a claim three Cheney police officers have supported in official declarations. One EWU police officer, too, told Goss that he suspected the woman was pressured by supervisors to file the complaint.
Many allegations, Goss noted in her report, "came down to one party's statement versus another." Goss was tasked with determining if it was more likely than not that the allegations were factual. In her report, she sided with the woman, partially because, she writes, Dornbos was the woman's supervisor and much older.
"[The woman] was a 19-year-old college student," the report states. "And Dornbos is a middle aged married man."
Ever since the initial December 2016 complaint, Dornbos and his attorney, Michael Riccelli, have attempted to discredit the investigation and the woman who lodged the complaint.
In a 10-page rebuttal statement, Riccelli argued the March 3, 2017, investigative report was "fully deficient for its stated purpose of investigating the subject allegations." Among his objections: He said it violated EWU's own policies and Title IX policies, that there was no objective evidence of Dornbos using sexual language in front of the woman, and that the investigator showed bias in her techniques.
Riccelli says that Goss promised Dornbos and a second officer that their claim that supervisors pressed the women to lodge the complaint would be confidential. And by including that assertion in the report, Riccelli says, Goss "poisoned the well" for Dornbos and the other officer, putting their employment status with EWU in jeopardy.
EWU says it can't comment on the specific investigation because it's a "personnel matter." However, when asked about accusations that other EWU officers encouraged the complaint to force Dornbos out of the department, spokesman Dave Meany directed the Inlander to a passage in Goss' report in which she writes that she "saw no evidence of that claim."
"On the contrary," Goss writes, "witnesses on both sides discussed feeling that the entire department has gone above and beyond to try to help him by offering their own leave and rearranging schedules to cover for him."
In May 2017, Dornbos, EWU and the Washington Federation of State Employees reached an agreement that allowed Dornbos to transfer to a position as a truck driver, mandated he complete anti-harassment and Title IX training and agree that any inquiry from a future employer will be forwarded to someone at EWU who will only offer dates of employment, job classification, rate of pay and that Dornbos "voluntarily demoted" out of his position as an officer for personal reasons. The agreement included no admission by any side as to validity of claims in the report.
Deborah Danner, Associate Vice President of Human Resources, tells the Inlander that rebuttal statements are "not uncommon" in employment matters following an investigation. The settlement, she notes, says nothing about any perceived flaws in the investigation.
The Inlander learned of the case after filing a records request for EWU employees found to have committed "sexual misconduct." Alerted by the university of the paper's request, Riccelli called the Inlander to argue that his client should not be included among those files.
Through dozens of phone calls and several emails, Riccelli attempted to persuade the Inlander not to give credibility to the woman's complaint. He added that the Inlander should instead look into the "professionalism and competency" of the EWU Police Department and whether members of the department encouraged the woman to make the complaint.
Riccelli says the woman had "a potty mouth." He added, "It's almost as if the girl had a crush on this guy."
When the woman who complained about Dornbos learned he got a job to become a school resource officer, she says she was concerned. She previously had told Goss that "based on how he acted around her, he should not be an officer working on rape cases with young college girls."
She praised EWU and the campus police for how they handled her complaint, but she says she's rethinking her career. She's worried local police officers have heard about her complaint and won't give her a chance.
That's why, she says, the idea that she would make up these allegations doesn't stack up.
"I had no reason to make up these allegations," she says. "I just had nowhere else to go." ♦