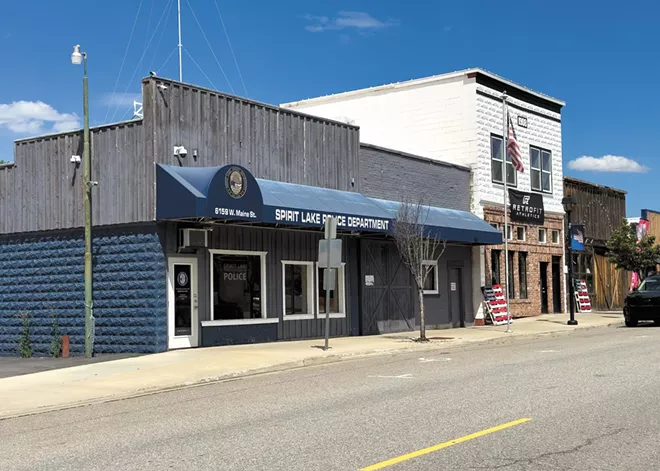 A small crowd gathers outside Spirit Lake City Hall. The July meeting of the City Council is about to start. For 30 minutes, people mingle — talking about their roots in town and concerns about public safety — until city employees unlock the doors. People quickly fill the seats, and more stand in the back.
They're there for one issue: the city's shrinking police department.
About a year ago, the city of 2,500 people at the north end of Kootenai County had a full staff of seven officers, including the police chief, and a resource officer at the high school.
But several months ago, officers started resigning. In some cases, as described in letters to the four-person City Council, officers said they left after facing scrutiny over their job performance from former Police Chief Dennis Sanchez. Others, who supported Sanchez, said they left because he was never officially appointed as chief, which would have ensured some independence from city administration.
In April, a sergeant was placed on administrative leave. He faces felony charges of witness tampering related to a call he responded to as an officer with the Liberty Lake Police Department before he was hired in Spirit Lake.
In early May, Sanchez also resigned. During the chief's final days on the job, the city took his advice and hired Lt. Morgan John and another officer in hopes that John could become chief and rebuild the department.
But by June 26, both those men had also resigned.
So, by the July 11 council meeting, most in attendance knew that in just days the police department would have only one active officer left.
"I want to know who the hell is accountable for this shit, OK?" says city resident Harry Burleson during the meeting's public comment. "I'm the manager of a very large machine shop. If I screw up when I hire somebody, when I bring somebody in, I'm held accountable. We've got one police officer, right? Good Lord."
Other commenters specifically criticize Mayor Jeremy Cowperthwaite.
Lynn Cole, a resident who's been digging into the issues in the police department, informs the mayor she's collecting signatures for a recall election against him.
Another woman accuses the mayor of lying and being on drugs, demanding he step down while he still can. In an interview, Cowperthwaite dismisses the rumors, saying he's only on medications prescribed by his doctor and that he's ordered a drug test so he can show citizens the truth.
"I'm not on drugs," Cowperthwaite says. "I'm under a doctor's care. I have a bad back. ... So do I have pain medications, or do I have some things? Yes, I do."
Before the meeting is over, the majority of council members say they've lost confidence in Cowperthwaite, and the full council debates whether they need to pay the county sheriff for help policing the small North Idaho town.
CONTRACT FOR COVERAGE
Kootenai County Sheriff Bob Norris is the main guest at the City Council meeting. He'd requested an emergency session to talk about public safety in the city. Dressed in a green jumpsuit, he takes the podium to read a timeline of phone calls and meetings between his office, the Spirit Lake Police Department and the mayor over the last several months.
He highlights moments like the day in April when he learned that the Spirit Lake sergeant was facing felony tampering charges related to his work in Liberty Lake. That, in addition to the loss of supervisors in ensuing weeks, prompted Norris to revoke his cross-deputization of Spirit Lake police officers, meaning they can no longer investigate cases outside city limits.
Norris also says that on June 27, the day after Lt. John and another officer resigned, Cowperthwaite called to say that "everything was good in the city of Spirit Lake, and they're looking at hiring a new chief." The town had two officers at the time.
"We started these conversations months ago. I had asked, 'Let's put a summer program contract in place so the Sheriff's Office will cover law enforcement services'" during certain hours, Norris says. "Your model for managing public safety in the city cannot be sustained."
He says that it could take at least 18 months to rebuild Spirit Lake PD. Under contract, he'd station a dedicated deputy to cover Spirit Lake during hours the city's department can't. In the meantime, he says, county deputies have been responding to Spirit Lake calls for free.
Over the last 90 days, the department has responded to more than 160 calls in the city, Undersheriff Brett Nelson later tells the Inlander.
Norris tells the council his office has also been fielding many non-911 calls from Spirit Lake citizens concerned about public safety.
"Something to consider regarding the state of where your police department is: What do you have to lose to give us a try?" Norris says.
After hearing the details, Council member Kenny Gross blames the mayor for the issues in the department.
"Now what we've got to do is we're gonna pick up the pieces. We've got to get law enforcement coverage for this town," Gross says. "I've lost all confidence in this man sitting to my left, unfortunately," referring to the mayor.
Council member Darrell Woods echoes those sentiments.
"I just want to say that, on record, I have lost confidence in your ability to put this PD together," Woods says. "This council has offered you help time and time again."
Similarly, Council member Gary Ventress, who has served on the City Council for 22 years, tells the mayor he has no respect for him anymore and tells the sheriff the city needs help immediately.
"I feel like we were lied to, because I was told, and it was told to all the council, that all you want is money, money, money, money," Ventress tells the sheriff.
Norris assures the council that a contract would not augment his office's budget, insisting it would simply cover the cost of specific services the city asks for.
But some worry a contract could ultimately result in the city losing its police department.
BLUE OR BROWN
"Our main priority is to figure out and get the law enforcement portion fixed so that the citizens will feel safe," Council member Woods says the day after the council meeting, sitting at a table inside the Old West-style coffee shop near City Hall. "Whether we have to do that right now through contracting with the sheriff, or whether we can fix something, somehow, some way, that's kind of my main goal right now."
Later that afternoon, Council member Ventress also says the city has to fix the issues. Inside his home, where bearskins adorn the walls and goats graze just outside, he says the mayor has to go.
"We need our police department put back together," Ventress says. "There's no reason it should be like it is."
That night, the council, mayor and city department heads gather again in City Hall for a budget meeting.
Cowperthwaite asks police Cpl. Kevin Ward — the only active officer in town — to share his thoughts on a possible contract.
"Half the table wants to see the Sheriff's Office come in here and take care of business. I get it, I live here, too," Ward says. "Having somebody to come to your house when you need them is paramount."
But Ward says other nearby police departments are willing to help while Spirit Lake hires a chief and staffs up, and he worries that if the city contracts with the sheriff, they'll ultimately lose their department.
"If we make rash decisions and give up our firstborn for this, that agency will be painted brown and we'll never get it back," Ward says.
However, Undersheriff Nelson assured the council during the meeting the day before that they aren't interested in taking over.
"If that was so, we would've allowed the police department to fall apart," Nelson said. "The reality is, as a Sheriff's Office we've been trying to hold the department up as best we can. But as the sheriff spoke to, there's a financial impact."
Nelson tells the Inlander that while county taxpayers do fund services including county offices and the jail, municipal residents' taxes don't cover the county patrol.
"Their portion, if you will, that would go to law enforcement services for patrol goes directly to the city," Nelson says.
He also says this wouldn't be new. Other nearby cities contract with Spokane's sheriff, including Spokane Valley, and Kootenai's sheriff has long contracted with Hayden.
"We are the policing entity for the city of Hayden," Nelson says. "They pay for that."
DOLLAR DECISIONS
Cowperthwaite — who recently drew attention for driving a decommissioned police vehicle for city business — says he's not to blame for the officers who've left.
The mayor, who took office in January 2022 after serving two years on the City Council, says he never stepped on former Chief Sanchez's toes.
"He had the authority to hire and fire who he wanted," Cowperthwaite says.
He says that the council questioned why the job posting for chief was closed after just two weeks and asked to reopen it, which is partly why Lt. John quit, as the reopening could tarnish his reputation.
"Lt. John was my candidate for chief of police," Cowperthwaite says. "If I did something wrong in that process, I will take that, but I don't even know what I did that would have been wrong."
Cowperthwaite says the city is conducting final background checks for a potential new chief whose state qualifications will easily transfer. He says no one wants to see a long-term contract with the sheriff.
The next morning, July 19, city leaders meet with Sheriff Norris, who offers them a six-month contract to station a dedicated deputy in Spirit Lake for up to 80 hours a week. That deputy would only need to leave town for calls that are life or death emergencies, Norris says.
The cost of those 2,080 hours — the amount most full-time workers put in each year — would be $157,832. Last year, the city's entire police department budget for wages and benefits was $570,000.
While there are some salary savings from the officers who left, vacation time, benefit payouts and raises ate into much of the remaining budget, according to city staff.
Council member Woods asks how the city can afford to hire a new chief and staff, while also paying the Sheriff's Office.
"How are we going to do both?" Woods says. "What I'm fearful of is that at the end of six months we go, 'Well, we've given it all to the sheriff's, and now we don't have anything.'"
Norris also suggests the council consider a separate agreement with his office, since they were approached by the Lakeland School District to provide a school resource officer for the upcoming school year.
Previously, Spirit Lake received money from the district to mostly cover that officer's salary. The sheriff suggests that if the city is OK with him putting one of his deputies there (and taking the district money) he can give them a discount on a bill he recently sent charging the city for 911 dispatch services.
But Spirit Lake has questioned whether it's even legal for Norris to charge for the 911 services.
No agreement is made, and the city and sheriff plan to meet again soon to discuss the possible contracts.
In the meantime, concerned residents like Cole say they're worried about the state of the city, which is also facing a budget crunch and internal issues at City Hall.
Cole is gathering support to recall Cowperthwaite, who took office after winning the mayoral election 251-196 in 2021.
"We have so much wrong, that, you know, it's not even a difference in personalities, or 'Hey, I don't like you.' It's nothing like that," Cole says. "I'm sorry, but you don't belong in politics. You might be great on the street to know as a friend, but in that office, I'm sorry, you have done so much more harm than good." ♦