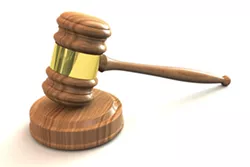 Washington state Attorney General Bob Ferguson filed charges against Asotin County Superior Court Judge Scott Gallina on April 11, alleging that he raped, assaulted and harassed numerous female courthouse employees.
Specifically, Gallina, 55, was charged with rape in the second degree, assault in the fourth degree and indecent liberties. The judge was arrested on April 10 and was ordered that he turn in his keys to the courthouse. (Gallina eventually posted his $50,000 bail.)
Now, a Spokane-based defense attorney is representing Gallina and Spokane County Superior Court Judge Michael Price is presiding over the case. (Price was appointed to the case by the state Supreme Court due to the fact that Gallina is the only Superior Court judge in Asotin County.
The Washington State Patrol first received reports of the allegations on April 1. After preliminary interviews were conducted with potential victims and witnesses between April 8 and 10, investigators learned that the allegations stretched back to 2014, when Gallina was first appointed to the bench by Gov. Jay Inslee.
One of the women interviewed alleged that one month after she started working at the courthouse in 2017, Gallina began making inappropriate comments about her breasts and clothing and that whenever she was called into his chambers the judge would ensure that the door was locked, according to court documents. The behavior escalated to unsolicited groping and sexual assault while Gallina held her in a chokehold.
The woman told investigators that she didn't know what to do about Gallina's conduct because she was afraid for her job and Gallina had "authority in the courthouse."
In total, law enforcement interviewed nine women who worked at the Asotin County Courthouse, all of whom reported varying degrees of sexual misconduct perpetrated by Gallina. Most of those women reported fearing for their safety because of Gallina's behavior and stature.
Gallina's attorney told the Associated Press that he denies the allegations and will enter a not guilty plea.