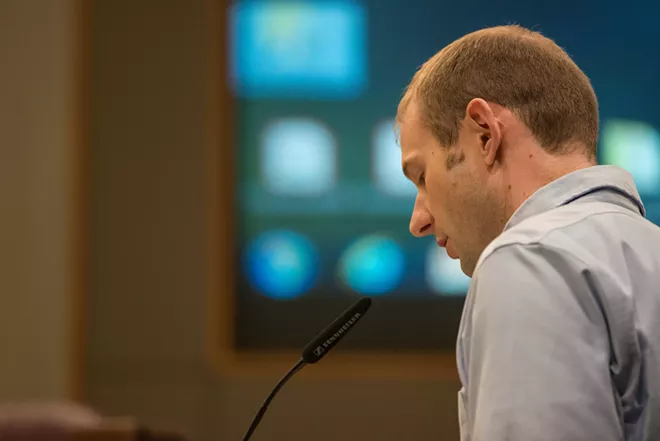 O
n Tuesday,
facing a packed auditorium of some 500 people, Tija Danzig from the city of Spokane tried to explain why putting a shelter next to a disability center was a good idea.
Danzig, with the city's Community, Housing and Human Services Department, said it had been a two-year process of searching locations throughout the city before they landed on this one, which would put a homeless shelter in the old Grocery Outlet building on Sprague Avenue. Ultimately, this location met several qualifications: It was outside of downtown, the building itself could actually support the shelter the city envisions, and the location near Spokane Valley allowed for a more "regional approach" to the issue of homelessness.
"This needs to work for everyone," she said. "And that's why we wanted to be here and talk to you all today."
What followed, though, was more than four hours of sometimes heated comments from neighbors and people affiliated with Project ID, the center that serves adults with intellectual and developmental disabilities. In short, most of the speakers said something to the effect of: Go ahead and add a new homeless shelter, just not here.
"This is a very vulnerable population," says Project ID executive director Bob Hutchinson, speaking about his organization's members. "Project ID isn't against the homeless... the concern we have mostly is the ancillary stuff that will be going on when somebody
can't
get into the building."
I
t's been a year
since the city stopped funding House of Charity downtown, run by Catholic Charities, as a 24/7 shelter. The shelter created safety concerns for homeless individuals and staff while sometimes frustrating nearby businesses.
But ever since, the city has been scrambling to find shelter space. It established warming centers this winter to keep homeless people safe at night, and set July 1 of this year as the target date to add a new shelter. That date has
already come and gone
, of course, so the new target to open the shelter is currently Sept. 1.
In late June, the city announced it was considering the purchase of the Grocery Outlet property on Sprague. That building would turn into a shelter with the capacity of up to 120 people, and Mayor David Condon touted it as one step "in our long-term approach to assist those who are experiencing homelessness." Days later, City Council
approved a $1.8 million purchase agreement
for the property. Hutton Settlement is the seller of the property.
On Tuesday, city staff including Danzig and director of Community Housing and Human Services, Kelly Keenan, expanded on the vision for added shelter space. It will serve up to 120 adult men and women and, ideally, would have daytime services for those without a place to go during the day. It would include transportation services, food, lockable storage and a "hygiene center" that includes showers, toilets and washing machines with dryers — though some of those components won't be available until next year.
Additionally, the city envisions other services like employment, housing, behavioral health and medical care being available.
"We want this shelter to be a community asset that serves as a platform to move out of homelessness," Danzig said at the meeting.
Danzig said the city wants to create a "neighborhood impact board" to give neighbors around the property a voice to discuss crime mitigation and impact on the surrounding area. But she was assertive when she said "homelessness does not equate to criminal behavior."
Those in the audience, including nearby residents and those with Project ID, weren't satisfied. They wanted to know exactly what extra measures would be taken to mitigate crime in the area — which they feel is already out of control. One speaker feared there would be people pooping on her lawn. Others pushed back on the assertion that homelessness doesn't equate to crime. And when one speaker tried to stick up for those experiencing homelessness, a man screamed, "You're not paying my taxes, boy!"
W
hen Project ID moved
to its current location near the old Grocery Outlet a year and a half ago, Hutchinson says the nonprofit had concerns then about the neighborhood. He says there have already been a few issues with members of Project ID and people lurking around the area.
"Our members are so trusting and caring that they want to help everyone, but they get taken advantage of," Hutchinson says.
Project ID serves about 100 members with intellectual and developmental disabilities during evenings Wednesday through Saturday, plus a church service on Sunday and a fellowship service on Monday. Hutchinson says his concern isn't necessarily those who may choose to use shelter services, but the people who choose
not
to.
"It will be another area just like downtown. What is going to be different here?" Hutchinson asks. "No one seems to be able to answer that questions."
Hutchinson says, specifically, that he wants someone on site in the Project ID parking lot making sure that volunteers and members are getting in and out of the building safely in the evening.
Those specifics can't really be nailed down yet, however. The city hasn't chosen any organization to operate the shelter yet. They anticipate choosing an operator soon, in time for the shelter to open in a month. Still, in response to security concerns, Keenan says the city intends to "bring more eyes" to the area, which could ultimately prove beneficial for everyone.
"That becomes an asset to the community and the neighborhood, not something that contributes to the problems that have already existed," Keenan says.
Despite all the opposition to the shelter expressed Tuesday, Hutchinson is doubtful it changed the city's mind. He hopes, however, that it put the city "on notice."
"I'm not against the homeless, I'm just trying to figure out the best way to make sure we keep our members safe. That's where I'm coming from with all this," Hutchinson says. "I pretty much feel like this shelter's going to happen anyway."