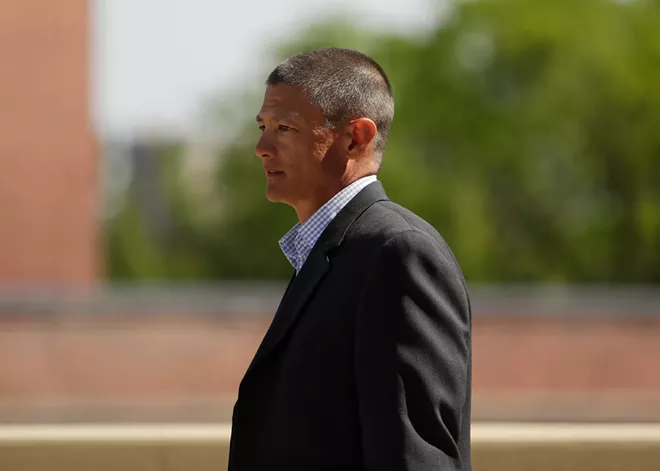 The general election is still months away, but Lisa Brown already has plans to replace two senior members of Spokane city government if elected mayor in November.
"I'm assuming I'd need new budget leadership, I'll just put that right out there," Brown says. "Communications and budget for sure. I think those are two [departments] that probably need new leadership."
Spokane's communications department is led by Brian Coddington. He also serves in a semi-official role as Mayor Nadine Woodward's chief of staff, and is the interim director of CityCable5, Spokane's C-SPAN.
Brown says she wants to replace Coddington because "it doesn't seem like there's been enough transparency, which is what you need from a comms director." Brown also thinks Coddington's role as semi-official chief of staff makes him responsible for "a lot of the lack of leadership that's been shown by the administration in some key areas like budget."
Coddington, who has worked for the most recent two mayors, defends the administration's transparency and budgeting process, pointing to regular meetings with City Council and drop-in community events at libraries that have given the public a chance to share their budget priorities. In discussions with the City Council, Coddington says, the administration has been "transparent about what the revenues are and what the expenses are and where there's need."
In recent months, council members have frequently expressed frustration over the Woodward administration's handling of the budget. Brown has used the issue to attack the mayor, and she highlights the city's estimated $20 million deficit.
"You obviously would rather have a smaller number than that," Coddington says. "It's a bit larger than we've seen in the past, but it's not anything insurmountable."
Spokane's finance department is led by Tonya Wallace, who previously served as Spokane County's budget director before Woodward hired her in 2020. Brown says she wants to replace Wallace because she doesn't have faith in Wallace's handling of this year's budget process.
"The information doesn't seem to be very forthcoming," Brown says. "Budgets are complicated, but from what I can see right now, that budget shop has not served the community or council very well."
Wallace was caught off guard by the news and says she hopes Brown will reconsider if elected.
"There's a lot that I do offer to the city, and I would certainly welcome a conversation with her," Wallace says. "I hope that she would take some time to evaluate that before making any decisions."
Wallace acknowledges the city's current budgeting challenges but says they stem from larger economic forces — not mismanagement.
The city's revenues aren't growing as fast as expenditures, Wallace says. Inflation is driving up costs, and a tough labor market is making it hard to recruit employees and leading to increased overtime costs and further financial strain.
"I'm here to support the city and do the best job possible. I feel that I do have a very good track record and have implemented a lot of good changes," Wallace says, highlighting her work filling numerous vacancies, overseeing the city's fleet department and replacing the city's outdated Excel spreadsheet system with new budgeting technology.
When it comes to leadership in other city departments — like parks and recreation, fire, police, libraries, human resources and legal — Brown says she hasn't made decisions. Brown says she'll sit down with every department head to understand "their competencies and experiences."
Brown says she doesn't have specific candidates in mind to replace Coddington and Wallace. She also says she isn't worried about losing institutional knowledge.
"I've been talking with people who have been in positions with various administrations," Brown says, noting that she's endorsed by Gavin Cooley, who served as chief financial officer under three previous mayors. "So I think there's a lot of community knowledge out there that will come into a transition process."
Coddington spent five years working as communications director for previous Mayor David Condon before leaving to take a communications job with Spokane Public Schools in 2018. Woodward hired him back in 2020.
Coddington didn't answer when asked if he would have wanted to work under a Lisa Brown mayorship.
"That's a hypothetical," he says. ♦