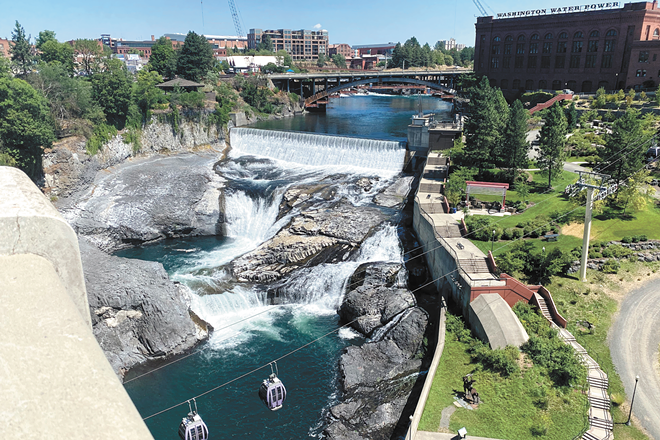 A Spokane County judge blocked Prop 1, the "Spokane Cleaner Energy Protection Act," from going on the November ballot during a court hearing Thursday, Aug. 26.
Spokane County Superior Court Judge Charnelle Bjelkengren found that the measure, which would have prevented the Spokane City Council from ever banning natural gas or hydropower, went beyond what's allowed in the local initiative process.
According to the environmental groups that
sued to block the measure
from making it on the ballot, the court ruled that Prop 1 was invalid because it addressed administrative matters and would interfere with the City Council's statutory authority to enact local building codes.
"This initiative was clearly impermissible, and the court made the right decision in striking it from the ballot," says Knoll Lowney, one of the attorneys for the plaintiffs.
Amanda Parrish, executive director of the Lands Council and one of the leaders who helped start the Protect Spokane Action coalition, also applauded the decision.
"We are thrilled with the judge's well-founded decision to uphold the process allowing the community-led Sustainability Action Plan to continue and to remove the intentionally misleading Prop 1 from ballots this fall," Parrish says in a news release. "Our community deserves the opportunity to choose cleaner and healthier buildings in the future."
When speaking with the
Inlander
shortly after the lawsuit to block Prop 1 was filed, Jennifer Thomas, who brought the measure forward, said she wasn't afraid of being wrong if the measure was booted from the ballot.
Really, she just wanted people to be able to have the conversation about what is needed as new construction continues to be built. Some other jurisdictions like Seattle have banned natural gas hookups in new construction, and Thomas questions whether solar or other current renewable energy sources will create other unforeseen issues for future generations, such as electronic-waste.
"I don't have to be right. I think when one of us has to be right there's winners and losers, and really who's losing is my grandkids and your grandkids if we can't find the best solutions now," Thomas said. "I think it's unconscionable to make decisions that could have really negative outputs because it was the 'best thing' we could do at that time."