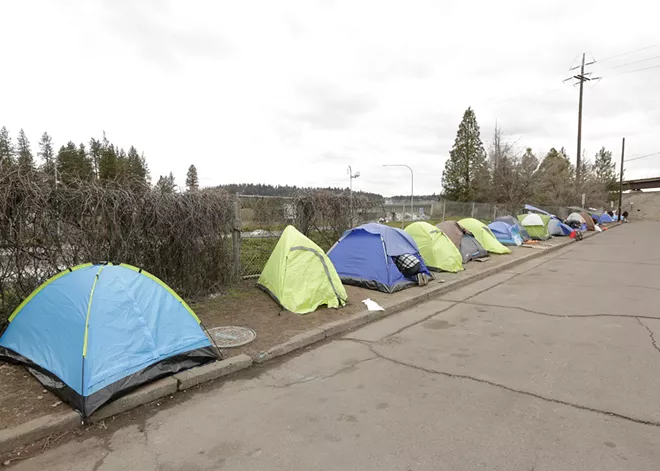 People have filed 2,453 complaints about unsanctioned homeless encampments in Spokane so far this year — a 54 percent increase over the same time period last year, which saw 1,591.
The data comes from the city's Homeless Outreach Team, which clears encampments and is made up of litter control workers, police and occasionally a homeless service provider.
The complaints mainly come from citizens calling the city's 311 line, which means some complaints might be duplicates or involve vehicles that move around or sites that don't technically qualify as encampments. But even then, the number of camps the city has "abated" — or swept — has also risen significantly. The city team has cleared 948 encampments so far this year, compared with roughly 720 during the same period last year.
The dramatic uptick in encampment complaints comes amid soaring housing costs and a point-in-time count that found a 36 percent increase in the county's homelessness over the past year.
A map of cleared sites shows encampments spread across much of the city. The major blank spots are in North Indian Trail, Five Mile Prairie and the lower South Hill. Downtown Spokane and Browne's Addition had the highest density of encampment abatements.
A majority of the campsites reported to the outreach team — 67 percent — are on publicly owned land. Twenty-two percent are on parks, and the rest are on private or other types of property.
A presentation to City Council earlier this month made the task of clearing Spokane's encampments seem downright Sisyphean.
Jason Ruffing, a code enforcement supervisor with the city, told council members that when the program started in 2019, weeks would pass before a new campsite popped up in a spot that had previously been cleared. But these days, Ruffing said, the team will sometimes return to the office after clearing a campsite only to find that a new complaint for a campsite in the exact same spot has already been filed.
Ruffing added that the volume of complaints outpaces the code enforcement unit's ability to address them. The team is typically able to visit 12 to 18 campsites in a day, but lately, they've been receiving 25 complaints each day, Ruffing said.
"The numbers are not favorable right now," Ruffing said.
Advocates sometimes criticize the practice of sweeping homeless campsites because it can be traumatic and destabilizing and can cause the people living outside to lose their property.
Luis Garcia, the city's director of code enforcement, told council members that a typical encampment removal starts with police, who will make contact with the residents and establish a safe work zone. He said police will also work with residents to establish what is litter and what is property and, if necessary, offer storage for their belongings.
"That's something that we're sensitive to," Garcia said.
The city has already removed more than 500,000 pounds of trash this year.
The outreach team will occasionally have a service worker from Frontier Behavioral Health or another local group who can try to direct camp residents to resources. Garcia said service providers are sometimes hesitant to appear alongside uniformed police officers while camps are being cleared because it could damage trust with the unhoused people they work with. ♦