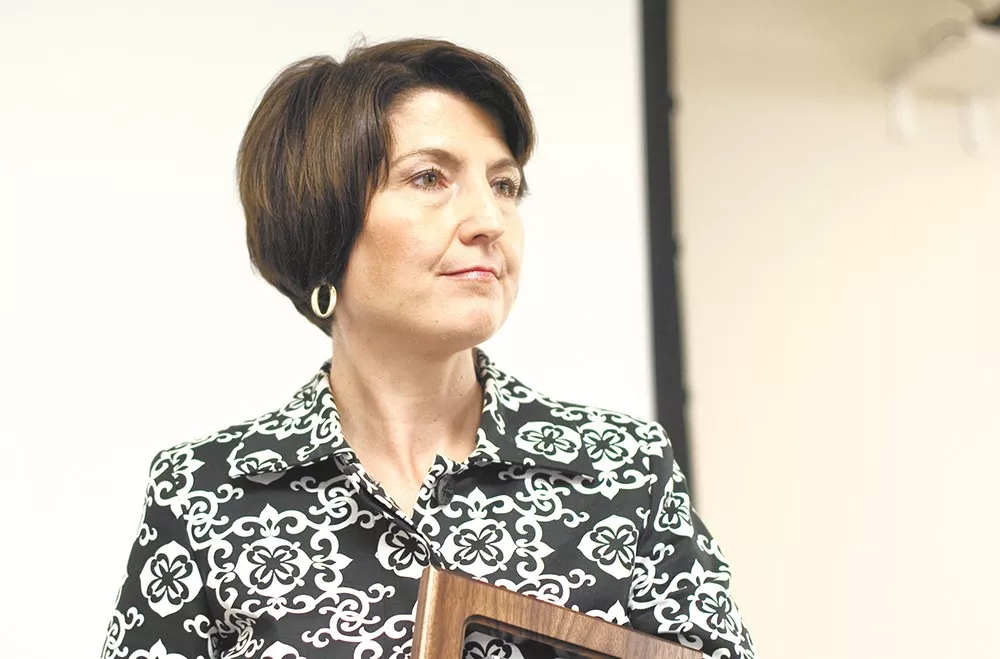 AGAINST HECKLING
For the second year in a row, U.S. REP. CATHY McMORRIS RODGERS spoke at the Martin Luther King Jr. Day rally, and for the second year in a row, McMorris Rodgers was beset by protests and hecklers. Last year, protesters chanted "save our health care" during her speech.
This year, according to audio recordings and media accounts, some attendees stood up to turn their backs on McMorris Rodgers as she spoke, booed, called out "how about children's health care," yelled "liar" and chanted "do your job."
But that earned the protestors' rebukes from other speakers. Freda Gandy, the executive director of the Martin Luther King Jr. Family Outreach Center, encouraged the hecklers to vote instead of screaming and shouting.
Stephy Nobles-Beans, a local assistant pastor and a Whitworth University professor, excoriated the crowd for setting a bad example.
"Their behavior was very inappropriate, especially in front of our children," Nobles-Beans says. "I've never felt the need to heckle somebody I disagreed with."
In some ways, Nobles-Beans says, she's sympathetic. She says she doesn't necessarily agree with McMorris Rodgers. She has concerns about health care, Medicare and retirement. But she objected to how the congresswoman was treated by the audience.
"The heckling of another individual — it was a form of bullying," Nobles-Beans says. "I know what it's like to have your voice silenced, as a woman of color."
While some on the left objected to the MLK Center inviting McMorris Rodgers at all, others felt more chastened by the response to the heckling.
"A gentleman came up to me in tears, saying, 'I was one of the hecklers,' and he told me, 'I'm sorry,'" Nobles-Beans says. (DANIEL WALTERS)
TAKING A LOSS
Eastern Washington University's athletics budget is in a $5.8 million hole, spokesman Dave Meany tells the Inlander. And it could result in increased student fees or other measures meant to bring more money to the athletics department, he says.
"The president [Mary Cullinan] has basically asked all university departments to collaborate to identify revenue-enhancing strategies," Meany says.
The $5.8 MILLION DEFICIT is a cumulative deficit that has accrued over the last few years, Meany says. Nobody should expect wide-scale cuts at the university to pay for the deficit, however. Instead, the university is focused on raising more money.
So far, the university only has some "recommended strategies" to handle the deficit. Those include increased fundraising and ticket sales, sponsorships and sports camps. The athletics department will look to play more "guarantee games," which are games where, for example, the EWU football team would go play a larger school like the University of Washington. By agreeing to play there, EWU gets a large sum of money, usually ranging from about $250,000 to $500,000, and the larger university typically gets a win.
For now, the university doesn't yet know who the athletic director will be in the future. Bill Chaves, EWU's athletic director for more than 10 years, recently took a job at North Dakota. (WILSON CRISCIONE)
RED JEEP RACIST
Sandpoint police believe they know who has been spreading RACIST PROPAGANDA throughout the small North Idaho town for over a year — including in the form of 56 CDs left on cars in a high school parking lot last November.
Scott Rhodes was confronted by Sandpoint police at his office in an encounter captured by a police body camera. During the interaction, police tell Rhodes that they have video footage of his red Jeep arriving at the school, and a man they believe is Rhodes putting CDs on cars.
"No, I don't know what you're talking about," Rhodes told the officers, who were there to inform him that he would be trespassing if he were to go back on Lake Pend Oreille School District property.
Rhodes continued to deny any knowledge and told officers to contact his attorney.
"The issue the very professional Sandpoint Police Department spoke to me about was not a crime, and I stand by what I have already stated to them," Rhodes writes in an email to the Inlander.
The CDs contained PDF copies of the racist fliers that had been distributed around Sandpoint, according to a Sandpoint police report. The front of the CDs reads: "What They Are Hiding From You," and cites a website that pedals racist viewpoints and has tabs for "Muslim Terrorism," "War on Whites," and "Bitcoin."
Rhodes is also a person of interest for police in Alexandria, Virginia — the home of white supremacist Richard Spencer, according to a Sandpoint police report. Authorities in Virginia say a number they traced to Rhodes was used to make threatening, anti-Semitic calls to local politicians there.
Rhodes is currently considered a "person of interest" in these incidents and is not currently facing criminal charges. He has denied all involvement in an email to the Inlander. But even if police can prove Rhodes' involvement, it's unlikely he'll face charges, Sandpoint Police Chief Corey Coon tells the Sandpoint Reader. The racist material is protected under the First Amendment. (MITCH RYALS)