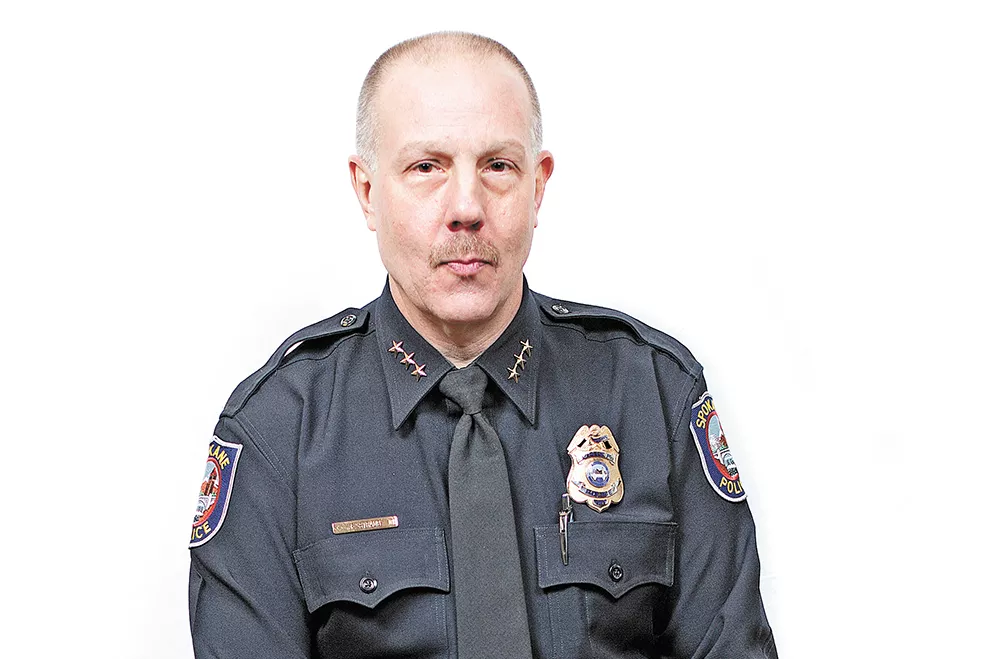 Monique Cotton didn't want to tell anybody. She says she did her best to handle on her own the constant criticism, hostility, obscenity-laced tirades and "advances" from her boss, former Spokane Police Chief Frank Straub. In several conversations with Straub, she tried to make clear that his advances were unwelcomed, she tells the Inlander.
The final straw came in March of this year when, according to recently released public records, Straub profanely blew up at Cotton and several senior officers.
Days later, she was sitting across from Mayor David Condon, telling him about the culture fostered under Straub's regime.
"I was terrified when I came forward," Cotton says. "I retained counsel because I was scared for my safety and for my job. I had seen others transferred, demoted and fired, and I didn't want that to be me."
Despite privately alleging sexual harassment and retaining an attorney, Cotton has not filed a public claim. The reason, she says, is because she's not after money — she just wanted to get away from Straub. She's now speaking about her situation on the record for the first time, after the Inlander let her know that other city employees had raised different accusations against Straub, including:
That Straub allegedly referred to former police department executive Carly Cortright using the c-word in front of male officers, according to police Capt. Brad Arleth and Lt. Joe Walker.
In executive staff meetings, Straub would reference penis-measuring contests when challenged. Then he'd flop his forearm onto the table, Arleth and Cortright say.
In August of 2013, Straub threatened to demote Arleth and fire Cortright after they exchanged a knowing glance and raised eyebrows during another executive meeting. If they didn't believe him, call back to Indianapolis, Arleth and Cortright recall Straub saying. Straub then used a vulgarity, referring to a person who performs fellatio, to emphasize how difficult he could be, the two say.
Cortright, who had worked for the police department for more than a decade before she moved to a new job in City Hall two years ago, constantly butted heads with Straub over budgetary issues. For her, the culture created under his leadership punished honesty.
"The sexually charged language and behavior created another layer of disrespect," she says. "But the meat of the matter was, 'You know not to say anything or your turn to be degraded was next.'"
Straub, through his attorney, Mary Schultz, has denied Cotton's accusations of sexual harassment. But there's one place where Straub and Cotton are united in frustration: There wasn't any kind of formal investigation into Straub's behavior.
"I went to the mayor fully expecting the accusations would be enough to launch a human resources investigation," Cotton says. "I made it very clear I would cooperate in a hostile work environment investigation, and I fully expected someone would ask me questions about what happened to me."
For his part, Mayor Condon has said that the city didn't conduct a formal investigation into Straub, saying Cotton would not cooperate with a formal complaint. He has noted that his administration did conduct an informal inquiry into the March incident. City spokesman Brian Coddington did not respond to several voicemails and emails seeking comment for this article.
City Council President Ben Stuckart, meanwhile, says city officials should have done more in light of Cotton's allegations.
"There should have been a more formal investigation into both the sexual harassment and the non-sexual harassment," Stuckart says.
Trusting Straub
Nearly three years ago, the Use of Force Commission — formed by Condon to address years of scandal, cover-up and alleged brutality by the Spokane Police Department — made 26 recommendations.
The very first recommendation was to conduct a "culture audit," a thorough investigation into the informal power structures, motivations and philosophies embedded within the department.
But while the Department of Justice had conducted a survey of some officers, a full-scale culture audit never happened.
In February, Straub told the commissioners that more than two years of implementing reforms had enabled him to gain a "very good understanding of both the formal and informal culture."
The commission left the choice of whether to do a full audit in Straub's hands.
"We take Chief Straub at his word on this and defer to his judgment about whether or not a formal culture audit of the SPD would still be a cost-effective undertaking," the Use of Force Commission wrote in a letter to Condon in March.
A few weeks later, Condon learned about allegations regarding Straub's own impact on the department's culture, that not only had Straub angrily accused Cotton of having "f---ed him in the ass," he'd also allegedly grabbed Cotton's "ass" and tried to kiss her.
It wasn't until Oct. 28, more than a month after the mayor forced Straub to resign, that Condon put the notion of a culture audit back on the table. Still, police department critics have seized upon the latest revelations.
"Both then and in retrospect, it was a bad decision" not to conduct a culture audit, says Tim Connor, a local activist formerly with the Center for Justice. "This whole thing has been personally really depressing for me."
One Use of Force commissioner, William Hyslop, refrains from casting judgment on the board's past decisions.
"Had everyone known exactly what had occurred, would a culture audit have made a difference?" Hyslop asks. "I'm not going to go back and Monday-morning-quarterback it."
Straub has been widely praised for how, under his administration, use-of-force incidents and violent crime decreased, and officers received cultural awareness training.
But while Ivan Bush, another commission member, applauds Straub's upfront communication with the commission, he says there's one thing he wishes would have been done differently.
"I would have preferred if the culture audit would have been one of their top priorities, and that doesn't seem like that happened," Bush says. "That should have been one of the recommendations that was tackled much earlier on."
Rape and culture
Straub's critics echo concerns about the department's internal culture and the light in which it casts women. Arleth suspects that a lot of people just felt they had to put up with Straub's sexually explicit and demeaning language.
"You have to put it in the context of the time," he says. "The department's been savaged for 10 years of poor decisions, and then this guy is brought in as a savior. It's like, 'What else are you going to do but take it?'"
"Cronyism has created a very bad environment that, in my opinion, did not exist before he arrived," Cortright adds. "The story going on with the sexual assaults — it's something I don't see happening prior to Straub."
She's referring to recent charges against SPD Sgt. Gordon Ennis, who is accused of second-degree rape of a female officer at a party in October. Sgt. John Gately, president of the Spokane Police Guild, is also charged with rendering criminal assistance and obstructing a law enforcement officer for allegedly tipping Ennis off to a forthcoming search warrant.
Incidents like these concern veteran female officers like Jennifer DeRuwe, who Cotton had replaced as department spokeswoman.
"I worry about what's going to happen to her in the future," DeRuwe says of the alleged rape victim. "Is she going to be able to stay in law enforcement and the police department?"
DeRuwe says she too once experienced the dilemma of whether to report harassment. She says that back in 1998 and 1999, one of the officers on her patrol team made and continued to make sexual and offensive comments toward her, even after she asked him to stop. But reporting that as a young officer was difficult.
"I knew that I would be judged on my reputation and what my peers would think of me. It was a pattern for him," DeRuwe says. "Nobody else was willing to come forward."
The fact that other women were being victimized led her to file an official complaint.
"I'll take the burden," DeRuwe says she thought. "I'll take the stigma."
At first, she says the complaint still wasn't taken seriously. "I felt I really had to fight to get heard," DeRuwe says. "He was so close to my supervisor, so I went to a different sergeant."
The climate is better than it used to be, DeRuwe says, thanks in part to there being more women in the department. But they still only make up 10 percent of the force.
Clearly, some are still wary of speaking out. Cotton — caught in a hurricane of media reports, dueling lawyers and community speculation — is in the exact situation she sought so hard to avoid by attempting to keep it all quiet. When asked by the Inlander, she declines to give specifics about the alleged sexual harassment.
"I guess all I can say is that I truly understand why those who have experienced harassment don't come forward," Cotton says.
Hazy way forward
Now, the city is looking to hire a new police chief, another round of public records is scheduled to be released next week, two SPD sergeants are facing felony charges and a $4 million legal claim from Straub for violation of his due process rights hangs in the air. Meanwhile, Condon and Stuckart have asked the U.S. Attorney's Office to recommend an independent investigator in order to evaluate the city's handling of Straub's termination and Cotton's accusations.
The possibility of a culture audit still looms, but it's on the back burner for now. In October, Condon assigned the task of developing a culture audit to the Police Leadership Advisory Committee. Yet committee chair Mary Ann Murphy says the work to hire a new police chief — editing job descriptions, holding public forums — must come first.
Murphy adds that the committee has asked city staff to help research examples in other communities. Yet after nearly three years, what the audit would look like remains unanswered.
Cotton, for one, hopes that any audit is extensive. "I think a cultural audit would be very beneficial," she says, "and that cultural audit should include the executive leadership" of the department.
She's faced criticism for trying to leverage her accusations into receiving more money from the city, but she says she never asked for a pay increase — that, she says, was City Administrator Theresa Sanders' idea. Nevertheless, she was given a new job as a spokeswoman in the Parks and Recreation Division and a more than $9,000 bump in salary.
"I would not have wanted to leave my job at the police department had it not been for the hostile work environment," Cotton says. ♦