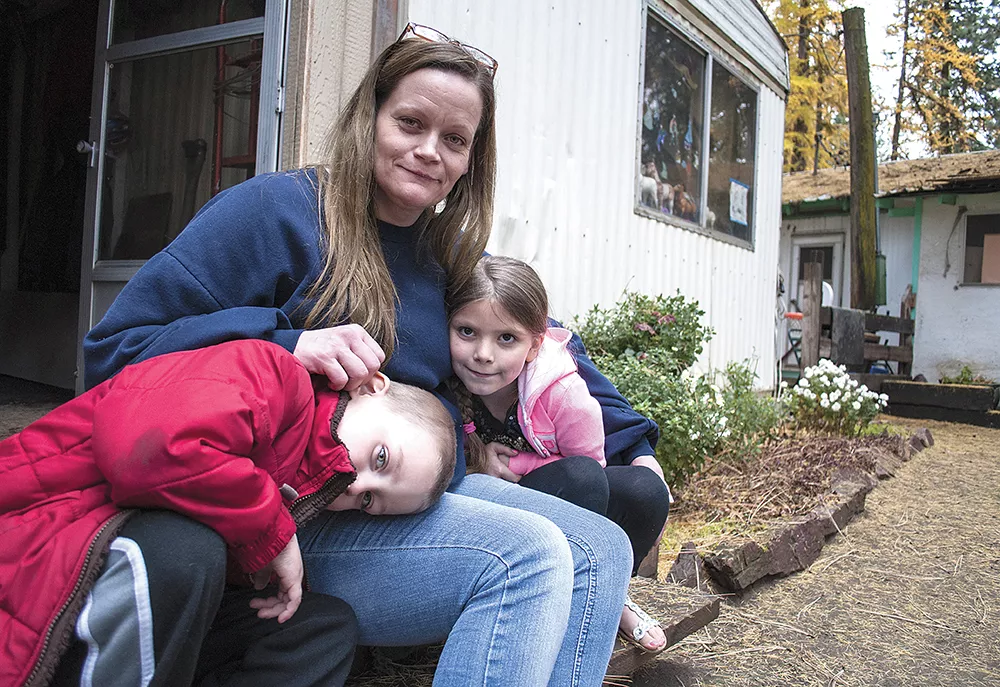 Brittny Eidsvoog's most recent receipt from Walmart stretches two feet and 148 items long.
Her groceries — about $400 worth — typically don't last until the 10th of the following month, when her food stamps kick in. So she and her two kids will start eating buttered noodles, peanut butter and jelly sandwiches, and Malt-O-Meal's Blueberry Toasters by the bowlful. She bought four supersize bags of cereal last month ($4.98 each) plus three gallons of 2-percent milk ($2.68 each). She stashes the extra jugs in the freezer with the popsicles (on sale for 99¢) and corn dogs ($5.88) in her bedroom beneath an old stereo set.
"You can always eat cereal for dinner if you got milk and there's nothing else," she says. "It's not nutritious and it's by all means not a complete meal, but it gets them to bed without being hungry."
Eidsvoog, 40, strains to speak above a whisper. Her voice is hoarse from a screaming match that morning with her son's grandmother (his father's mother). There's too much tension between them, and this trailer's too small. Eidsvoog's all alone out here in Deer Park, in her clapboard mobile home, where the wind whistles through busted windows and the water, she suspects, isn't safe to drink.
Food stamps are her only source of income. Now she's bracing herself for another cut. Another thing she'll have to do without.
"Every two dollars count," she says.
In Washington state, more than 1.1 million low-income residents are scheduled to lose a portion of their food assistance benefits this month after a small boost to the Supplemental Nutrition Assistance Program (SNAP) under the 2009 American Recovery and Reinvestment Act expired. For a household of three, the maximum monthly benefit dropped from $526 to $497.
"It doesn't seem like a lot," says John Camp, food assistance program administrator for Washington's Department of Social and Health Services. "But for these households, it makes a big difference."
Before Eidsvoog moved to Deer Park three years ago from Palisades with her two children, Dagan and Aleya, ages 4 and 8, and Dagan's dad, she had fresh fruits and vegetables all the time. She worked for her money — driving a tractor for cherry pickers, housekeeping and as an administrative assistant. Now she sweeps pine needles, cleans and helps care for her cancer-stricken landlady in exchange for rent and utilities.
There was a time when Eidsvoog was getting $1,000 in cash each month through the Temporary Assistance for Needy Families (TANF) program and Social Security, after Aleya was diagnosed with leukemia as a baby. But two years ago, her TANF benefits expired, and with her daughter's cancer — thankfully — in remission, she no longer receives a Social Security check. Last year, her car was repossessed after she took out a high-interest title loan to pay a $300 utilities bill. Bus lines don't run through Deer Park. She's stuck.
So once a month, Eidsvoog gets a ride into Spokane, where she tries to spend her entire monthly benefit because she doesn't know when she'll have another chance to go to a grocery store. Eidsvoog doesn't need a list when she goes shopping. She buys the same things month after month.
Whatever she can't buy with her EBT card, her landlady supplies. That how's her cellphone is paid for. That's how she pays for toilet paper, dish soap and cat food. She goes without Tylenol, aspirin and lotion. New back-to-school clothes and Christmas presents, too. Last year, she recycled some of Dagan and Aleya's old toys that had been in storage for two years, praying to God they didn't remember they were theirs from before.
Eidsvoog's pantry is stocked: Bumble Bee tuna, Kraft macaroni and cheese, chicken-flavored ramen, refried beans, rice and spaghetti.
She almost always buys off-brand, with the exception of her creamer: French vanilla Coffee-Mate. It's expensive — $5.26 for a big bottle at Walmart, $7 at Yoke's — but she makes it last.
"That's my thing in my life," she says. "It's what makes my days doable."
Eidsvoog is self-conscious about her home. There are holes in the walls and her pantry from slammed elbows and fists. The window by the box fan is splintered like broken ice. She told her landlady a bird crashed into it. The bathroom door features a head-sized gash the shape of a scar. "This was one of the you're-lucky-it-wasn't-your-face-bitch," she says. The doorknob is crooked from desperate twisting. Tape can hold some things together.
Her living room is all shades of gray, brown and beige. This is where Eidsvoog sleeps, next to the old wood-burning stove, because her room isn't insulated. Some nights, she wakes up and sees Dagan's dad standing over her. He bailed two years ago. He was addicted to heroin and there were other women. He gets into the trailer by reaching through a small window, covered only by foil and bubble wrap, and unlocking the door.
This is where he slammed his body against her back, threatened to break it before she kicked out a window in a panic. Where she sucked dirt and dust from the carpet fibers trying to breathe when he pinned her to the floor. He's pulled a gun and put it to her head. Slugged her in the face. Her black eye looked like a lens from Jackie Onassis' sunglasses. This is is where he tells her, "You don't know how close I was to killing you."
Eidsvoog doesn't have any family out here. Her mother died of cancer three years ago. No one stops by or calls to say, "You're alright" or "I love you" or "You're OK." She wonders: If he ever killed her, would anyone know?
"We don't have anybody," she says. "There's nobody I can call for help."
Two years ago, Eidsvoog was charged with stealing $16 worth of food from Walmart. A friend stuffed deli meat, cheese and Kool-Aid in her purse; now she owes Walmart $400 in legal fines. "There was no food to feed my kids," she says. "All I had was a can of corn. What are you supposed to do?"
Eidsvoog is a felon. Even if she had a car to drop her kids off at daycare, apply for jobs and drive to work, employment would be hard to come by. Sixteen years ago, she and an old boyfriend were caught selling drugs. Eidsvoog did 36 months in prison and three months in a drug treatment program.
"It is what it is... I'm still paying for it," she says. "I want a job so blistering bad I can't see straight."
She sometimes wonders if her kids would have a better shot at life if she gave them up. She could never do that, but at the same time, she never imagined they'd be living like this. She had dreams, but she can't talk about them. It's too real.
"God doesn't give you anything you can't handle," she says. "Maybe I'll go get a vacation for the rest of us and life will just be breezy cheesy here on out. I don't know. I don't want to do this until I die. I don't." ♦