No one predicted such horror — a double murder, a teen's throat slashed, soon followed by the attacker's suicide. When Jan DeMeerleer killed his ex-fiancée and her son before taking his own life in 2010, friends and family expressed shock despite years of troubling behavior. Now an ongoing appeals case questions whether anyone should or could have prevented those deaths.
A legal claim against DeMeerleer's psychiatrist, Dr. Howard Ashby, retired from the Spokane Psychiatric Clinic, asserts that Ashby failed to provide adequate mental health care or warn victims of potential violence.
Would additional treatment have exposed DeMeerleer's plans? When should a mental health professional break patient confidentiality to warn others? Can a psychiatrist be held liable for the crimes of clients?
Ashby's attorney Robert Sestero says holding treatment providers accountable for unpredictable or violent patients makes their jobs impossible and threatens their relationships with clients. Even those closest to DeMeerleer missed any sign of the tragedy to come.
"They never foresaw the conduct that he engaged in," Sestero says. "Nobody saw this coming."
The family of victim Rebecca Schiering disagrees. After having an expert review the case, they argue that Ashby had a long history with DeMeerleer, including many reports of suicidal or homicidal thoughts. The expert concluded follow-up care or a warning to the Schiering family could have prevented the killings.
An Eastern Washington appeals court split on the case last month, handing down a 58-page decision that dismissed some of the family's claims, but also renewed a complex debate over mental health treatment providers' legal duty to protect the public from potentially dangerous clients. Judges called the case a "humbling and daunting task."
"All specialities of medicine are both art and science," the court ruling states, "but psychiatry may be more art than science."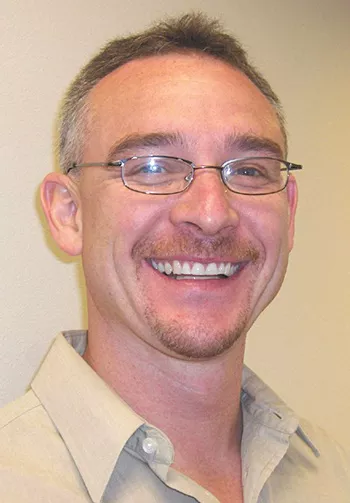 Born in 1971, DeMeerleer studied engineering at Purdue University before being diagnosed with bipolar disorder and depression in 1992. He moved to Spokane in 2000 and started seeing Ashby as an outpatient client in 2001. Legal records state he acknowledged suicidal and homicidal thoughts during his first session and would continue seeing Ashby on and off until 2010. Records say he repeatedly failed to take medication as prescribed.
DeMeerleer started seeing Schiering in 2005, according to court records, living together until Schiering ended the relationship in 2010 after DeMeerleer hit one of her young sons. Ashby's notes reportedly mention several instances of suicidal or homicidal thoughts, but those ideas never targeted Schiering.
On July 18, 2010, DeMeerleer attacked Schiering and her family as they slept. DeMeerleer fatally shot Schiering and her 9-year-old son. He also cut at her 17-year-old son's throat and left another 9-year-old twin unharmed. Authorities later found DeMeerleer dead of a self-inflicted gunshot wound.
The Schiering family's expert, Dr. James Knoll, argues that a proper risk assessment or follow-up treatment would have defused DeMeerleer's violence. He contends that Ashby also had a responsibility to warn those around DeMeerleer at risk of harm.
"Had [Ashby and the clinic] properly monitored DeMeerleer," Knoll writes, "the risk and occurrence of the incident would have been mitigated, and probably would not have occurred."
Ashby and Sestero, his attorney, have argued that Washington law prevents treatment providers from breaching patient confidentiality unless an identifiable target can be determined. Sestero says reinforcing a broader duty to warn the public would establish an "unworkable standard" that dangerously undermines patient trust.
Of the three judges on the state's Division III Court of Appeals, two agree that state law establishes some duty to warn third parties. The court dismissed claims that Ashby should have involuntarily committed DeMeerleer. Judges also dismissed claims of "lost chance" because the case did not outline the victims' probability of survival if additional treatment had been pursued.
But the court also ruled that questions remain regarding whether treatment providers can or should protect the general public from dangerous clients. Judges cited several cases in which therapists could predict harm and were sometimes held liable for their clients' actions.
A third judge, A.C.J. Brown, penned a dissent that argued for a dismissal of all the claims, largely because DeMeerleer never explicitly threatened Schiering.
The family's attorney, Michael Riccelli, filed a motion to reconsider the "lost chance" issues with the court last week. Riccelli argues that a number of factors suggest the victims would be alive today if Ashby and the clinic had followed a more thorough standard of care.
"More likely than not, this would not have happened," he says. "If Mr. DeMeerleer had been treated to the standard of care, he would not have had his meltdown."
Attorneys on both sides agree it may take an additional review by the state Supreme Court to set a clear precedent.
"It's something the Supreme Court is going to eventually deal with," Riccelli says, "one way or another." ♦