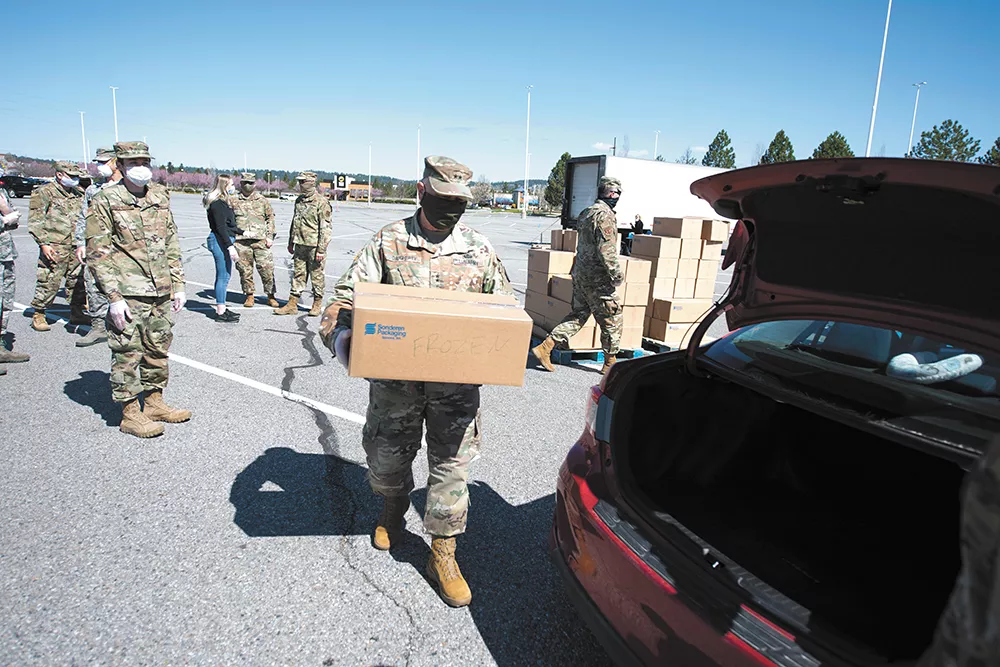 At every level of America's food system, mandated closures and outbreaks of COVID-19 have interrupted the finely tuned network that normally gets food from farmers and food processors to restaurants, grocery stores and food banks.
With unprecedented unemployment levels, many are turning to food banks for immediate needs. In the Inland Northwest, the first glimpse of what's expected to be a massive increase in demand came as soon as schools were closed in mid-March.
"Overnight almost we saw folks turn up at our pantries in the same ways they were flocking to our grocery stores to load up on food," says Drew Meuer, chief of staff for Second Harvest Inland Northwest, which provides food to about 250 food banks and pantries in Eastern Washington and North Idaho. "We saw it immediately at our pantry levels and heard about it all over the region."
Since then, there's been about a 20 percent increase in demand at Second Harvest, which feeds 55,000 people in the region each week.
But as they prepare, staff are looking to lessons learned during the Great Recession, which saw their demand double as impacts lasted for upwards of two years. They feel the worst is likely yet to come. It took several months for the recession to impact families and create job losses, Meuer says. Current closures created unprecedented job losses in mere weeks.
Significant need is already there, and unfortunately, Meuer says, the overall food chain has also seen unprecedented interruptions.
"The food chain has been turned inside out over the last couple of months," Meuer says. "It's really bizarre to see stories of farmers in Florida turning their crops under, or other foods not being picked, while food banks are seeing this incredible surge in demand."
"When agriculture lost one-third of all its markets overnight, you don't fix that in a day or two."

tweet this
But the trucks meant to deliver certain products to restaurants may not be in the same chain as those supplying grocery stores. Food storage is backed up. And meat processing plants across the country have seen virus outbreaks among their employees, forcing closures including at the Tyson Fresh Meats plant near Pasco. The plant, which normally processes enough beef to feed 4 million people every day, temporarily closed while hundreds of its 1,400 employees tested positive for COVID-19.
Meanwhile, Pacific Northwest growers are planting for an uncertain fall demand, and tree fruit growers worry about summer harvest as they plan for seasonal workers, who they must provide housing for amid a pandemic.
"You think it takes a long time to turn a cruise ship around, think about food processing," says Hal Meenach, a grain grower and former president of the Spokane County Farm Bureau. "It's going to be a fairly long road to get those things turned around to where they can service the new normal. When agriculture lost one-third of all its markets overnight, you don't fix that in a day or two."
FOOD BANK RESPONSE
With many virus-vulnerable volunteers and recipients, food banks and pantries around the Inland Northwest have shifted away from models that allow people to come inside and choose what they want, instead providing pre-packed boxes through drive-up or delivery.
Second Harvest has been helped six days a week by 70 National Guard members split between the organization's Spokane and Tri-Cities warehouses. They efficiently divvy up food for delivery to food banks and clients at drive-through sites, Meuer says.
Second Harvest increased its mobile market distributions in community parking lots from about 18 per month to 70 in April. A typical market would see 150-300 families come through before COVID-19, he says, but recent events have seen 400-500. Spokane Food Fighters has also helped distribute about 1,200 boxes directly to people who can't leave their homes.
In Pullman, the Community Action Center has seen a 40 percent increase in need, serving about 80 households per week, says Ashley Vaughan, food and nutrition specialist.
"We're normally a shopper model, but we have to limit the number of people in our building," Vaughan says. "So we've worked the last month to get the most needs and nutrition for people into one box."
The food bank has also partnered with area restaurants for Pullman Serves it Forward, where community donations provide $25 gift cards to area restaurants for food bank recipients.
Like many pantries and food banks, the Community Action Center's food largely comes from suppliers like Second Harvest and Northwest Harvest.
Those suppliers continue to do their best, but it's difficult to provide variety along with quantity right now, Meuer says. The best help for them right now is monetary donations, he says.
"Those dollars and our partnerships really give us the greatest flexibility to get food where it's needed most," Meuer says.
FARMING AND PROCESSING
As some farmers don't know what to do with their excess produce — multiple farms around the Inland Northwest have been giving tons of potatoes away to make room in storage — concerns are growing of a temporary meat shortage in coming weeks, after processing plants around the country have had to close due to outbreaks.
Despite an order from President Donald Trump for meat plants to remain open, systems must be put in place for employees to return to work safely, experts say.
In Wallula, Washington, Tyson Fresh Meats closed its beef processing plant for nearly two weeks while about 1,400 employees were tested. More than 200 confirmed and probable cases have been linked with the plant in neighboring Benton and Franklin counties. After the company installed social-distancing and safety measures, the plant reopened on Tuesday.
There is plenty of beef, pork and chicken to feed people right now, experts say. But as soon as one part of the system gets backed up, the rest follows, and animals are raised on very specific schedules to be ready for harvest. Some pig farmers in the Midwest have already started culling herds as it costs too much to keep feeding them while waiting for processing.
The impacts for Pacific Northwest beef ranchers don't appear too devastating yet, but the impacts will be long term, as it takes 2-1/2 years to go from calf to an adult cow ready to be harvested, explains Washington Beef Commission Executive Director Patti Brumbach.
"It's a fairly long-term commitment," Brumbach says. "On the consumer side of the supply chain, we're seeing some shortages at grocery stores, but we believe those to be temporary. It's not so much that we might not have products, just that it might not be the specific products consumers want to buy."
For instance, some more labor-intensive cuts of meat may not be as available as ground meat or roasts, she says.
Unlike other parts of the country, Washington hasn't seen milk stores being dumped either, says Washington Farm Bureau CEO John Stuhlmiller. But ensuring that food can get exported to other states and countries in coming months is essential.
Some growers are having issues finding available shipping containers, Stuhlmiller says, as fewer products are going back and forth between America and other countries.
While it's clear commodity prices are down, issues for this year's crops aren't clear yet, he says. What is pressing now is labor.
Many Inland Northwest grain and legume growers don't expect to be as impacted as their crops aren't labor-intensive, says Meenach, with the Spokane Farm Bureau.
But the state, unions and tree fruit growers are figuring out how they can house workers who typically come every summer on H2A temporary visas and live in bunkhouses. Farmers need to figure out a safe way for those workers to be available, Stuhlmiller says.
"You contract months in advance for H2A, and if you can't house them, you can't have them," Stuhlmiller says. "The domestic workforce isn't there. There aren't enough people willing to work in ag, so we look outside to meet that pressure."
Without enough skilled laborers to pick pears, cherries and apples, crops could be left on trees to rot as happened in recent years, he says.
Still, while many things remain uncertain, Stuhlmiller says he's got faith that farmers will be able to adapt. After all, they deal with unknown weather and markets often.
"The best, safest, most plentiful food supply in the world is produced here in the U.S., but the challenges are great," Stuhlmiller says. "There's a lot of those things that are catching up with us, but I still look and see an amazing system we've got. It's really resilient." ♦