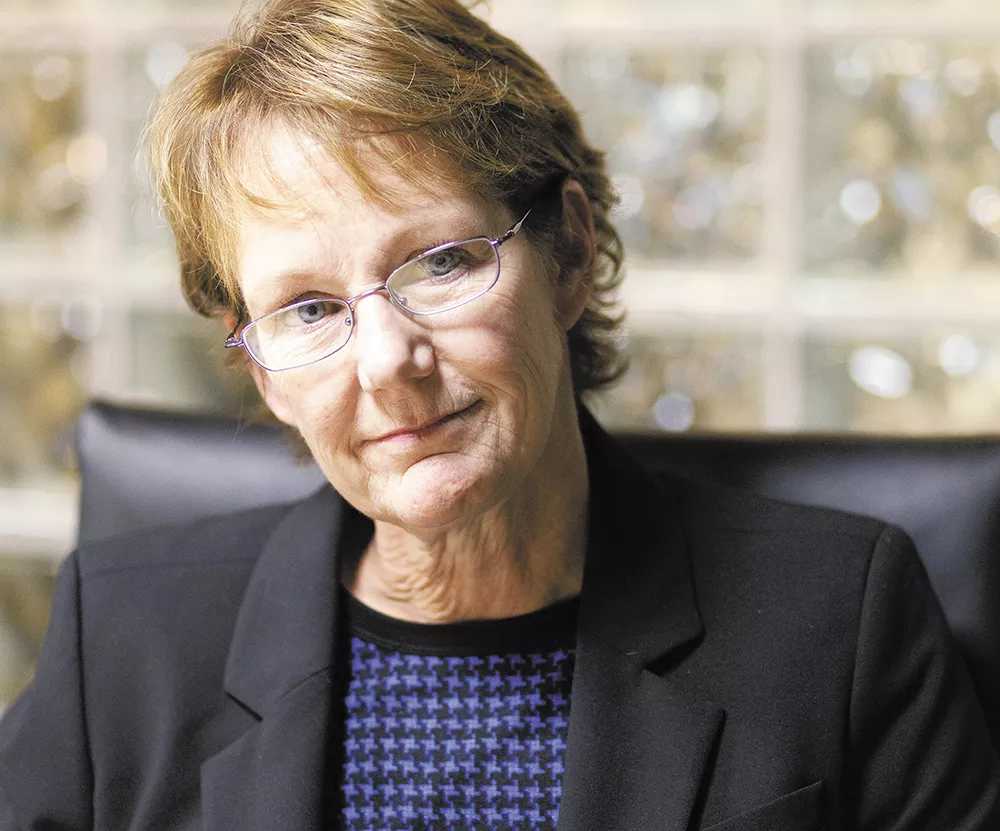 Spokane City Planning Director Scott Chesney walked into the City Hall conference room on Wednesday, Nov. 5. When he walked out about 15 minutes later, he was no longer employed.
At the time, he said he resigned in lieu of termination because Mayor David Condon had lost confidence in him. But Chesney says now he's only sure that he lost the confidence of a different person: His immediate boss, Jan Quintrall, division director of business and development services. The mayor is known to give his division directors wide discretion, and Quintrall didn't ask the mayor's permission before ousting Chesney.
"[Quintrall] told me very simply that she no longer trusted my judgment as planning director," Chesney says. He was accused of overpromising developers things the city couldn't deliver. He disagreed. It didn't matter.
His termination took nearly everyone outside City Hall off guard: Nobody seemed to know why. Even Chesney didn't see the full list of reasons — everything from misuse of public funds to poor leadership and insubordination — until media outlets requested them from city officials.
The outcry from big-name developers and city councilmembers has put the spotlight squarely on Quintrall: With control of the engineering, streets, asset management, planning and historic preservation departments, few in the city have as much power. She's been praised for transforming the city into a more efficient, responsive and consumer-friendly machine. Yet Chesney's firing wasn't the first controversy Quintrall has been in the center of — or even the most recent.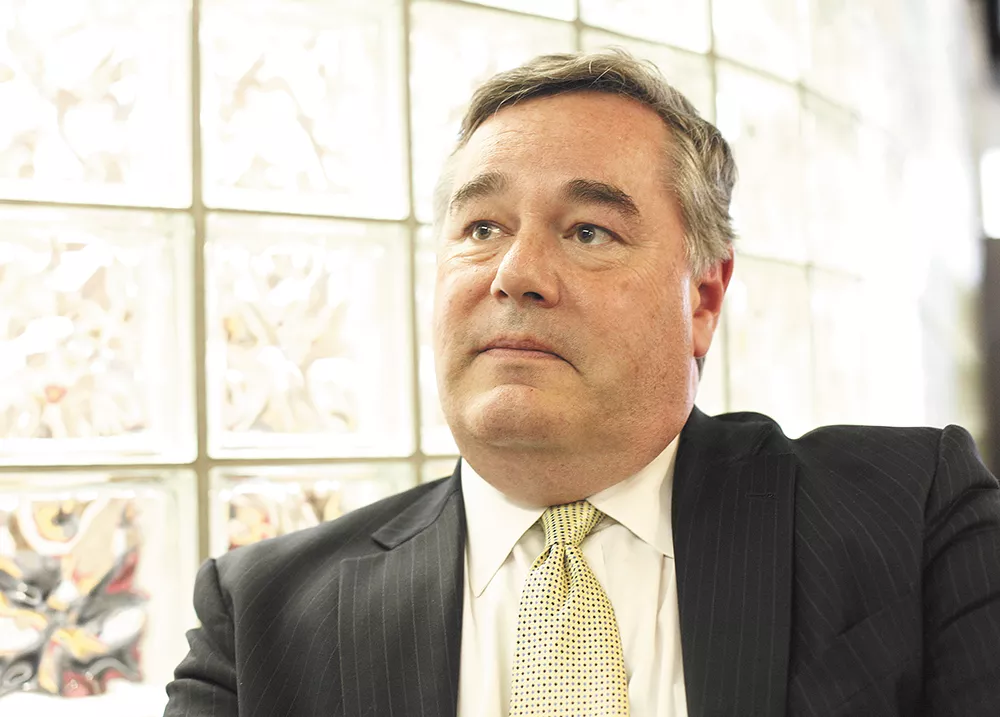 Cleaning house
Quintrall, like many of the people she's hired, doesn't personally have planning or development experience. In fact, at 59, she doesn't have a college degree. After graduating from high school in the Denver suburbs, she married at 18 and went right to work at a high-end clothing business. She went back to community college later in life, but dropped out so she could afford college payments for her daughter. "She was a bit more important," Quintrall says. "I've never been a big fan of looking back and regretting things I did or did not do."
After all, the lack of a college diploma didn't stop her from rising up the ranks of the Better Business Bureau in Colorado, becoming president of the BBB in Spokane as a single mom, or becoming board president of the Spokane Club. And it didn't stop the Republican mayor from reaching out to her, a Democrat, with a job offer.
"I never even gave the mayor a résumé," Quintrall says. "I think the mayor hired my reputation and my track record."
She led major changes at the Spokane Club and a massive reorganization at the BBB. She brokered alliances between unlikely coalitions, like Catholic Charities and downtown businesses. She remarried another big name in Spokane — Tobby Hatley, a KHQ reporter turned communications consultant, who served on Condon's transition team.
Both Condon's city administrator, Theresa Sanders, and former city chief operating officer, John Pilcher, recommended Quintrall. At the Spokane Club, Quintrall had been board president, Pilcher had been CEO, and Sanders had been athletic director. Condon's critics sometimes point to how much of his administration has come from the exclusive social club, which didn't allow minority members until the late 1970s. Recently appointed Councilwoman Karen Stratton jokes about passing an ordinance to build a skywalk from City Hall to the Spokane Club building, ensuring that high-level city staff can visit their friends without getting wet.
Condon, Sanders says, wanted people willing to try things because they don't know any better. "Question every assumption," Sanders says. "That's what Mayor Condon always says. And so Jan is a 'question every assumption' type of person."
Unlike other division directors, Quintrall embeds herself directly in a department to identify problems. Then she makes changes. Her first stop was the building department: About a month in, she fired Joe Wizner, a building official with nearly two decades at the city. She didn't believe Wizner would embrace technological overhauls.
"She said, 'Joe, you just don't see the big picture,'" Wizner says now. "It blew me away, [hit me] like a two by-four."
Other changes followed. She combined building and planning teams into a "one-stop shop" under Chesney, eliminated a department and launched a new one.
"Any living organization that doesn't reexamine how they're structured on a regular basis" is doing it wrong, Quintrall argues. Only a single current departmental leader was in their position before Quintrall arrived.
Developers rave too.
"We have tried for years to deal with the staff with the city," Beacon Hill developer Pete Rayner says. "The kindest word I could say is that it was very difficult and challenging."
That's changed, he says. He credits Quintrall and Chesney.
Condon himself agrees, pointing to a series of bar charts highlighting metrics across City Hall. "I look at leadership within the city, I look at what are the outcomes. One of the biggest issues was the time to get permits," Condon says. "The permit center that answers to Jan, when we came in we were at 56 days, and now most recently we're at 24."
Council battles
Quintrall has called herself a "solution broker" seeking compromise between the administration and city council. But Chesney's termination has exposed rifts between the two.
Second-guessing her decision to oust Chesney was "political posturing" that damages an "already beaten-up planning staff," Quintrall wrote in an undelivered rebuttal to city council. She slammed both Council President Ben Stuckart and Councilwoman Candace Mumm as "arrogant" for assuming they know about the issues in the planning department.
"I deal with planning every day and her arrogance in firing Scott is the issue," Stuckart retorts in an email. Stuckart is also still upset about the time last year when Quintrall had an aging mural in City Hall scraped off without clearing it with the arts department first.
More recently, he says he talked with several Downtown Spokane Partnership board members who were worried that Quintrall was threatening to pull the city's Business Improvement District funding if DSP President Mark Richard wasn't fired.
"I let a few strategic board members know the threat was empty," Stuckart says. "Council wasn't going to back up Jan's threats."
Quintrall has a different view. For two years, she says, she's been coaching Richard behind the scenes, pushing to improve the DSP. "If Mark can perform, his job isn't in jeopardy," she says, but also notes "when you sit down and talk about failure to deliver on a work plan, leadership is obviously part of the equation."
Richard was elected twice and served eight years as a Spokane County Commissioner prior to being hired as DSP president.
Quintrall says that recommending the city council pull BID funds would only be the "nuclear solution."
Councilmembers other than Stuckart have frustrations with Quintrall. "She is very talented," Stratton says, "at working around the rules."
In October, Quintrall approached the council to approve the creation of a "services systems and services manager" to manage the clerical pool.
In a rare step, the council denied her request, worried about the cost, clarity of the role and the erosion of civil service positions. The replacement of exam-required, union-protected civil service jobs with managers who can be hired and fired by the mayor has been a major critique of the Condon administration.
Quintrall agreed to turn the position into a civil service job. But until then, she hired the employee she wanted anyway — as a temp being paid $44.75 an hour.
"I need to get the business done here," Quintrall says. "And people can't seem to understand it."
It's not her first hiring controversy. Eyebrows were raised last year when Quintrall recommended Kyle Twohig, who did not have any engineering training, as one of three candidates for engineering operations manager. He's the son of Kevin Twohig, the Spokane Public Facilities District director who served as the president of the Spokane Club board of directors directly after Quintrall. But Quintrall stresses that she recused herself from the final hiring decision, and that Twohig is one of the best hires she's made.
When critics talk about Quintrall's decision-making, they often point to a hire she made before she worked for the city. While at the Better Business Bureau in 2005, she hired a woman named Sally Gibson as a marketing executive. She offered the job to Gibson, even though Quintrall was well aware that Gibson had been convicted of participating in a mortgage fraud conspiracy — referring low-income homebuyers to a predatory lender, faking documents and altering prior listing prices to drive up appraisals.
Quintrall didn't tell the BBB board about it beforehand, believing that Gibson was simply in the wrong place at the wrong time. Gibson ended up working for the BBB for over a year until she lost her appeal and was sentenced to federal prison.
"It was a risk I should not have taken," Quintrall says. "If everything you do is a perfect and a success, you probably are not stretching yourself."
Chesney vs. Quintrall
For most of his tenure, Chesney says he was a Jan Quintrall fan. He champions the reorganized division she built with him. Initially, that admiration was mutual. In her 2013 January evaluation, she worried that Chesney could seem "cold and disinterested" and was overloaded, but praised his willingness to challenge her decisions and said "he is the subject of the majority of compliments we received." On his next evaluation, however, their relationship had degraded to a point that she hand-wrote "destructive leadership" on her typed copy.
So when Quintrall embedded herself in Chesney's department at the beginning of this year, she began managing his department with a firm hand.
Quintrall ordered Chesney to take vacations, and he didn't. Quintrall called that "insubordination."
They clashed over issues with Veraci Pizza in Kendall Yards, the Larry H. Miller auto dealership in Spokane, and the McDonald's restaurant on Hamilton Street. Concerned that Chesney was making impossible promises to developers, she ordered him not to attend any meetings alone.
It isn't the first time Chesney has clashed with his boss: Before Spokane and before El Mirage, Arizona, he was planning and community development director at Surprise, Arizona, where he resigned due to disagreements with the city manager over how the city should grow.
On a tip, Quintrall requested six months of Chesney's department's purchasing history — an area Chesney had been censured in at Surprise — noting expenses she felt were inappropriate. She canceled all but two departmental magazine subscriptions, banned staff lunches, and required that any future credit card transactions be reviewed by her.
Most dramatically, she removed the building side of the department from Chesney's management. Chesney says he didn't learn about the change until long after it happened, spreading frustration and confusion throughout the department.
"That organization was working very well to move forward changing the culture," Chesney says. "At the end it began to be disassembled by Jan, and there wasn't time for those changes to take effect."
Kendall Yards developer Jim Frank worries that the recent changes amounted to splitting building and planning, reversing one of Quintrall's best innovations. "It's not just losing Scott, it's losing the momentum toward cultural change," Frank says.
Chesney didn't take long to bounce back after being ousted: Within weeks, he was hired by Purcell Systems co-founder Pete Chase as director of project management at Columbia International Finance, a startup aiming to attract major foreign investors for big developments.
Quintrall says morale has never been higher. "The planning staff is so darn happy to have clarity and leadership — it's like a whole different place here," she says.
But there's more to do. Next year, she's embedding herself in the streets department, the only department that hasn't seen a leadership change during her tenure.
Expect major developments. ♦