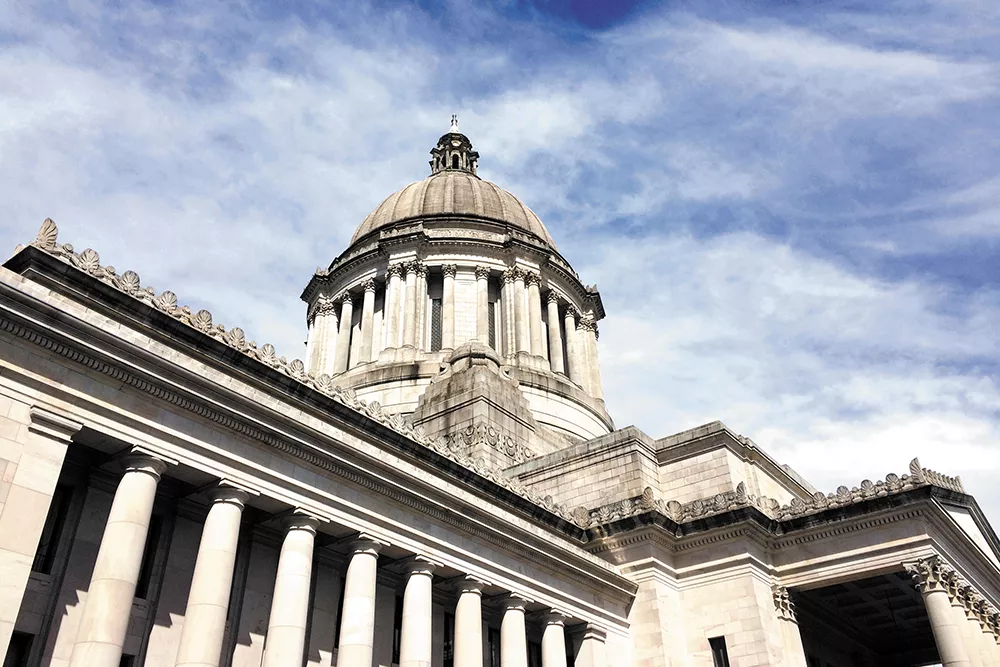 It's been a busy legislative session when it comes to cannabis laws in the Evergreen state.
A handful of key bills reforming aspects of recreational marijuana are expected to cross the finish line and land on Gov. Jay Inslee's desk before the end of the session (April 28).
"We feel very good about the progress that has been made so far this session on behalf of the industry's priorities," says Aaron Pickus, a spokesman for the Washington CannaBusiness Association (WACA), an industry lobbying group.
Three high-profile bills have already passed at least one chamber and are expected to get floor votes in the corresponding house. (Two were recently approved by both houses.) All of them were on WACA's legislative wishlist for the year.
The first bill would drop the potential criminal liability for a budtender at a store who sells marijuana to someone under the age of 21 to a gross misdemeanor — down from a felony. The change would bring state regulations governing underage marijuana sales in line with how illegal alcohol sales to minors are handled.
"Certainly there should be some penalty associated with it, but it shouldn't be [a felony]," Pickus says.

This change was approved on April 16 by the Senate on April after it passed the House.
The second bill would change how the state Liquor and Cannabis Board enforces regulations on marijuana businesses by creating a process for the board to issue warnings for violating state regulations — such as improperly tagged plants or employees not wearing name badges — instead of civil penalties in some circumstances. It also would apply retroactively by prohibiting the LCB from considering any minor administrative violations that occurred more than two years ago when considering levying serious enforcement options, such as revoking a license.
"There will be an ability for the [Liquor and Cannabis Board] to work with license holders to seek compliance first as opposed to punishment first," Pickus says.
This measure is designed to protect larger local cannabis players who have violated regulations in the past, says Kevin Oliver, co-founder of Washington's Finest Cannabis in Spokane and the director of the Washington chapter of the National Organization for the Reform of Marijuana Laws (NORML).

After moving through the Senate, the measure was recently approved by lawmakers in the House, who passed it with a 88-8 vote. It nows back to the Senate for one additional vote before heading to Gov. Jay Inslee's desk for his signature.
The third bill would allow marijuana product labels to include phrasing that conveys the product's intended role, such as promoting sleep. It would still prevent labels from making clinical claims, such as treating or curing diseases.
Of course, some notable bills never even made it out of legislative committees.
Industry groups had pushed for legislation that would've allowed for out-of-state investment in cannabis businesses, arguing that the current ban cuts off crucial financing. Critics — like Oliver — argued that the measure would just result in corporate consolidation of the local marijuana industry.
"It was certainly disappointing," Pickus says. "This wasn't the first year that we've advocated for this policy and we're going to continue doing so."
This year also saw another bill that would allow people to grow a limited number of marijuana plants in their homes. But it's likely dead. WACA, notably, was neutral on the bill. ♦

This story has been updated to reflect recent votes and clarify a quote.