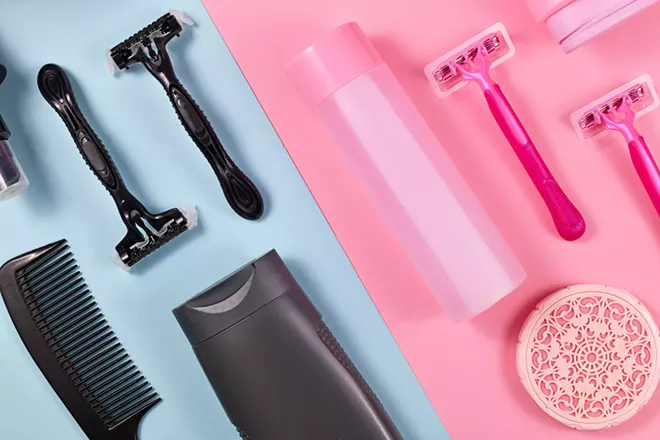 Washington could stop businesses from pricing products differently simply because of the gender they're marketed to — like those pink razors that are basically the same as their blue counterparts but cost more.
That's what Senate Bill 5171 would do, says state Sen. Manka Dhingra, the bill's prime sponsor. Dhingra, a Democrat representing Redmond, says that women often face unfair pricing on everything from personal care products to toys.
"If you really think through, over a lifetime, how much money women are spending on these products, it's a lot," Dhingra says. "It is a very important equity bill given the lifelong fiscal impact on women and women of color."
The bill is the most recent that Dhingra has introduced after working with high school students who pitch legislation each year as part of their coursework in advanced placement government classes.
Seniors at Lake Washington High School in Kirkland brought forward the gender-based discrimination bill as part of TVW's Capitol Classroom program. (TVW is the Washington Legislature's version of C-SPAN.) Teachers Michael Dawson and Bethany Shoda helped their students research and pitch the idea to lawmakers from their area.
"This one really caught my attention because I think for a lot of us women, especially older women, we have seen this price discrimination for so long, and I feel like the older generation has just kind of accepted it," Dhingra says. "I loved how passionate these kids were, and how they were unwilling to continue with this trend."
Dawson says he and Shoda don't dictate which bill ideas students need to work on.
"These are all completely student generated," Dawson says. "I want the kids to be working on an issue that they feel passionate about."
Previous student-driven legislation included the successful 2021 effort to require public secondary schools and universities to provide free menstrual products in their bathrooms.
"We're seeing this as little laboratories of democracy," Shoda says. "We give kids a chance to see they can make a difference."
Mahee Nemani, a Lake Washington senior, says her group liked the structure of similar bills passed in New York and California.
"Although people may not realize they are being discriminated against, or we are privileged enough to not realize that, there are people who are really affected by this, especially single mothers [and] women of color," Nemani says.
The students looked at a 2015 New York study of price differences. A blue toddler helmet with a stuffed shark on top was priced at $14.99, while a pink toddler helmet with a unicorn on top was $27.99. Bladder control pads for adults were both $11.99, but the women's package only came with 39 pads, while the men's had 52.
Those examples stood out to Dhingra, as health and safety products are important.
After the bill was introduced, the students drove themselves to Olympia to testify before the Senate's Law & Justice Committee on Martin Luther King Jr. Day.
Lake Washington senior Benjamine Howard highlighted gender pay gaps for the committee, as they compound the issue: For every $1 a White man earns, White women earn 83 cents, Black women earn 64 cents, Native American women earn 60 cents, and Hispanic women earn 57 cents.
"I really value gender equity, and it seemed like a great way to take action," says Howard. "It's not fair that I have to pay more just because I'm a girl, and that's what it really comes down to."
The original bill included civil penalties of thousands of dollars, which garnered criticism from the Washington Food Industry Association, representing independent grocers and convenience stores.
"We wholeheartedly agree that products in our stores should not be priced differently based on gender," Katie Beeson, the association's government affairs director, told the committee. "Unfortunately this bill would unfairly penalize local grocers for pricing set by manufacturers."
However, Dhingra notes that the bill exempts "gender neutral" price differences, such as consistent markups for products in a specific category.
Dhingra amended the bill to remove the fines, but the state's attorney general will still enforce the rule. Manufacturers would need to either explain how the labor and supply cost is different for substantially similar products or change the prices to match, or face a possible injunction and pay restitution.
"It helps us find out what's happening at which level," Dhingra says. "Because everybody points the finger at someone else." ♦