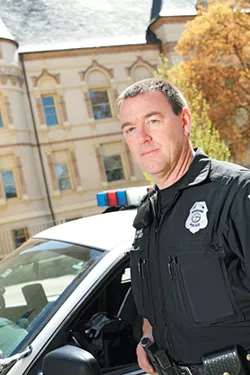 Former Spokane Police Sgt. Gordon Ennis was convicted last week of raping a female officer while she was asleep. He is currently awaiting sentencing in the Spokane County Jail and is expected to appeal the conviction. But there is at least one more question lingering in the case that began in October 2015.
What about Sgt. John Gately?
The veteran officer and former president of the Spokane Police Guild, the union representing rank-and-file officers, refused to testify at Ennis' trial, invoking his Fifth Amendment right against self-incrimination.
"If Gately really wanted to honor his oath, he would have gone on the stand and told the truth," Spokane County Sheriff Ozzie Knezovich says. "It's his constitutional right to do so, but not taking the stand diminishes, in the eyes of the public, every badge out there because you didn't stand up and tell the truth. You took the Fifth."
Gately did not respond to a request for comment.
Before Ennis' trial, Gately was charged with obstructing a police officer, a misdemeanor. During the first 24 hours of county detectives' investigation, Gately placed two phone calls to Ennis. During the second conversation, prosecutors say Gately alerted Ennis to the fact that detectives were preparing a warrant to collect his DNA.
When detectives went to serve the warrant, Ennis' fingernails appeared "freshly trimmed," according to court records.
A 12-person jury could not decide whether Gately's actions were criminal and prosecutors have so far declined to retry the case. Meanwhile, SPD's internal investigation dinged Gately with a week of unpaid leave, the equivalent of $2,177, according to city payroll data.
Based on the fact that Gately's discipline has been finalized, Spokane Police Chief Craig Meidl was careful in speaking last week about the situation out of concern for legal action from the Police Guild.
"There's some understandable frustration and concern in the community about the behavior," Meidl says. "His current assignment does frankly limit his exposure to the community. His span of control is very limited."
TIPPED OFF
Initially Gately was informed of the sexual assault accusations against Ennis as a member of the department's Peer Assistance Team, which is a group of officers who support others within the agency. Later, though, he was kept in the loop as the guild president. Meidl acknowledges that serving both roles presents a conflict of interest and says he won't allow that situation to happen again.
By 11:20 am on Oct. 26, 2015, Gately had learned that Spokane County Sheriff's detectives were working on a warrant to be served on his fellow sergeant, Ennis.
By 11:36 am, Gately was on the phone with Ennis, according to phone records. As guild president, Gately called to inform Ennis that SPD was preparing to release a public statement that Ennis would be put on leave, according police records.
The press release contained no information about the warrant Spokane County detectives were seeking. Still, Gately would later testify in court, during the phone call he told Ennis that detectives would be coming to his home. Ennis asked "Why?"
"Probably for your DNA," Gately responded.
Immediately after the two sergeants got off the phone, Ennis worked to find an attorney, his phone records show. Eventually, he would hire attorney Rob Cossey, and by the time sheriff's detectives showed up at Cossey's office to serve the warrant, Ennis' fingernails had been cut down to the nail bed, too short for detectives to collect any potential evidence of the alleged rape, court records show.
Prosecutors have argued that Ennis, who is trained in how to collect evidence from a rape suspect, trimmed his nails after he was tipped off by Gately. Ennis has denied this, saying in court that he trimmed them days earlier.
Gately was charged in December 2015 with a felony. The charge was eventually dropped to a misdemeanor, but the jury deadlocked. Eight jurors voted to acquit and four believed Gately was guilty, police records show. At trial, Gately testified that he "just answered [Ennis'] question. I didn't think about it," according to news reports at the time. So far prosecutors have declined to retry the case.
Then SPD's internal investigation began.
'YOU KNEW'
By many accounts, Gately knows what he did was wrong.
In the department's internal investigation, which was completed in early 2017, a panel of captains and lieutenants admonished Gately for his poor decision to call Ennis.
"Sgt. Gately is a veteran officer, with a wealth of experience and knowledge," Lt. Steve Wohl writes on behalf of the panel. "With over 25 years of law enforcement experience, Sgt. Gately should have known the information given to him by [Assistant Chief Selby] Smith was confidential and/or sensitive in nature."
Still, the panel cleared Gately of wrongdoing, in part because of mistakes by his superiors in notifying him in the first place. Ultimately, the panel believes that Gately did not act with malicious intent.
Meidl wasn't so forgiving.
In a letter informing Gately of his decision to overrule the panel, Meidl quotes from Gately's attorney's argument in court.
In his closing statement, Gately's attorney, David Allen, told the jury that: "We probably shouldn't have said that," referring to Gately's statement to Ennis about sheriff's detectives seeking DNA. "And John would agree."
At trial and in an interview with SPD internal investigators, Gately said he told Ennis that detectives might want to collect his DNA, but did not say anything about a search warrant.
The letter from Meidl tackles that issue.
"You knew Ennis had been a corporal, you knew Ennis was familiar with how DNA was gathered and what would likely be needed, and your statement about any part of the criminal investigation was inappropriate and outside your role as a guild president," Meidl writes. "Whether you told him directly or not that [the Spokane County Sheriff's Office] had a search warrant for his DNA is irrelevant; your statement to Ennis that they 'probably' wanted his DNA was tantamount to informing him that they were going to respond to his house to execute a search warrant for his DNA."
The only reasons he did not fire Gately, Meidl writes, were because of the sergeant's minimal policy violations throughout a long career and because "SPD administration bears some culpability."
MOVING FORWARD
Gately is currently assigned to the special events office where he acts as the liaison to the public for permits for events such as the Lilac Bloomsday Run or Hoopfest. Meidl says it's "out of the question" for Gately to eventually be moved into a position where he investigates sexual assault or internal policy violations.
He's also been removed from his position on the Peer Assistance Team.
"A lot of our positions as supervisors require demonstration of good judgment, and I believe the investigation against him showed a lack of judgment," Meidl says. "So for me, he's in a spot that best meets the concerns for the community while also meeting the needs of the department."
It's unclear whether the department's internal findings will be enough to label Gately a so-called "Brady cop," whose credibility can be called into question in court proceedings. His name is currently absent from the prosecutor's list of Brady officers.
Meidl acknowledges Gately's mistakes. He also mentions another officer, who was "somewhat dismissive" when first told of the sexual assault in 2015. However, Meidl says, two more officers immediately reported the assault to authorities and tried to help the victim.
The victim is still employed with SPD. Meidl says he's reached out to her after her testimony during Ennis' trial that she felt ostracized by some in the department. She has so far declined to file a complaint with SPD's internal investigators.
Anecdotally, Meidl says, he's heard there is a small group of officers, who were friends with Ennis, and may be causing the victim to feel outcast. But for the most part, he believes the department is rallying to support her.
"I can't stand bullying behavior," Meidl says. "I want to do everything I can to change that behavior or send them on their way." ♦