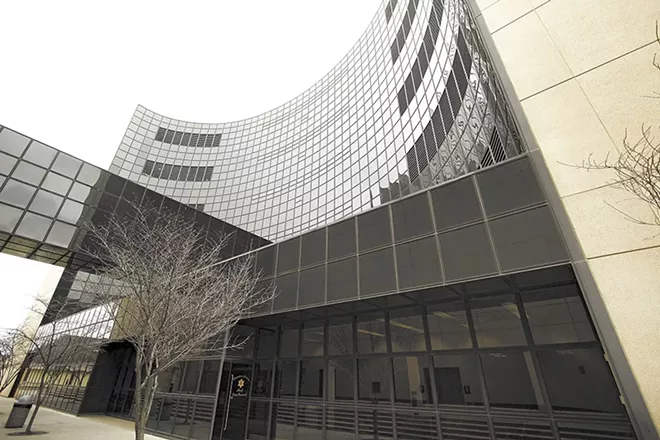 A inmate in the Spokane County Jail died on Friday in an apparent suicide, according to a Monday news release. The fatality is the second to occur this year and
the tenth since June 2017
.
An inmate named Robert Abraham Taitch climbed "up a guard rail" on the mezzanine on the jail's second floor and jumped "head first into a cement floor below," according to the release and Jared Webley, a Spokane County spokesman. Taitch died on the scene at 5:45 pm despite lifesaving measures taken by jail staff. An investigation by the Spokane County Sheriff's Office is underway.
Taitch was booked into jail two days before he died and was awaiting trial. He was held on a variety of charges, including second-degree assault and first-degree theft, per the release.
"As with any death that occurs in custody, this incident is truly tragic. We take the safety of our inmate population and our employees very seriously," Mike Sparber, director of Spokane County Detention Services, says in a news release. "This incident is heart wrenching for our staff especially in light of endless efforts we have put in place to implement policies recommended by nationally recognized consultants to address suicide prevention and medical emergencies in our facilities."
The incident marks the latest in a series of inmate fatalities within the Spokane County Jail over the years. The most recent death was in June, when an inmate died from
consuming fentanyl, a highly potent synthetic opioid, and morphine
, according the Spokane County Medical Examiner. Before that, eight inmates died in the jail since June 2017 from a variety of causes, including suicide by hanging themselves with bedsheets in their cells.
Deaths in the Spokane County Jail — which is
chronically overcrowded
— aren't a new phenomenon. A Columbia Legal Services investigation released last May estimated that
20 inmates died in Spokane County custody between 2005 and 2016
. Many of the fatalities were suicide, as well as were deaths resulting from inadequate care and supervision of inmates going through drug and alcohol withdrawals, the report concluded. Additionally, another investigation by KUOW and other regional public radio stations found that inmate deaths in county jails across the Pacific Northwest have been increasing, with over
300 people dying in Oregon and Washington since 2008
.
Spokane County has made
some reforms in response to the deaths
, such as bringing in a national expert on suicide prevention in jails and pursuing suicide-resistant bunks and
body scanners to screen inmates for illicit drugs
. Jail staff also have access to Narcan, a medication that can reverse opioid overdoses. Last May, three inmates were revived by jail staff using Narcan and hospitalized in
one night after consuming a powdery substance
that was smuggled into the facility.