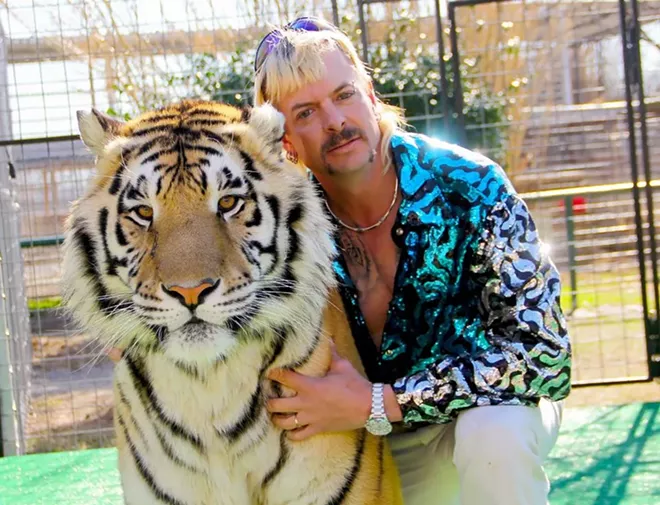 By Maria Cramer
The New York Times Company
F
or years, Carole Baskin railed against the roadside
zoo that was run by Joseph Maldonado-Passage, describing it as cruel and exploitative of the big cats that were kept there.
That part of the story is well known to the millions of viewers of "Tiger King," the Netflix series about the conflict between Baskin, an animal-rights activist, and Maldonado-Passage, also known as Joe Exotic, the flamboyant owner of a lion and tiger zoo in Wynnewood, Oklahoma.
Tensions grew so taut between them that, in 2019, Maldonado-Passage was convicted of trying to have Baskin killed.
On Monday, a federal court judge in Oklahoma added another chapter to the tale when he ruled that Baskin's organization, Big Cat Rescue Corp., could take over the 16.4-acre property in Wynnewood, once known as G.W. Exotic.
The judge, Scott L. Palk, ordered that Greater Wynnewood Development Group, which owns the property, surrender the land.
"The GWDG shall vacate the premises of the zoo land within 120 days of the date of service of this order," Palk of the Western District of Oklahoma federal court ruled. "Vacation of premises shall also require removal of all zoo animals from the zoo land."
The decision was the culmination of a seven-year battle that began when Baskin accused Maldonado-Passage of trademark infringement. In 2013, Maldonado-Passage was ordered to pay Baskin about $1 million after he used her organization's name and logo to promote his own park.
Baskin sued G.W. Exotic in 2014, claiming its operators created a whole other entity, the Garold Wayne Zoo, in an attempt to get out of paying the judgment. When that entity became liable for the judgment, the park was transferred to Greater Wynnewood Exotic Animal Park, which was created by Maldonado-Passage's business partner at the time, Jeff Lowe.
The Netflix documentary showed the fracture of the relationship between Lowe and Maldonado-Passage, who tangled over control of the zoo and its animals.
On Monday, Palk agreed that the property had been "fraudulently transferred" by Maldonado-Passage's mother and others so that it would not be used to satisfy the judgment.
Palk did not make clear in his ruling if Big Cat Rescue would be able to keep the animals that remained on the property.
Maldonado-Passage was sentenced in January to 22 years in prison, after his conviction on two counts of murder-for-hire and numerous charges related to the animals he kept.