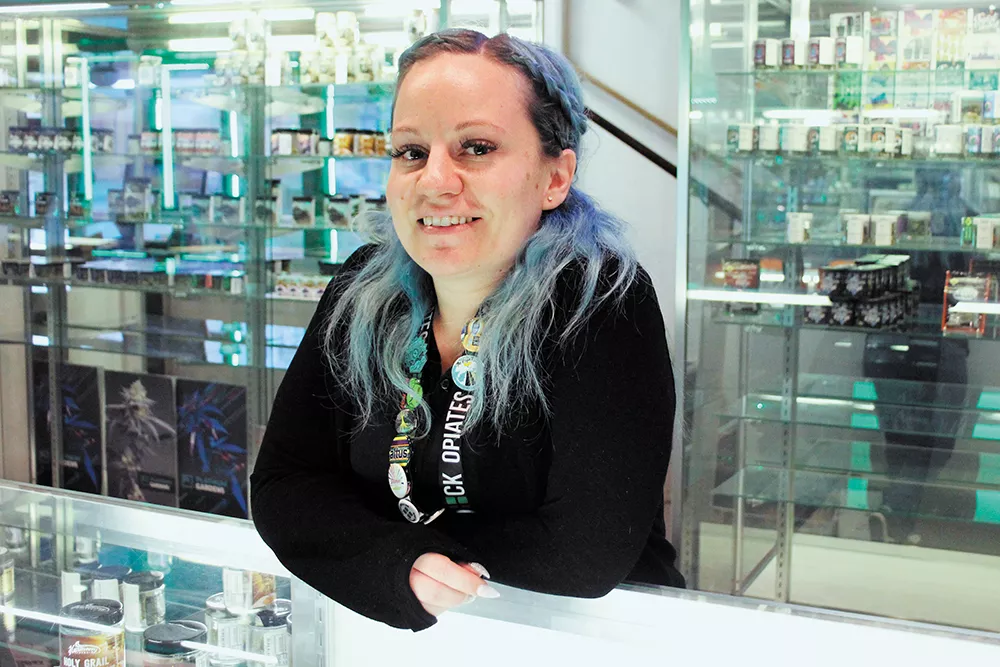 Brittany Friedlander doesn't hold back when you talk to her. She's forward and opinionated. But as a budtender at the Greenhand, she's also in the industry to help people, she says. Since last October, she's been a budtender at the North Monroe pot shop. She was nice enough to let us grill her about her job, her favorite products and what's in store for 2019.
GZQ: How did you start working as a budtender?
FRIEDLANDER: I started [at the Greenhand] a little over a year ago. I came out of bartending and serving and I wanted to switch it up a bit.
What's the biggest difference between bartending and budtending?
I have a great personality for [bartending], but with this, there's a lot of people that I'm actually helping. I've helped people get off opiates, which is a huge deal for me. ... We're really rooted in this community.
What are you looking forward to in 2019?
The thing I'm most excited for in 2019 is to see where they go with education and research into THCV. ... THCV is an appetite suppressant and it's known to give you an energy boost. It helps regulate blood sugars for people who are diabetic. I'm a single mom, I'm always busy, I always have 150,000 things to do and I cannot smoke and chill. I smoke and go go go.
How many kids do you have?
Two daughters. So that's even more important: I'm a single woman raising women in this f—-ed up world. I'm not raising princesses, I'm raising warriors. They come first. I'm a caring and helpful person. I also take no bullshit and I'm pretty blunt and honest. So this is pretty much the only job I can do.
What are your favorite products right now?
My favorite farm, hands down, is GLW. They do 100 percent clean pesticide-free weed. I've made multiple trips to the farm. They just grow weed right. ... They brew in terpenes into their soil so their bud has such a good, clean, strong terpene flavor. Their Black Jesus OG is my hands-down favorite weed of all time.
Do you have any favorite devices?
I'm a huge fan of the Airo Pro [Vape Pen]. It's very sleek, it's very easily hidden.
Is there anything about your job that you look forward to every day?
We are really lucky right here at our store. We're a mom-and-pop shop. The women especially that I work with, we're really tight-knit. We really care about each other.
Any parting words of wisdom?
I just want to say, don't be assholes. ♦
This article has been edited to change "THCB" to "THCV," which is a compound found in cannabis.