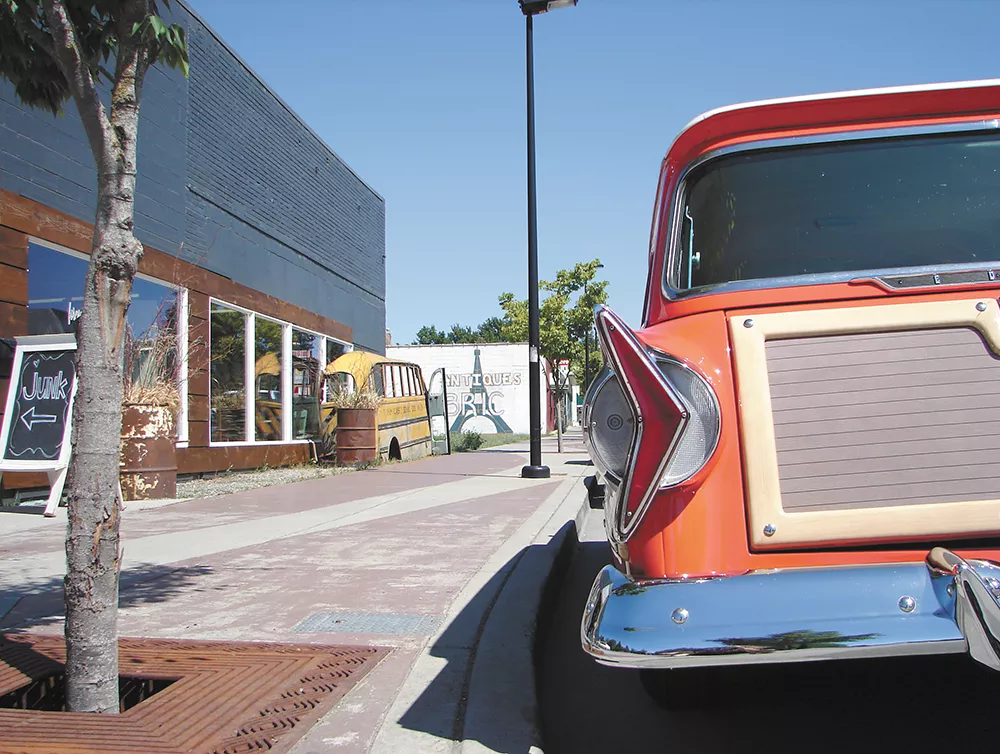 Some neighborhoods are easier to define than others. Coeur d'Alene's Sanders Beach, for example, is the sweet-cream center of the doughnut formed by Lake Coeur d'Alene, Tubbs Hill and the Resort Golf Course. In the Garden District — Sherman north to Montana, where Coeur d'Alene's hoi polloi lived in the early 1900s — residents get a plaque to display in their well-appointed yards.
The boundaries are more fluid in Midtown.
"The city does not have formalized descriptions of neighborhoods," according to Community Planning Director Hilary Anderson, yet the Midtown Overlay District map defines the neighborhood as Garden north to Harrison, and Third Street east between Fourth and Fifth.
"As a kid I always assumed Midtown stopped at Harrison," says Jeff Runge, whose grandfather started Runge Furniture in 1946 at Second and Indiana (generally considered downtown).
Runge Furniture outgrew first one, then another downtown location, relocating in 1980 to Fourth, after a Rosauers grocery moved north of the freeway. "Everything was on its way, moving up," says Runge.
Its bright yellow signs and huge parking lot make Runge Furniture extremely visible; it occupies the block between Walnut and Spokane, from Third to Fourth. Runge allows nonprofits to put on car washes and garage sales and rents to some vendors, like Dale Young of the Fish Folks, who sells seafood most Thursdays year-round.
For longtime area realtor Kim Cooper, however, Midtown "is generally understood to include that area between Coeur d'Alene and Harrison Avenues from Government Way to Seventh Street."
HISTORY ON FOUR WHEELS
Downtown Coeur d'Alene may be where Car d'Alene annually revs its engine, but Midtown's car culture endures all year.
Like Runge Furniture, Knudtsen Chevrolet started downtown and relocated to Midtown. In 2002, they left for Post Falls. Other dealerships, like Robideaux Motors, would move north up Highway 95.
The vestiges of Midtown's automotive-sales business are still visible, however. Jason Mortenson turns out show-stopping hot rods and other classic cars at Mortensen Custom Touch in the Classic Garage building, formerly Knudtsen's, and Scott Anderson opened MidTown MotorWorks in a former Chevron station.
Anderson is one of many who not only works in Midtown, but lives there too.
TWO WHEELS TOO
Midtown is an eminently walkable, even bikeable neighborhood. Sidewalks run the length of Fourth and nearly all of Third, while bike lanes encourage riding. Speed bumps along the pedestrian-heavy Fourth Street corridor, where numerous thrift stores cluster, help slow the steady stream on this major arterial.
The city's 2009 Fourth Street remodel included several artist-designed bike racks, such as Alan Dodge's Well Connected outside Junk thrift store and Tyree Riggs' (nee Kearns) Giant Bicycle Chain.
"The bike rack public art, the painted sidewalks, street lamps and new trees define Midtown," says Victoria Dickinson, who like Anderson lives and works in Midtown; her husband is Fish Folks' Young.
Dickinson remembers former mayor Sandi Bloem at the Fourth Street dedication ceremony, talking about turning a "space" into a sense of "place."
Midtown is a great place to raise kids, says MidTown MotorWorks owner Anderson, who has lived in the area for 20 years. He knows most of his neighbors, including a 96-year-old veteran whose driveway he happily shovels in the winter. In Midtown, he says, "You get that small-town atmosphere."
Jessica Lenz agrees. She recently opened her own hair salon, Salon 208, at Reid and Fourth after working downtown for years. "I love the little community feel to it," says Lenz, who lives east of downtown. The shops and restaurant owners seem especially nice and inviting in Midtown, she says.
THE BOOSTER CLUB
Capone's restaurant, which sells "I heart Midtown" T-shirts at its flagship Fourth Street location, has been a vocal and visible Midtown booster, instrumental in coining the Midtown moniker.
"This area was initially called Hilltop," says Tom Capone, who says you can see Lake Coeur d'Alene from the roof of the restaurant, which sits at the crest of a long, gentle slope toward downtown.
The term Midtown, notably absent from the city's 2007 Comprehensive Plan, likely came about in 2008 or so when Blue Sky Broadcasting's Troy Murphy — he says that at the time, he was having a beer at Capone's — developed a group merchant ad campaign. Radio spots for "Fourth Street Corridor — from Front (Street) to Best (Avenue)" still run on Sandpoint-based KPND, even as Pint Nights and Ski and Board Parties helped cement the concept of Midtown Coeur d'Alene in the minds of area listeners.
GROWTH RINGS
In Midtown, trees help soften industrial edges, whereas at Phippeny Park, they helped earn Coeur d'Alene its designation as a Tree City. Several dozen species — Camperdown Elm, Turkish filbert, flowering plum — thrive in the park, home to the junior/senior high school until 1976. Many trees were donated in memoriam from the American Legion to past classes of Coeur d'Alene High School.
Elsewhere in Midtown are the tree streets — Walnut, Birch, Elm, Spruce — meandering east-west, from I-90 to Lincoln Way. Many of them dead-end unexpectedly or skip north-south cross streets, evidence of the city's continual evolution.
BEYOND BORDERS
As Coeur d'Alene continues to evolve, so will Midtown, an unplanned community shaped by commerce and time, with diverse residential and commercial interests that combine to represent the city's past, present and future.
Maybe in the end, exact borders don't matter; what matters is what people bring to the place, and what they get from it.
For Ben Hofland, that's being able to walk and bike where he needs to go, and being centrally located to places like Pilgrim's Market — he likes their beer selection — and his job on Appleway (he says he refuses to refer to that area as "uptown").
"I don't know," he says when asked where Midtown's borders start and end. "It's all pretty arbitrary." ♦
---
Established: The term Midtown was most likely coined in 2008 during the Fourth Street revitalization project.
Boundaries: (north) Interstate 90; (west) Government Way; (east) Eighth Street; (south) Montana Street
Population: Approximately 2,400
Landmarks: Junk vintage shop and others, Capone's, Runge Furniture, Phippeny Park