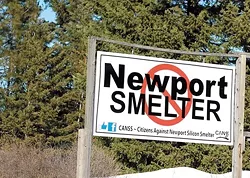 Two groups of residents who oppose a silicon smelter planned near Newport cheered a decision by the Pend Oreille County Commission Monday, as the commissioners opted not to rezone all public land in the county as rural — at least for now.
The groups, Citizens Against Newport Silicon Smelter (CANSS) and Responsible Growth*NE Washington (RG*NEW), had for months fought the proposed Comprehensive Plan amendment, which would have reclassified more than 60 percent of the land in the northeast Washington county to a designation that would allow more development.
The rezone would have included parcels of land owned by HiTest Sand out of Alberta, which plans to build the PacWest Silicon smelter near Newport, but needs its land to be rezoned before an industrial use would be allowed. The smelter would become one of the top polluting sites in the state. HiTest has said the silicon produced there could potentially go to uses such as solar panel manufacturing, among other computer and technology applications.
"RG*NEW is cautiously optimistic that the County's rejection of [this amendment] will forever shut the door on PacWest Silicon's $350 million proposed silicon smelter and discourage other heavy, urban, industrial facilities from attempting to locate in our rural area," Phyllis Kardos, co-chair of RG*NEW, says in a statement.
While waiting for the county to rezone the land, the company has essentially gone into hibernation, telling Washington's Department of Ecology to hold off on a needed environmental study earlier this year until it knows which way the county is going to go. The company hasn't been checking in with the state and did not respond to requests for comment in October or on Dec. 10.
Significantly, the commission's move Monday may have more effectively been a delay than a nail in the coffin for the project.
The commissioners' vote was actually to hold off on the rezone proposal until next year, when it can be examined during the county's larger process to update its Comprehensive Plan. That means the county could still look to rezone some or all of the land necessary for the silicon smelter and other projects to move forward.
"We are being cautious due to the fact that the County is changing its current Land Use Map in the Comprehensive Plan 2020 update and eliminating all Public Lands' designation," Kardos says in the statement. "The draft Land Use Map is listing the PacWest properties as 'rural.'"
CANSS members were slightly more optimistic, calling "on PacWest to abandon its ill-fated smelter proposal" in a statement.
"The County's action now greatly reduces any possibility that PacWest had for seeking approval for the smelter," the CANSS Board says in a Dec. 9 statement. "As a result — and given the decisive action by the County — CANSS calls on PacWest to abandon its smelter proposal and bring this matter to an end."
PRESSURE ON INSLEE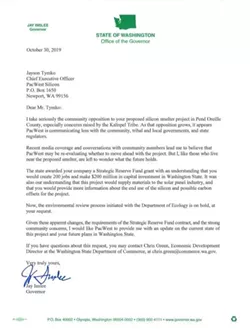 In the meantime, Washington Gov. Jay Inslee has sent the company a letter, asking what its plans are.
"I take seriously the community opposition to your proposed silicon smelter project in Pend Oreille County, especially concerns raised by the Kalispel Tribe," Inslee wrote to PacWest in an Oct. 30 letter. "The state awarded your company a Strategic Reserve Fund grant with the understanding that you would create 200 jobs and make $200 million in capital investment in Washington State."
It was also understood, Inslee wrote, that more information would come out about the end use for the silicon produced at the proposed facility, especially its potential to be used in solar panels. But the state is still waiting to learn more.
Since there has been less communication with the community, no progress on the environmental study, and no job creation yet, Inslee requested the company provide an update.
Inslee initially supported the smelter as a project of statewide significance, cheering it with the announcement of a $300,000 grant. He since has declined to say
whether he still supports
the project.
In a short interview late this September, the
Inlander
asked Inslee if he still supported the silicon smelter despite opposition from the Kalispel Tribe and residents due to its potential to increase pollution in that area. Here's how that went:
Inlander
: I'm hoping to ask you a little bit about the proposed silicon smelter up in Newport. I know a lot of folks up there are curious if you're still supportive of that project.
Inslee: "Well, we don't know if that project proponent's moving forward. We have not heard from them. They have not reached out to us."
Inlander
: I know they were waiting on some of the zoning to change up in that region before moving forward with the environmental impact statement. But should that move forward, are you still supportive of a silicon smelter in that area?
Inslee: "Well, as I said, I do not know if the proponents are still proposing the project, because we have not heard from them, and they have not reached out to us."
Inlander
: If it does move forward though, are you supportive?
Inslee: "Well, as I've said, we have not heard from them, so to our knowledge, we don't know if it's moving forward."
A spokeswoman reached out by email shortly after the phone interview ended to make sure the
Inlander
knew that Inslee was clear on the smelter question. "Neither the governor nor his staff have heard from the company. They have not reached out to us."
Inslee had not received a response to his October letter as of Dec. 10, according to his staff. He also declined the chance to add additional comments at this point, with his staff saying his stance from the letter stands.
In a
Dec. 1 letter to the editor
published in the
Spokesman-Review
, Kalispel Chairman Glen Nenema called on Inslee to revoke all state support for the project:
"A silicon smelter is a major industrial development with serious potential to harm our people and our natural resources for generations to come – and yet it received the governor's stamp of approval and public funding without so much as a conversation between state government and our tribe.
...
Gov. Inslee, we are asking you: Respect our sovereignty, protect our people, and revoke all state support for the smelter."