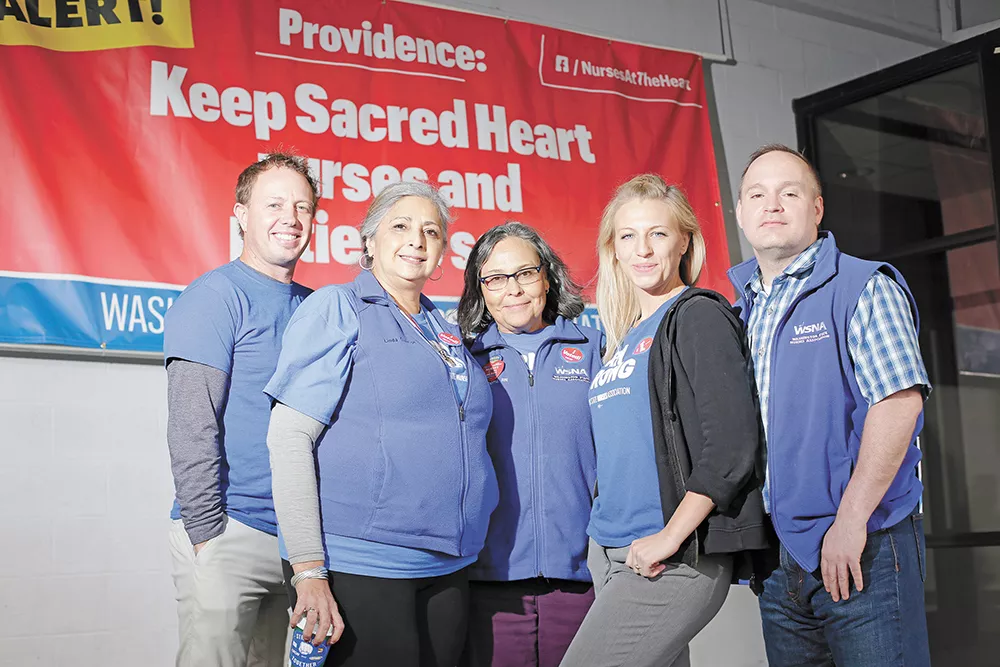 Outside of the Carpenters Local 59 Union Hall in Spokane, there's a flurry of activity. The building is adorned with large banners featuring statements like "Keep Sacred Heart nurses and patients safe" and people are streaming in and out of it. Some stop to enthusiastically greet friends. There's a palpable energy. It's a union strike vote.
Last week, after over a year of contract negotiations between hospital staff and Sacred Heart Medical Center in Spokane and Providence Health and Services — a large Renton-based nonprofit that runs hospitals across the West Coast — unionized employees voted to authorize a strike.
One of the unions' bigger beefs? They say Providence wants nurses to give up their earned paid time off and sick leave. Instead, workers would have to rely on the state's new taxpayer-funded paid family leave program that kicks off in 2020, a short-term disability plan and their own paid time off. And union representatives say that Providence isn't budging on this sticking point.
"Everybody is mad," Yvonne Buzby, a 62-year-old Sacred Heart nurse, tells the Inlander after casting her vote. "They need to provide us our sick time because we work hard, we're breathing on the patients, we shouldn't be going to work sick, we should be able to take care of our sick children or our sick husbands ... It's just wrong."
"We don't want to strike. But we will if that's what it takes to get a fair contract," says Darryl Johnson, a negotiator with the Washington State Nurses Association who has been at the bargaining table with Providence for the last year or so. (He works in the Cardiac Intensive Care Unit at Sacred Heart where he's been employed for the past 11 years.) "It's just difficult to try and get your concerns over to the other table and for them to actually hear you. Sometimes you just got to kind of shout it out."
In the event that either the Washington State Nurses Association — they represent an estimated 1,900 nurses at Sacred Heart — or UFCW 21, which covers roughly 1,200 hospital support staff like food service workers and nursing assistants, moved forward with a strike, they would have to submit a 10-day notice to Providence, which would allow management to find temporary contract medical staff to keep the hospital running, union representatives say.
When asked for comment, Jennifer Semenza, a spokeswoman for Providence, only issued a written statement.
"We are aware that UFCW and WSNA have voted for a strike authorization. At this time, the hospital has not received a 10-day strike notice, which is required if there were to be a strike," the statement reads. "Providence Sacred Heart Medical Center and Holy Family Hospital are both open and here to care for our community. We are actively bargaining in good faith with WSNA and a federal mediator and we are hopeful that we can come to an agreement with both unions so we can avoid a strike."
Both the Washington State Nurses Association and UFCW also filed unfair labor practice complaints with the National Labor Relations Commission in early October. They allege that Providence has engaged in inappropriate anti-union organizing tactics, such as threats and surveillance.
"They've been threatening our co-workers saying that if we were to go on strike, they would lock us out," says Austen Louden, a 23-year-old food service worker at Sacred Heart and one of UFCW 21's contract negotiators.
"You can tell that they're scared," he adds.
Louden says the negotiations so far have been "pretty intense."
Over the course of two days last week, the unions held strike-authorization votes among their respective memberships. By Saturday, both unions announced that a majority of their members had approved a strike — though they wouldn't release exact figures.
While neither union has determined whether to strike just yet, contract negotiators will head to their respective bargaining sessions wielding potential strikes as added leverage. The nurses union had another negotiating session planned for Tuesday, after the Inlander went to press, while UFCW 21's next meeting isn't until November. Similar union strike votes are also being held at other Providence hospitals across the state.
"We're using the power we have now because all of these contracts are up at the same time," Louden says. "We're using that power to push against corporate Providence."
Providence has characterized their offer to the unions as a step-up for workers. In a statement on their website, the company says that a proposed time-off package would provide "greater financial security and more flexibility when unexpected needs arise" by providing "vacations, holidays, personal and sick days" and replacing the "antiquated and inequitable extended illness time program with a new employer-paid short-term disability benefit."
But union representatives are quick to push back on Providence's framing.
"What they say is that they are offering nurses a generous benefits package, and that is simply not true," says Anne Piazza, senior director of strategic initiatives for the Washington State Nurses Association. "What Providence is proposing is for nurses to give up their earned benefits, including earned illness time and reducing their paid time off."
Providence is a major player in the medical industry. It owns hospitals in Washington, Oregon, California, Texas, Montana and Alaska. It also logged roughly $22 billion in operating revenue at the end of 2016, according to Providence financial statement documents. In 2012, the organization's CEO earned over $4 million, according to Becker's Hospital Review.
"They certainly can afford to take care of the nurses and this community and the patients," Piazza adds. "They very much are pushing a corporate strategy to line their pockets on the backs of our nurses."
Buzby, meanwhile, says that Providence's ownership of Sacred Heart has changed the culture of the hospital and how staff are treated.
"It's all about money now and it didn't used to be," she says outside of the Carpenters union hall. "I remember that we used to have a nun on every floor. They lived their values. Now it's all about the dollar." ♦