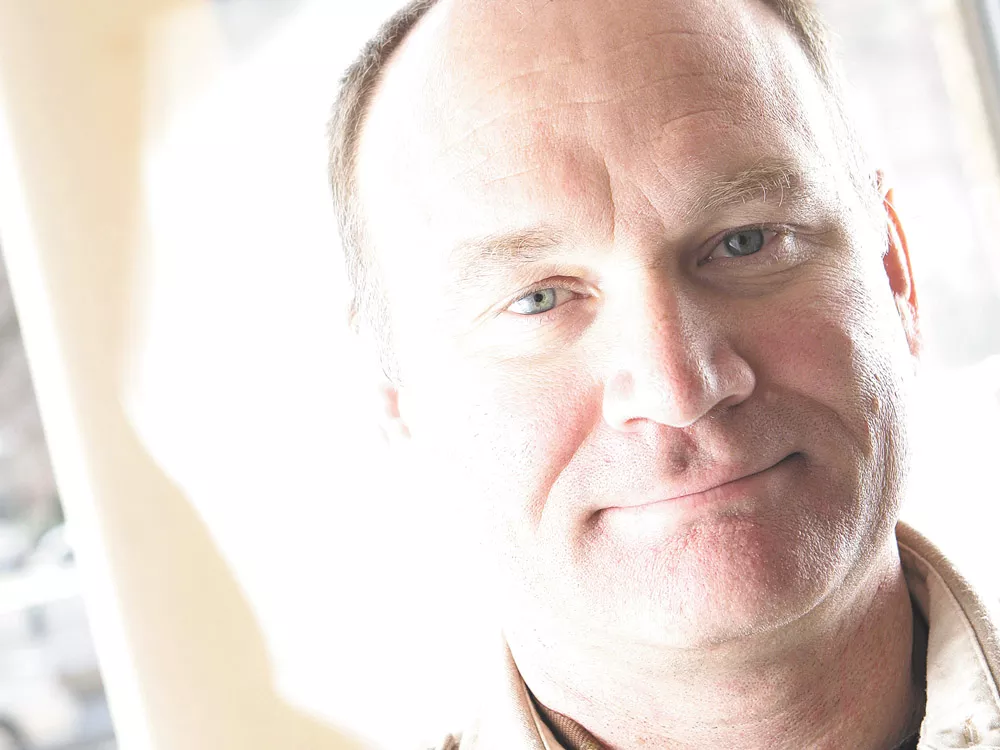 A
s Spokane Mayor David Condon flies off
to visit the cities of the two police chief finalists, a fellow Republican and law enforcement member is making a different case.
Spokane County Sheriff Ozzie Knezovich says the law enforcement representatives who interviewed police chief candidates Frank Straub and Daniel J. Mahoney thought they were both unfit to lead the city's embattled department.
Additionally, Knezovich is rekindling the debate about whether there should even be a Spokane Police Department. The sheriff says the city should be exploring consolidation.
With vehicle prowlings up 40 percent in the past year, union contract negotiations underway and the possibility of the federal government examining the city's law enforcement policy, Knezovich doesn't believe either of the two finalists have the qualifications to navigate such challenges.
"Spokane Police Department is not the place to come learn how to be a chief," he says.
The sheriff believes consolidation is a potential budget saver as Condon has proposed eliminating nearly 20 authorized police officer positions in the face of another anemic year.
Knezovich says he made the same case for consolidation to Condon earlier this year. The sheriff's deputies respond to more calls per individual than police officers, according to his numbers. And they do so at a lower cost per officer, he says. And when the city announced it would no longer investigate property crimes last year, Knezovich formed a property crimes task force that he says countered the crime spike within months.
Consolidation would remove duplicate efforts between both agencies and use freed up resources to double down on fighting crime, the sheriff says. As an example, Knezovich says combining the regional gang and regional drug task forces would cut personnel from 48 to 30. The 18 available officers would then be utilized in other areas, allowing for the creation of a property crimes task force for the city.
"No more of this 'we're not coming' attitude," he says. "We are going to show up, we are going to investigate these things."
Knezovich concedes a two-tiered wage structure might be necessary to make consolidation possible.
"The easiest thing to do would be grandfather [existing police salaries] and all new officers would come in at lower wages," he says.
But that's a potential detail for future negotiations, and Knezovich says he doesn't think the Spokane Police Guild would favor wide-scale consolidation.
Guild President and Spokane Police Detective Ernie Wuthrich could not be reached for comment.
Regardless of Knezovich's ideas, the ultimate decision will not be his.
"None of this really happens unless the mayor is really on board," he says.
Condon acknowledges he is already moving forward with parts of his own consolidation plan. He told The Inlander that he has directed the police department to begin figuring out how to merge its dispatch services, training academies and drug units with the county.
"I think that's more prudent rather than flipping the switch one day," Condon says.
In studying government reform, Condon has looked to Indianapolis and Louisville, Ky., which have both recently consolidated county and city law enforcement.
The mayor acknowledges that certain wide-scale consolidation measures, like a two-tiered wage structure, could not happen immediately.
As to Knezovich's criticism of the two police chief finalists, Condon says the other interview panels supported the candidates.
"Sheriff Knezovich was not a sheriff before [he was elected], and I think he's been very successful," Condon says, adding the two finalists are "quite qualified, and qualified in areas we're not experienced in." (See "Then There Were Two" below.)
The idea of consolidation does have other detractors. At least two of the City Council's more progressive members are opposed to wide-scale consolidation.
Council President Ben Stuckart shares the mayor's belief that someone doesn't need to have previously been a police chief to run Spokane's department. He and Councilman Jon Snyder say consolidation doesn't take into account the differences between policing Spokane and the more rural parts of the county.
"I think those take different types of policing," Stuckart says.
As for the law enforcement panel, Stuckart says they are overreacting.
"Law enforcement officials are probably going to be tougher on a fellow law enforcement" officer, says Stuckart, who sat on the interview panel of officials who "were impressed" with the candidates.
"He's just trying his hardest from his perspective to solve things," Stuckart says of Knezovich. However, Stuckart says Knezovich isn't "doing a good job building coalitions."
He also suggested Knezovich has self-serving motivations that must be questioned.
One of the police chief finalists, Straub, is the director of public safety for the city of Indianapolis and declined to comment through a city attorney there.
Mahoney, the other finalist, told The Inlander that resources could possibly be shared between departments. However, Mahoney — who is commanding officer for a station at the San Francisco Police Department — worried that a sheriff presiding over a consolidated department could take city police officers and move them elsewhere.
"When you're a city, you've got X amount of resources," Mahoney says. "If you were to consolidate, the sheriff could take X amount of staff and move them over to Spokane Valley, and he's not beholden to the city, he's beholden to the voters."
And while Spokane County Commissioner Al French noted that the commission has sent a letter of support to the city to explore the idea of consolidation, a shift in resources also concerns him.
"How does a regional model affect the quality of law enforcement to the unincorporated areas?" French says. "Is there a potential shift in resources from there to urban areas?"
But the idea of merging both departments has traction with other council members. Nancy McLaughlin, Mike Allen and Steve Salvatori signaled their support for at least looking at consolidation.
"I'm not for jumping in, I want a thoughtful review of it," Salvatori says. "I have not seen firsthand any study that's underway or completed on the regionalization of police."
It seems, however, that members of the law enforcement are no longer unanimously opposed to the two finalists. Spokane Police Lt. Joe Walker says he felt 50 minutes wasn't enough to get a clear enough picture of either candidate.
"I ended up calling up both of these guys last week," says Walker, who is also president of the departments' Lieutenants and Captains Association.
"I definitely was happy to see the mayor say these were the final [candidates]," he says. "I can see either one of them being the chief here."
As for Knezovich, he bristles at the suggestion that his not being a sheriff when elected in 2006 is the same as the situation facing the two police chief finalists.
And he disputes those who say that there's a difference between policing Spokane neighborhoods versus Spokane Valley or the outlying rural parts. Both sheriff's deputies and police officers get the same training in the same law enforcement academy.
"Is a [domestic violence] in the county different than the city?" he says. "Is a murder in the county different from the city?"
And the sheriff says he has nothing to gain politically from consolidation.
"I'm not going to get a bigger paycheck," he says. "I'm [already] elected by everyone" in Spokane County.
Spokane Police Ombudsman Tim Burns sat on another of the police chief's five interview panels and says he felt any one of the three candidates "had potential to be chief."
And while Burns sees some possibility for two law enforcement entities to merge, the timetable for that is still years away.
In the meantime, the city must still struggle through tight budgets.
"Since I've been here for three years, this city has been in a layoff state of mind," Burns says. "It's troubling times for city government."