W
hen John Peters
, a police liability attorney who specializes in K-9s, watched the video of the
controversial and violent arrest
where Spokane cop sicced a dog on a suspect after shouting vulgar death threats at him, he borrowed language from a police K-9 handler who also saw the footage: "Lawful but awful."
In late October the Spokane Police Department unveiled body camera footage depicting the violent Feb. 12 arrest of 29-year-old Lucas Ellerman who fled a traffic stop in a truck. After Ellerman got pinned in a snow bank, one of the involved officers, Dan Lesser smashed out the driver's side window of the truck, shouted profanity-riddled death threats at him — including "I'm going to f—-ing kill you" — and hoisted a police dog into the vehicle cabin where it attacked Ellerman.
The department brass ultimately ruled that the use-of-force was justified but cited Lesser for his demeanor and failing to activate his body camera sooner — violations that garnered him a
one-day suspension
. National experts and attorneys, meanwhile, argued that the video showcased
poor tactics and an emotionally unhinged officer
.
Peters is a well-established figure in the K-9 handler community. Based out of Michigan, he's worked in state and federal courts on police litigation representing both plaintiffs and defendants — he says that he's been on "just about every side of a police case there is" — conducts legal seminars for police K-9 units around the country, and serves as legal editor for a number of police K-9 publications, including
Working Dog Magazine
and
K9 Cop Magazine
. Peters has also been a guest instructor for the Maine State Police, the Denver Police Department, the Miami Police Department and the Oakland Police Academy K9 program.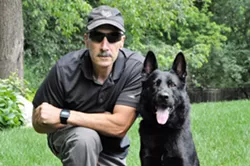 After watching the footage several times, he sent it to current K-9 handlers that he knows. The reactions he received, Peters says, were largely negative.
"I sent it like an 'FYI' and I watched the comments come back. And, for the most part, they were horrified," he says over the phone. "Most of them had a real problem with what they saw. One guy put it the best: It was 'lawful but awful.' It might have been legal but it sure looked pretty bad."
As for his analysis of the legality of Lesser's use of the police dog, Peters points to criteria established in a highly influential 1989 excessive force case that was heard by the U.S. Supreme Court, Graham v. Connor, that continues to serve as the legal bedrock governing police use-of-force. A four pronged "test" of factors was established to determine whether force was excessive or used reasonably in a given incident.
"They look at the nature of the crime, risk of flight or escape, threats to officers or other people, and warnings given [to the suspect]. Four elements," Peters says. "If one element is stronger and another is weaker, it could still, in the balance, come in favor or against. The court looks at it on balance."
Here's what Peters had to say on the four elements, per his analysis written out in an email:
Nature of the Crime
"It appears the canine was deployed because of the defendant's refusal to comply with a lawful command to exit the vehicle. The problem here is that the resistance appears to be passive resistance, i.e., a simply refusal to comply with the command versus actively fighting with or physically resisting the arrest," he writes. "On the officer's side of this, the defendant does state that he has a gun and was known by these officers to have engaged in violent felonies."
Peters adds, however, that Ellerman did not brandish or threaten the officers with a gun.
"His past felonies were not the reason for the deployment here," he writes. "This deployment appeared to be based upon the defendant's refusal to exit the vehicle which in most jurisdictions would be a misdemeanor for resisting and obstructing."
Risk of Flight or Escape
"There did not appear to be any risk of flight or escape. The defendant apparently led these officers on a vehicle pursuit before wrecking into a snow bank. The one officer [Lesser] appears to wait a considerable amount of time calmly relaying information to dispatch or another unit before he even approaches the defendant's vehicle. He does not appear to be concerned about his escape," Peters writes. "In fact, you can hear the wheels of the defendant's vehicle spinning on the ice and snow and see smoke rising from the defendant's spinning wheels. Also, he is boxed in by two different officer's vehicles."
"Courts have considered prior flight as a factor that the defendant will continue to try to flee or escape, but here it appears there was little or no chance of that," he adds.
Risk of Harm to Officers or Others


"This issue is much more complicated. In the officer's favor, the defendant had a history of violent felonies — a fact known to the officers. He also tells the officers he has a gun, although no gun is ever found. As previously noted, he had also led officers on a high speed chase ending in a crash. Cases have held that this conduct can reasonably be considered a threat to officer safety and the safety of others," he writes.
However, Peters goes on to note that the defendant, Ellerman, never explicitly threatened the officers.
"Even when he disclosed he had a gun, he had his hands raised and appeared on the defensive most of the time. He even cowered when the second officer broke the passenger side window out," he writes. "His defensive behavior is partially explainable by the fact that he had two officers pointing guns at him with one directly threatening to kill him."
Warning Given


Broadly, Peters says that while Ellerman undoubtedly knew that Dan Lesser was instructing him to surrender and get out of the truck and that case law doesn't require that officers believe a defendant's statements, Lesser gave mixed signals in a high-stress situation that had the potential to escalate further.
"The officer shouts mixed directions. First, pointing a gun at defendant and telling him he is going to kill him or put a bullet in his brain. I did not hear a prior instruction that the defendant was under arrest or to step out of the vehicle with sufficient time for him to comply," he writes.
"Both points of exit (the two vehicle doors) were blocked by officers standing right up to them with guns extended into the vehicle and pointed at the defendant. Perhaps the defendant did not feel movement toward the officers was safe."
"The officer then shouts for defendant to get out of the vehicle or he will get bit. Then he tells the defendant to 'stay there' while telling his partner to get his police canine. There are a lot of commands being thrown around in a rapid and very heated manner," Peters adds. "It seems there was little time given for peaceful compliance to an intelligent command for surrender."
Legality aside, Peters argues that Lesser's behavior was highly problematic — and that other K-9 handlers agree with him.
"Most canine handlers who have viewed the video in my presence have cringed. This handler's approach is flawed in many ways. He has clearly lost control by the time he approaches the vehicle. His opening words are a death threat which is repeated and made even more graphic," he writes. "Most handlers I solicited comments from said they would never have put their dog into the car, especially after the defendant said he had a gun. What was the point, they wondered. The risk of harm to the canine did not appear to be considered by this officer either."
"The thing that sets the analysis spinning in the wrong direction is that the first words out of his mouth are 'I'm going to kill you' because that affects the reactions of the individual in the car. He's thinking 'what do I have to do to not get killed.' The guy is screaming at him," Peters adds during a phone interview. "He's probably afraid to move that he might get shot."
As for the moments just before Lesser decided to push the police dog into the truck cabin with Ellerman, Peters says: "My impression after looking at it multiple times was that the point when the guy said 'OK I'm coming out' is exactly when he put the dog in."