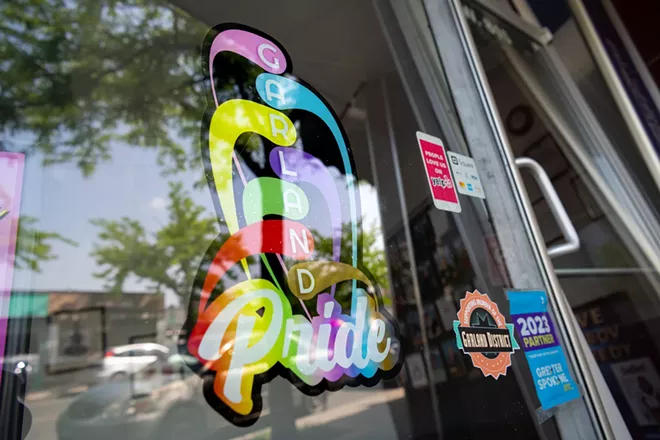 Businesses gearing up for Pride month in the Garland District recently started posting colorful decals in their windows — "Garland Pride" — a symbol that all are welcome in their stores.
But another effort to welcome the LGBTQ+ community to the north Spokane commercial hub has revealed that some property owners strongly feel it's not their place to promote things like Pride.
Steve Ogden, a 73-year-old gay neighbor of the commercial area, reached out earlier this year to the Garland Business District to propose hanging rainbow Pride flags on eight light poles there throughout June.
He says he just wanted to see the area support everyone in the community.
"We're trying to promote Garland as a thriving business district as much as we are a fair business district," Ogden says.
With a time crunch to get a decision to Avista — which owns the poles — the North Hill Neighborhood Council approved the flags by a 15-1 vote in April.
But after some property and business owners asked for the chance to weigh in, the topic was revisited at the May meeting. Several people adamantly argued against the plan, saying the flags are inappropriate, according to people who attended the meeting.
"They think we're doing an experiment that is going to negatively impact their businesses. They obviously have not been to a gay pride before," Ogden says, noting that Pride events in downtown and the Perry District have been a huge success. "I didn't anticipate the kind of opposition we got."
Kait Concilio, a Blue Door Theatre volunteer who designed the Garland Pride decals, says she doesn't understand the controversy.
"I understand individuals not approving of people, but it seems rude to me to not want them to celebrate," Concilio says.
Back in March, after Ogden's proposal was emailed to business district members, some replied that it was a bad idea.
Among them was Jim Orcutt, who owns 10 of the 23 properties on Garland Avenue between Monroe and Post streets, according to county records.
In an email to district members, Orcutt wrote that everyone's welcome on Garland and he's never seen animosity toward someone because of "their sexuality, skin color, ethnicity, political views, etc." However, he urged them to stay away from issues that could seem controversial.
"Using a neighborhood business district to promote political, sexual, or social preferences is not productive. We as a district need to stay neutral," Orcutt wrote.
In an email response for this story, Orcutt adds, "The vast majority of property and business owners just want to be left alone to run their business. They don't want something imposed on them."
Three property owners (including Orcutt) who opposed the flags said by email that they don't want the district to back any kind of social or political cause as they need to keep all types of customers in mind and avoid disputes.
"I believe we all support everyone regardless of any personal beliefs, lifestyle, etc.," Orcutt writes. "The response would have been exactly the same if it were a pro-life Christian proposal, 2nd Amendment pro gun proposal, etc. The topic was irrelevant. We do support the LGBTQ community completely."
Alexa Jourdan, owner of Kiss and Makeup salon on Garland, promotes her business on Google as LGBTQ+ friendly and says it has helped boost her clientele. She voted in favor of the flags and says the negative comments at the May meeting were upsetting.
"It would be one thing if this specific flag had any kind of hate speech about a minority or group of people, but it's entirely the exact opposite of that," Jourdan says. "Downtown does Pride every year. You don't see one person not going to a business there because they have Pride downtown."
Jasmine Barnes, general manager of the Garland Theater, also voted in favor of the flags. "I don't want people to be worried that they're not welcome here because there's some opposition," she says.
After the heated discussion in May, the neighborhood council ultimately compromised, with those present voting 15-12 to allow owners to opt out of having a Pride flag on a pole in front of their business.
As of Friday, May 19, owners had asked not to post the flags on three poles on Garland between Monroe and Wall streets, says Scot Webb, the neighborhood council's chair.
Ogden says he and others supportive of the flags have intentionally not called out business or property owners who aren't supportive by name, as they don't want to increase division in the neighborhood.
"Pride flags should not be an issue. ... It's 2023 and I just think it's really stupid. It's so much easier to love than hate," Ogden says. "With our current political conversation, we need to be seen and heard. The flags accomplish both of those." ♦