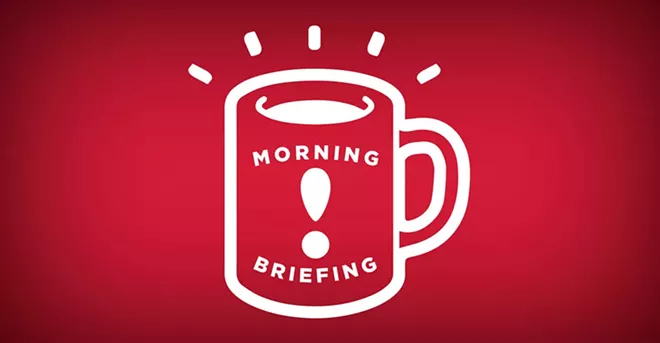 ON INLANDER.COM

NEWS
: "Get the f—k out of Idaho! F—k you, you f—kin' half breeds," yelled Richard Sovenski at a group of high schoolers getting ice cream at a Coeur d'Alene McDonald's.
Moments before Sovenski's racist tirade
, he sucker punched the youth pastor who was supervising the teenagers. He's been charged with misdemeanor battery and a hate crime.
MUSIC
: The Shivas
blend dark lyrics and bright, bouncy melodies
. They're playing at Berserk next Thursday at 9.
CHEAP EATS
: We've got you covered from all angles this year. From how to eat all day on just $20 to the best meals for under $10 and where to find the cheapest drinks,
behold the 2018 Cheap Eats Issue
.
IN OTHER NEWS:
The spy who (allegedly) shagged
While President Donald Trump continues to muddy his statements about Russian interference in the 2016 election, now comes the story of Maria Butina, an accused Russian spy who cozied up to the NRA and offered "sex in exchange for a position with a special interest organization," according to a new indictment. (
Vox
)
Judge not ...
Spokane County District Court judicial candidate Randy Brandt is not a judge anymore. Voters booted him off the bench in 2014. So is it OK for him to use campaign signs calling himself "Judge Randy Brandt"? (
Spokesman-Review
)
'Cesspool'

Portland police union president fired back at Portland Mayor Ted Wheeler's rebuke of the outrageously high arrest rate for homeless people.
Wheeler promised an investigation into the statistics that show homeless people make up more than half of arrests in Portland last year. Police union president Daryl Turner accused Wheeler of using officers as scapegoats for failed public policies and called the city a "cesspool." (
Willamette Week
)
Death penalty misconduct
Federal prosecutors are lobbing public accusations
at each other
of serious misconduct in death penalty cases, including ignoring and destroying evidence. (
The Intercept
)