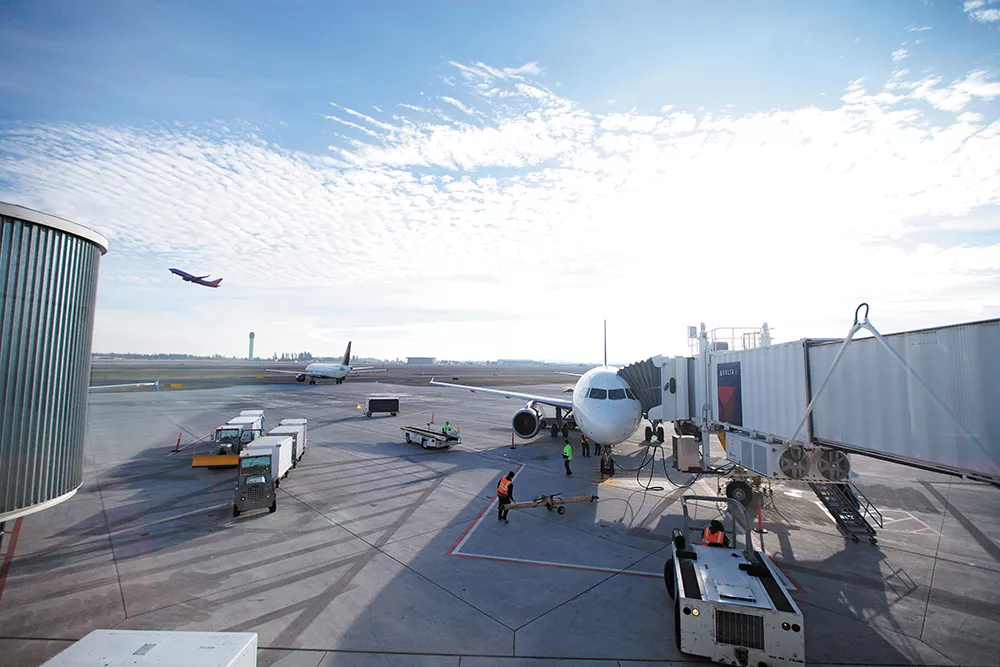 Sometimes it's easy to forget that outside of Washington, there are states and entire countries in this crazy world where it's not cool to carry weed with you.
That can make traveling a bit of an issue. Because it's also easy to forget that our country, the U.S.A., is technically one of those places where weed isn't always cool. Anytime you go to the airport you must bear in mind that at some point you will be dealing with the Transportation Security Administration, a federal agency that considers weed illegal.
So can you fly weed with you to another state? Or at least within Washington state? And is TSA even looking for weed in your luggage?
We have some answers.
TSA handles marijuana the same way in Washington as it does anywhere else, says Lorie Dankers, a spokeswoman for the agency. But they're focused on keeping planes safe, and their screening procedures are to find weapons, not weed. If TSA does happen to discover weed in your luggage, no matter where you're going or coming from, they will contact local law enforcement, Dankers says. At Spokane International Airport, that would be the airport's own police department.
Peter Troyer, the airport police chief, says sometimes a week can go by without TSA contacting them for weed in luggage. But when it does, they apply state law, not federal law. Essentially, you can have an ounce of weed or less if you're at least 21 and within state lines.
So if you're flying to Seattle? Sure, they'll let you take the weed with you. If you're flying out of state? Sorry, no. And that includes other states that have legalized weed. And the measurement of an ounce isn't necessarily perfect — Troyer says they will eyeball it. Basically, don't take a Mason jar full of flower.
"Every law enforcement agency in the state is applying the same rules," Troyer says.
If you do get caught trying to bring weed out of state, police will ask you to "abandon" your stash and police will then "destroy" it. Troyer says the best way to do that is to flush it down the toilet. (Some of you will surely disagree on that being the best way to dispose of weed.)
You may ask: What about vape pens and oils? Troyer acknowledges vape pens may not be as obvious as a bag of weed.
"There are so many vape pens that go through screening," he says. "And we're not there going through each one of them."
As for oils, you can't carry any liquid that goes above the maximum amount. Otherwise, it's the same deal: Don't try to take it to a place where it's illegal.
"It's not like the airport police department is here trying to make travel more difficult," Troyer says. ♦