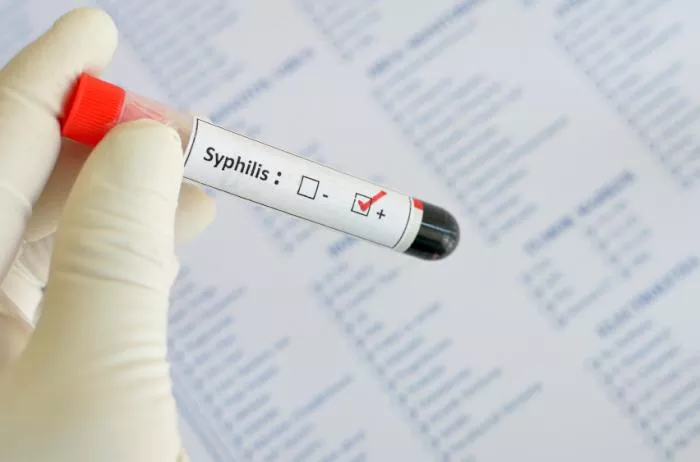 Nobody wants to hear about syphilis. And for a while, nobody had to. Syphilis rates across the nation dropped in the early 2000s to the point that experts thought it could be eradicated completely.
Those days are gone. Syphilis rates are on the rise nationally in recent years, according to the Centers for Disease Control and Prevention. In Spokane, the number of people diagnosed with syphilis through October of this year is already nearly double the cases in Spokane County through all of 2015, according to the Spokane Regional Health District.
"It's rapidly rising, and it has serious and devastating consequences," says Anna Halloran, an epidemiologist for the SRHD.
The disease is common among men who have sex with other men. But starting in the past couple of years in Spokane, the disease has showed up among women. That's of great concern, because women with syphilis can transmit it to the fetus during pregnancy or birth and cause deformities, mental impairment or death of the child, says Lisa St. John, SRHD disease investigation specialist.
In Spokane, particularly, syphilis has impacted the homeless and/or people with substance abuse issues, possibly because access to health care may be more difficult for them, St. John says. If people with syphilis don't go in to get tested and don't know they have the disease, it's more likely to spread.
"We know that syphilis is a challenge for individuals, because people often do not notice their symptoms and pass on the disease without knowing they are infected," St. John says.
The good news? Syphilis is treatable, once you know what you're looking for. And knowing is half the battle.
Syphilis, or "the great imitator," is known for having symptoms that look like other diseases.
It can spread through sexual contact of any kind, including oral, St. John says. It can start as a painless sore that can be easily mistaken for an ingrown hair, a small cut or any other kind of seemingly innocuous bump. This, however, is a symptom of the primary stage of syphilis, according to the CDC.
In the secondary stage, an itchy body rash will develop, often on your hands, feet, or pretty much anywhere on your body.
If left untreated, syphilis can cause blindness, deafness, paralysis or death.
Syphilis cases have increased more rapidly in Spokane than the rest of the state. Three years ago, there were 300 cases in the state, and last year that rose to 452 cases. In Spokane County, the rise in the same period was from less than 10 cases to 28. This year, through 10 months, there were already 54 cases of syphilis in the county.
It's unclear why syphilis is rising, but St. John floats a few possible theories. First, people typically do not notice their symptoms and pass on the disease without knowing they're infected. Second, health care providers aren't as experienced in recognizing syphilis as other diseases, since it hasn't been as common in recent years.
Robert Lutz, a member of the SRHD board, says that people may have forgotten about it. People have quit worrying as much about HIV, and may no longer use protection as often, he says.
"The sexual liberation has become a lot greater," Lutz says. "Once it's in the population, men are not using appropriate protection, and it's being passed around."
Zandt Bryan, infectious disease coordinator for the Washington State Department of Health, says that people who are using drugs or are homeless often may not go get tested. He says that's been an issue in Spokane more than other parts of the state.
"If they're not able to see a practitioner easily, then it's harder to get diagnosed and treated," Bryan says. "If you're not [diagnosed], then you don't know you have it and are able to pass it on."
Bryan says it's important that people, including medical professionals, know what the disease looks like. He says the Department of Health has helped providers statewide understand what the disease is.
"Mostly it's diagnosed by private providers," Bryan says. "When they haven't seen it frequently, they need some help understanding what symptoms look like, and how to diagnose and treat it."
People diagnosed with syphilis can be treated and cured with Bicillin, a penicillin antibiotic, though it won't undo any damage the infection already has done.
St. John says the Spokane Regional Health District has expanded the amount of funding for syphilis in response to the rise in the disease, and will hire a new disease investigation specialist to contact people who may have been exposed.
Tiffany Harms, spokeswoman for Planned Parenthood of Greater Washington and North Idaho, says the number of syphilis tests in the two Spokane clinics has increased from 278 in 2014 — with just two positive cases — to 604 tests already in 2016. This year, there have been 36 positive tests.
Bryan says the best way to stop syphilis cases from rising is more awareness of what people are dealing with.
"We want [the public] to know that it's curable, that just because they don't have symptoms doesn't mean they don't have it. And we want them to know that we can help them stamp it out by notifying sex partners and getting people tested and treated," he says. "That's the fastest way to stop the rise of it." ♦